Asphyx – Live at Party San 2007
Ibex Moon Records, 60:32, 2009, $11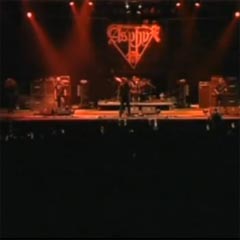 Asphyx make that which is heavy fun and compelling. This could be one of my favorite recorded metal concerts because it captures not only the professionalism, but also the minimal set-up and adornment, as well as the different frequencies of energy this band emit. They convert dark empty spaces to ones filled with a new kind of like, like twilight or morning, in which the darkness is never pure, having been converted to the inertia of day. All band members are professional and precise, and while Martin van Drunen gets his share of camera time, in my view it is the workmanlike and intensely concentrating Bob "Mister Asphyx" Bagchus who steals the show with his serious and intense facial expressions to accompany his exact drumming. Wannes Gubbels, bassist/vocalist late of Pentacle, injects a ton of exuberance, while guitarist Paul Wayyans shows us death metal the original way — a science and an art that both has to be kept simple and done so that it all makes sense in the end. These 62 minutes of powerful recording span the band's entire career but focus on the classics from The Rack and Last One on Earth, giving us a set with career diversity but also a powerhouse of the songs that defined this band. Video is professionally shot with multiple camera angles, and while effects like the high contrast black and white flash, the rising fake flames, and occasional slo-mo are used, they are not distracting. van Drunen's voice is excellent; I don't know another metal vocalist who can make the guttural sounds of death vocals while keeping a forced scream going at the same time. He is an excellent frontman who both works the crowd, throwing out his ad libs with perfect rhythm to keep motivation high, and a consummate professional who uses his voice as an effective instrument. I think this should be mandatory watching in schools. This review refers to the DVD included with the release of Asphyx Death… The Brutal Way.
No Comments