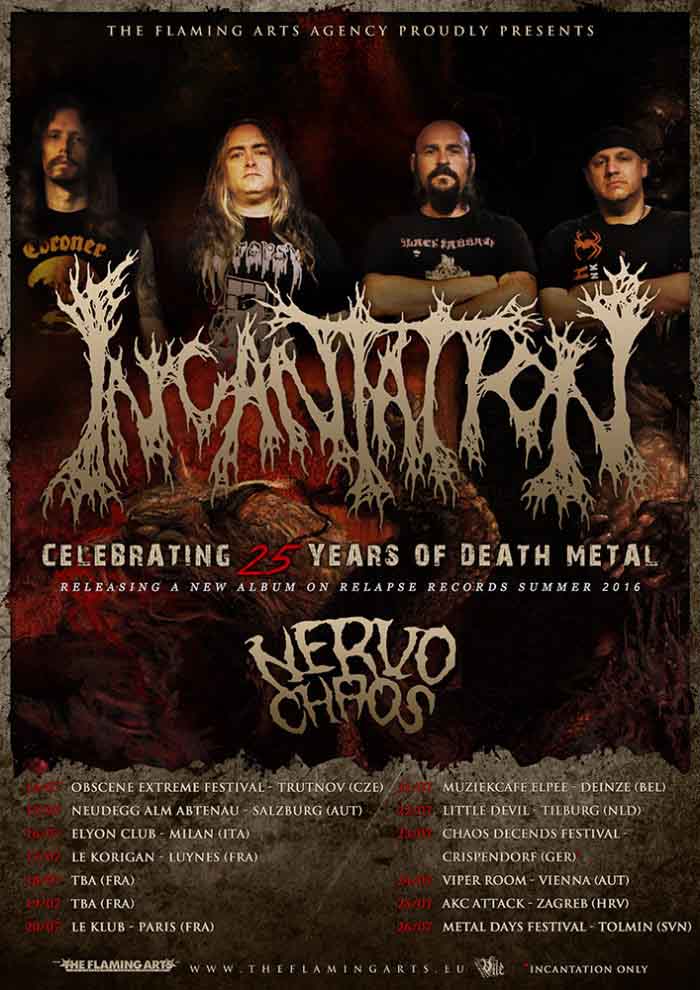 Incantation are in the midst of a European tour right now with Morgoth and are coming back to the continent in July. The Finnish festival date should be special for Hessians as Depravity is opening. Incantation also have a new album coming out later this year on Relapse Records and recently released a 25th anniversary compilation. From the band's website:
Pennsylvania deathmongers INCANTATION have just kicked off a run of European dates with Morgoth, Darkrise, Methedras and Omophagia, which will see the band demolishing venues in Europe, the UK, and Russia this April. In celebration of the band's 25th anniversary, INCANTATION has just announced a second leg of European dates this coming summer – the death metal veterans will be laying waste to Europe for two weeks this coming July alongside Brazil's Nervochaos. INCANTATION has also been confirmed for a number of festival appearances this summer, including Obscene Extreme Festival in the Czech Republic, MetalDays Fest in Slovenia, and the third annual Hell's Headbash in Cleveland, OH. A complete listing of dates is included below.

INCANTATION Live:
***All dates with Morgoth, Darkrise, Methedras, and Omophagia***
Apr 14 Ostrava, CZ Barrak Club
Apr 15 Erfurt, DE Club From Hell
Apr 16 Rheine, DE Hypothalamus
Apr 17 Drachten, NL Iduna
Apr 18 Rotterdam, NL Baroeg
Apr 19 Chapelle-lez HT, BE Maison Du Peuple
Apr 20 London, UK Nambucca
Apr 21 Glasgow, UK Audio
Apr 22 Southampton, UK Bristol Bierkeller
Apr 23 Oberhausen, DE Helvete
Apr 24 Villa de Barrosales, PT SWR BarroselasMetalfest XIX
Apr 26 Vilnius, LT Propaganda
Apr 28 Minsk, BL Brugge
Apr 29 St. Petersburg, RU Opera Concert Hall
Apr 30 Moscow, RU Monaclub

June US Dates:
Jun 24 Columbus, OH O'Shecky's*
Jun 25 Crest Hill, IL Bada Brew*
Jun 26 Lansing, MI Mac's Bar*

***All Dates with Nervochaos***
Jul 14 Obscene Extreme Festival – Trutnov (CZE)
Jul 15 Neudegg Alm Abtenau – Salzburg (AUT)
Jul 16 Elyon Club – Milan (ITA)
Jul 17 Le Korigan – Luynes (FRA)
Jul 18 Tba (FRA)
Jul 19 Tba (FRA)
Jul 20 Le Klub – Paris (FRA)
Jul 21 Muziekcafe Elpee – Deinze (BEL)
Jul 22 Little Devil – Tilburg (NLD)
Jul 23 Chaos Decends Festival – Crispendorf (GER) *Incantation Only
Jul 24 Viper Room – Vienna (AUT)
Jul 25 Akc Attack – Zagreb (HRV)
Jul 26 Metal Days Festival – Tolmin (SVN)

More US Shows Announced:
Sept 2 – 4 Cleveland, OH Hell's Headbash 3
Most of Incantation's back catalog can be checked out on their Bandcamp page.