Ever since the rise of leftist politicization of metal, there has been rising hysteria over a secret Nazi fifth column lurking within the metal community, ready to spring out of the shadows and attempt a world takeover. This is due to the effects of the corrupt mainstream media portraying everyone opposed to their Marxist agenda such as President Donald Trump, reincarnation of Hitler with the majority of America seeing through their psychotic imagined orange Fuhrer. But for the millions of citizens that will buy into whatever the mainstream sells them, including the scenesters of indie rock, this narrative maddens them to the point of belief that the entire Republican/Libertarian/Conservative movement is the spiritual sequel to the Axis Powers. This is immaculately articulated in a review buried deep within scenester shill blog No Clean Singing's attempt to set the world record for "most metal bands reviewed ever."
In this article we have a review of Heresiarch's "Storming Upon Knaves" describing the music, offering some biographical information, and listing the bands tour dates. Simple music article, right? Well given that No Clean Singing's audience are mostly liberal newbie hipsters and failed musicians, every single one of the article's fifteen comments (at the time of this writing) debate whether or not the band are Nazis without any discussion over the actual sound. With many trying to prove or disprove the bands Nazi connection, some are terrified of the possibility of Nazi affiliation and as a result are afraid to give the music a chance.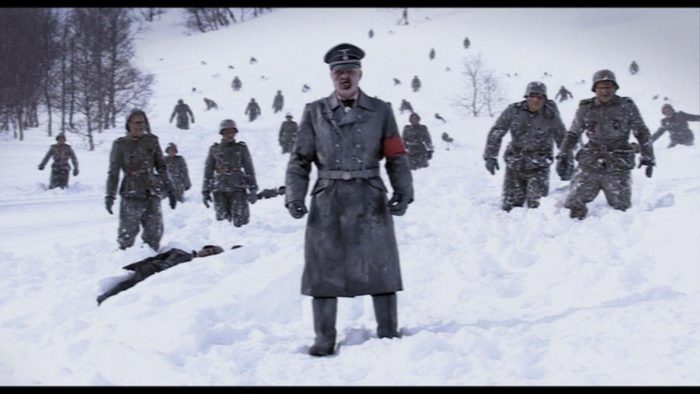 Folks, this is propaganda at its finest. The left is reliving the Red Scare of the 1950's through its updated version: the Nazi scare. Heresiarch have made no political statements, have published no Nazi lyrics (or for that matter any lyrics) and certainly did not fight for Germany in World War II. However this phobia of evil Nazi zombies rising from the grave has paralyzed these readers to the point of being unable to discuss the music. Ironically (and hilariously) these same readers are eager to gobble up Neil Jameson's articles after Krieg has used the N-word on an album sleeves and interviews and after Neil's Pagan Front band Weltmacht was featured on an actual National Socialist black metal compilation. In fairness, Neil has since backtracked from his racist and anti-Semitic remarks, but so has Rob Darken.
As liberal hypocrisy continues to regress logic, the ability to view music and art as abstractions open to interpretation has been lost. The beauty of a band like Hersiarch not posting their lyrics leaves the music to be open to be interpreted any way that a listener chooses. But sadly some listeners, like the readers of No Clean Singing, will always need their opinions fed to them.
Tags: antifa, antifascists, Black Metal, censorship, communists, dark descent, dark descent records, death metal, heresiarch, hipster bullshit, krieg, mainstream metal, metalgate, nazis, Nazism, neil jameson, neo-nazis, new track, new zealand, no clean singing, shills, sjws, social justice warriors, upcoming release, War Metal