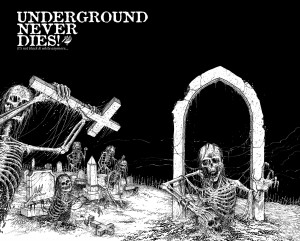 Recientemente se corrió la voz acerca de un nuevo libro que va a explicar el metal underground. Este libro, llamado Underground Never Dies, es editado por Andrés Padilla, el editor y escritor desde hace mucho tiempo jefe de la revista Grinder.
Al igual que varios libros que estén bajo tierra antes, Underground Never Dies no intenta resumir el metro desde un único punto de vista. Más bien, permite muchas voces hablan y, al igual que la armonización en el canto, emerge una verdad.
Arte de la cubierta de Mark Riddick adorna la entrada a esta producción de estrellas de los análisis de metales bajo tierra y opinión. En estas páginas, usted encontrará personas que usted conoce, o tendrá que conocer, que ayudó a construir el metro en lo que es.
Tuvimos la suerte de tener una charla con Andrés mientras se prepara para lanzar este trabajo desafiante. Gracias a Andrés Padilla, Revista Grinder y Doomentia Registros por ayudarnos a asegurar esta entrevista.


The most difficult question first (sorry!): what is the "underground"?
Mirado desde el punto de vista de un Thrasher, es un fenónemo muy particular que se desarrolló a inicios de los ochenta cuando el rugido y corrosidad del Metal empezó a brotar por toda la orbe. Ignorando reglas, patrones y normas, esta tendencia y manera de pensar se abrió camino de una manera pura, honesta y solidaria.
En lo personal, el underground ha sido el camino que he seguido toda mi vida, no solo en lo musical –aunque también escucho otros estilos-, sino que también en la vida y tipo de filosofía a seguir. Desde que el pestilente metal entró en mi sangre no se ha ido más. Todo lo contrario, ha crecido y potenciado mi vision sobre este movimiento que a pesar de cualquier dogma, representa una manera de vivir no solo para mi, sino que para muchos otros devotos seguidores de este sonido, que se transforma en el alimento diario de mi existencia.
Underground es devoción y compromiso, es seguir tu propio camino, no aceptar al mainstream como tu alimento, rechazar las reglas de la religion – cristianismo-, imponer tu propia voz, dejar tu huella, enseñarle a otros ese camino que significa creer en uno mismo. Es decir fuck you all al sistema. Musicalmente es lo contrario y opuesto a lo establecido. Es donde la mente tiene un espacio para abrirse libremente y dejarse llevar por el corrosivo y angustiante sonido del Death Metal -que en mi caso es mi corriente favorita-. Puede haber nacido en los ochenta, pero no todos los que la vieron nacer han seguido su tradición. Me siento afortunado de nunca haber abandonado esta forma de vida y hasta el día de hoy, haber apoyado a su desarrollo y crecimiento, ya sea escribiendo en un fanzine por más de 25 años, como así editando y distribuyendo discos o demo tapes.
Aunque la aparición de Internet cambio drásticamente la manera de distribuirse, manifestarse y procrearse, el underground ha mutado con el tiempo, tratando de mantener su antigua filofosía y estética. Long life to Death Metal!
How did the idea of this book come to you, and how did you embark on the course to write it and publish it?
Antes de salir del colegio commence a armar mi propio fanzine. Hasta el día de hoy, mandar cartas, hablar con bandas subterráneas, intercambiar demos/ cds/lps/videos etc ha sido mi camino. Nunca quise buscar un trabajo en una oficina. El Metal ha sido mi major aliado y alimento diario desde que comencé a inyectarmelo a mediados de los ochenta. Entonces, si me preguntas cómo llegó esta idea. Bueno, simplemente llegó. No la busqué! Todo se dio de manera natural. Me gusta avanzar en la vida, sin perder la filosofía, y con 25 años detras de fanzines, quise hacer algo más desafiante, algo que definiera un poco más lo que ha sido mi vida ligada a la música –aunque sea desde el escritorio-. Siempre he creido que nada es imposible, lo único inevitable es la muerte. Entonces, como no existe una publicación en todo el mundo que haya logrado juntar un concepto global sobre este repugnante y oscuro fenómeno, quise tartar de ser el primer loco en abrazar cada Rincon del planeta y manifestarlo en un libro con una tonelada de afiches, fotos y comentarios que podrán finalmente decir, qué, cómo y cuando sucedió todo esto. Underground Never Dies es simplemente eso, un incredible viaje al pasado en donde podrás revivir expl+icitamente lo que fue una época irrepetible.
Ahora ómo va a ser publicado. Quizás fue el destino o la suerte que me hizo mandarle una copia de mi primer libro a Doomentia. Lukas –fundador- alunió con este trasbajo y cuando le dije que estabaarmando otro referente a Underground mundial, y en Inglés, él aceptó encantado en publicarlo.
Do you think "underground" (perhaps like "outsider") is a cultural identity more than a marketing category?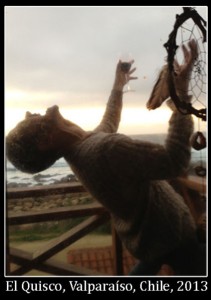 Totalmente, al menos para mi. Me siento muy diferente al resto de los normales que se levantan a diario para ir a una oficina o aeptarlas normas del sistema. Entonces este fenómeno para mi tiene una identidad propia, y a pesar de que a traves de sus años de creimiento, muha gente ha abandonado y elegido tomar otra idendidad, sí se que somos miles los que aún creemos que este sonido debe mantenerse siempre en bajo perfil, lejos del mainstream y con una identidad única.
Y no estoy hablando del aspect estético ya que en lo personal, a pesar de que me gusta mucho la estética que lo envuelve, si alguien me ve en la calle seguramente no va a pensar que escucho Death Metal. Para mi la imagen no lo es todo. Es la forma de pensar, los actos y la congruencia con uno mismo. El resto, da lo mismo. Ahora, tampoco me voy a vestir como un Glam Rock de los ochenta. No way !
How important do you think "non-commercial" attitudes are to the underground?
Son importantes para mantener su estética, espíritu y coherencia con el medio que nos rodea. Sin embargo, actitudes comerciales también son válidas. Es imposible hacer un fanzine y tener que regalarlo, invertir miles de dolares en un disco para luego regalarlo. El dinero está de por medio querámoslo o no. Siempre. Es más, crecimos con el fundamento de que el dinero lo es todo. Lamentablemente estamos condenados a seguir ese camino hasta que la humanidad llegue a su fin.
Prefiero hacer musica o una revista y venderla a pertenecer a una estúpida empresa y aceptar órdenes de un jefe imbecil.
Do you think the underground was a product of its time, when there was no Amazon and import CDs weren't in regular stores, or does it still have relevance today?
Para mi Underground es un concepto que se dap or muchos factores. Nuestro interés en algo intangible como pertenecer a una escena musical. Somos nosotros, quienes mantenemos vivo esto. Las bandas, los editores de zines, los fans que asisten a un concierto. Etc Todo eso hace que el Underground siga escabuyéndose con el paso del tiempo y haya podido evitar la muerte ante cambios de la humanidad como la tecnologia. Siempre va a existir Underground, pero este no va a ir hacia a tip por si solo, eres tu quien tiene que ir hacia el.
What defines or identifies an "underground" band? Is there a specific sound, or is it an attitude, or a social position like being on an underground label, small pressing runs, etc.? Podría decirse que en el Thrash, Death, Speed, Black, Doom etc, todas tendencias derivadas de esta devoción, sí hay patrones, reglas o formas pre establecidas y que nosotros entendemos por buenas o malas. Underground es devoción. Y cuando es honesta y pura, se reconoce. Quien no la reconoce, pues, está en otro camino.
How long did it take you to write the book? What is your process for writing?
Desde las primeras entrevistas, viajes y diseño, creo que han sido 3 largos años. La primera etapa fue la más larga, quizas la de recopilar información (afiches, fotos, etc) revisar mi colección personal de material que he juntado en largos 25 años editando fanzines. Mucho material estaba guardado y olvidado.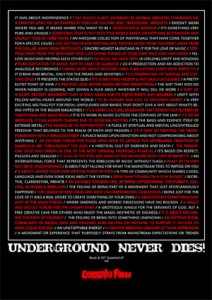 Luego ordenar el concepto del libro y tartar de seleccionar lo major del material, intentando no ser parecido a ninguna otra obra que se haya puvlicado al respecto. Luego de varios años, creo que llegé al concepto final. La experiencia de haber hecho algo similar, slo dedicado a la escena de mi país, fue clave. Ese libro Retrospectiva al metal Chileno 1983-1993, editado con vinilo 12" (hecho por Iron Bonehead Prod, de Alemania) fue muy bienacogido en todo el mundo.
Who's going to print the book, and where/when will we be able to buy it, and for how much?
La etiqueta checa Doomentia estará a cargo de publicar y distribuir el libro a través de su red de contactos y sellos amigos devotos al maldito metal. Todos ya sabemos cuales son! Si estás leyendo esto, es por que lo sabes! Hay que confezar que gracias a Internet, ahora con un par de clicks cualquier persona podrá tener el libro. Ojalá que las copias que sehagan, lleguen a las personas idóneas. El precio no tengo idea de cuánto va a ser, pero si calculan un Libro con hardcover más de 300 páginas infestadas de afiches y fotos de los años ochenta, más un 12" gatefold con bandas como Slaughter Lord, Incubus, Necrovore, Mutilated, Dr Shrinker, Fatal, etc el precio es más o menos imaginable. Espero que el material esté listo y disponible para Diciembre del 2013.
You mention on your flyer that the underground was a way to fight transformation into a mindless sheep. This sounds straight out of "Invasion of the Body Snatchers" or "They Live." Is it really that bad?
El poster promocional del que hablas, contiene citas extraidas desde los mismos entrevistados. Esa frase que mencionas, la vas a tener que entender cuando leas el libro y la respuesta completa del entrevistado. Ese misterio lo dejo para cuando tengas el libro en tus manos. Cada individuo tiene su propia version de lo sucedido en esos corrosives años, cuando el Metal era una amenaza para el sistema. En mi caso vivi el Metal en tiempos caóticos para mi país con una dictadura military. Creo que eso cuenta y nos marcó mucho en nuestra juventúd.
Where does the underground live today?
En todo el mundo. Nunca ha dejado de existir. Somos nosotros, quienes debemos sentir la devoción natural de ir tras el. Quien no la siente, simplemente no pertenece a este culto. Este solo dejará de existir cuando ya no hayan más humanos en la tierra.
Can you give us a small biography of yourself and your past writing experiences?
Desde el año 1988 he estado editando fanzines, escribiéndome con bandas, tape traders, asistiendo a conciertos, festivals por todo el mundo. Vi nacer el Death Metal desde que comenzó a usar pañales. Con 25 años de experiencia en la material, creo que tengo la suficiente fascilidad de identificar cual huele más putrefacta que otra. Esto es lo único que hecho en mi vida. Nunca he participado de una empresa, ni he sido empleado dealguna compañía, con excepción de un programa de radio en una estación de Santiago port res años, pero en esa época iba solo dos dias a la semana a la radio, no podría citarlo como pertenecer a una empresa. El programa se llamaba Carne Molida, y era dedicado al Metal. Pasabamos desde Morbid Angel, Cabbibal Corpse, Nihilist hasta Pantera.
Will you be covering the internet, for example pre-1995 websites like the Dark Legions Archive?
E libro habla principalmente de los inicios del Metal, pero al final incluirá un capítulo breve sobre esos temas, la irrupción de internet y las bases de datos como esas y muchas otras como Metal Archives.
Thank you for this interview. Our readers will enjoy it!
Muchas gracias a ustedes por este tremendo espacio y apoyo a difundir esta obra que ha demandado 3 años de mi vida. Espero que cuando salga, el public pueda apreciarlo.
3 Comments
Tags: andres padilla, Black Metal, death metal, grinder magazine, language-spanish, underground metal