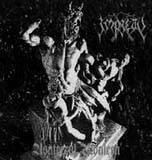 ---
Impiety
Asateerwl Awuleen
[Shivadarshana]
---
Another band from Singapore released in unison (both for the 7" and CD) by Shivadarshana with Abhorer. In relation to Abhorer though, Impiety are a good deal more modern sounding. The band also stirred up some fun-filled controversy when they made various nasty remarks about the Norwegian black metal scene at the time. Ihsahn of Emperor, if memory serves me correctly, even made a lovely racist (!) remark, using the word "Hitler" (!) in response to this. Just goes to show Emperor have not only weakened musically, but gladly follow the required mindset to be a mainstream metal band in interviews.

Impiety are brutal, no doubt about that. But there's something about this album that just seems tired, unlike their 7" which was nice and sick. Maybe it's because a 7" running time is all that's required to fully appreciate this band. Despite the fact that it's a good deal of fun gazing over the song titles ("Divine Hutamahn Frostfuck", "Hymnvocation of Nazarethian Nunwhores", "Blasphemyth…The Seventh Goatspawn" etc.), "Usateerwl Uwuleen" just doesn't do it for me.

This doesn't mean the CD can't be enjoyed though. There's enough sheer breakneck speed and crushing riffs to make it a worthy of a listen every so often. More than that though, that nasty (and rather common it seems…) feeling of "heard this before, now I'm bored" kicks in…quickly too! Impiety are a fast and brutal black metal band, sometimes reminding me of Immortal. And the vocals, just like everything else having to do with the band, are over the top. Sometimes reminding me of modern Abigail, and other times like the weak "Donald the Duck" impression done by Avatar (Bel). There's a grinding death metal feel to some of the guitars at times too, making me think the band wouldn't mind playing death/thrash.

Rest assured this is "pure" sounding black metal, with occasional keyboards and acoustic guitars. If you're looking for some "above average" frantic black metal, then I would suggest "Usateerwl Uwuleen". On the other hand, if you're a little tight in the pockets, and every release has to count, I would suggest avoiding (or grabbing the 7").


© 2000 brand