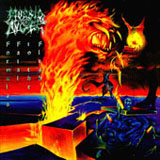 ---
Morbid Angel
Formulas Fatal to the Flesh
[Earache]
---
This is a great, living album.

Morbid Angel came down to three people on this album. The real anchors of the band, Trey Azagthoth and Pete Sandoval, are still there. Steve Tucker was added as the bassist and vocalist for Formulas.

The greatest change, however, was in spirit, not personnel. At first, it seems less disciplined and more out of control than the last two albums, Covenant and Domination. It seemed somewhat uncoordinated to me when I first listened to it, and was put off slightly.

But after a few listens, I came to recognize the greater vibrance and enthusiasm on this album. It far more living than Covenant and Domination. The feel of the songs is much closer to Angel of Disease, in which there is free shifting between very different riffs and tempos.

Part of the reason for this may be the recording approach. I heard that much of it was recorded live, rather than track-by-track, but I don't know this for a fact.

Much of the feel comes from the composition. It is far more liberal with structure than before. They seem to do anything they want whenever they want, but not in a stupid way. The same thing goes on at album level; long songs and instrumentals seem to pop in without premeditation.

And then there's the playing - looser, more energetic. Perhaps because of the greater space afforded to a three-man band, they are able to individually go for the throat while maintaining cohesion.

Steve Tucker's vocals are more raspy and less dense than David Vincent's were, which make them less imposing, but at the same time, fits in with the less constrained and more moving playing style they have adopted.

Pete Sandoval sounds very heavy, impressive, and spirited. His blasts live. On Domination (and possibly Covenant), he played against a click track. On Formulas, he clearly did not. The slight tempo variances that may have come about as a result are worth it.

Trey, as always, riffs intensely and with feeling. His soloing style does not really do much for me, but they usually work. He does a lot more squealing on this album, especially on Nothing Is Not. The anchor riff of that song resembles toherworldly creatures undergoing some rhythmic, searing torture. There are also interesting start/stop "broken" rhythms in the song.

Along with Nothing Is Not, the strongest songs are the first two, Hymnos de Guerros, and Invocation of the Continual One. Hymnos de Guerros is a great polyrhthmic solo on what sounds like tom toms. Invocation of the Continual One is eleven minutes. I didn't think I wanted to hear an eleven minute Morbid Angel song, but at that point in the album, it is powerful. The listener's attention span is expanded and prepared at that time. The riffs in the song are much simpler than on the rest of the album, but very effective, possibly because of the contrast.

The last track on the album is pretty worthless (just some gunshot sounds organized into boring rhythm), but that's its only real flaw. The lyrics are great; they are all about being beyond humanity. They make you smile and want to roar along. And Sumerian sounds great when filtered through death metal vocals.


© 2000 abasmagorsulpherion