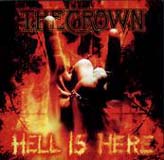 ---
The Crown
Hell Is Here
[Metal Blade]
---
Formerly the mighty and formidably underground Crown of Thorns, this awesome band hand to switch their moniker presumably because of NYHC punks Crown of Thornz and the Kiss-managed band of the same name. Instead of griping about the pettiness of legal technicalities in a savage music industry, welcome the new incarnation.

While I haven't personally heard Crown Of Thorn's work, correspondents on the Net have told me that this is indeed a huge musical progression for these Swedish fuckers, and shit is it a great effort. Amidst a stream of Swedish death pretenders attempting to emulate either Dissection ,At The Gates or Bathory for that matter see: Carnal Forge, the Haunted, Dawn, Raise Hell, Sacramentum, Swordmaster etc.) The Crown is a breath of fresh fucking air. Like Witchery before them, The Crown make a totally different death metal album, one that strays ahead of the pack with such ease and such marvel that it is if not ahead of its time ahead of the rest of the scene.

Blending the rocking riffs of Edge Of Sanity, Entombed and Witchery, the melodic edge of say Dismember ,the amphetamine chewing punk n' roll of Motorhead and shades of Slayer, Kreator, At The Gates, Dissection, Cowsuckers all thrown in for good measure and what you get is a piece of art in brutality. What's brilliant about the Crown is their refusal to forsake the catchy hook which makes a death metal song so anthemic for the brutality of Cryptopsy and the ilk. Each song has its own melodic little ditty which makes you shout along in pure glee, much the same way that At The Gates did. Instrumentally, it's no joke when I say that each of The Crown's exceptionally talented members is a brilliant musician. The beer basted vocals of Johanne, the Motorhead noodlings of the guitarist and the utterly unbelievable ( trust me) performance of one JSarenpaa only leave me breathless…

Sheer poetry in the art of death and the best Swedish death disc to have come my way in a very very long time. Fuck all the brutal as hell gore bands and pick up a real enjoyable death album.

[10]


© 2000 equimanthorn