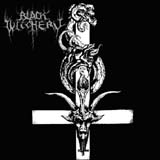 ---
Black Witchery
Desecration of the Holy Kingdom
[Full Moon]
---
Black Witchery is an American band, playing Black Metal reminiscent of a cross between Blasphemy and Bestial Warlust. This is their first full-length CD, although they have previously released a split CD ("Hellstorms of Evil Vengeance") with Canadians Conqueror.

For me, the aforementioned split CD established Black Witchery as one of the best American Black Metal bands. This CD more than lives up to the promise of that excellent release, delivering an immersive work of pure aggression.

The guitars create a wall of relentless black noise, against which the drums and vocals flail. The vocals seemed too ordinary at first listen, but grew on me the more I played this album. They're perfect for the delivery of such straightforward anti-Christian lyrics. Perhaps it's because both vocals and lyrics fit the music so perfectly - primitive and hateful. The songs are all well written and memorable.

The packaging is quite supreme as well - simple, evocative cover art, all lyrics printed inside, and some of the most perfectly blasphemous interior art I've ever seen (they ought to do a shirt with the center drawing, if they haven't yet).

This is one of the best new albums I've heard in 2001 so far - highest recommendations. For fans of Blasphemy, Beherit, Bestial Warlust, and the split CD with Conqueror.

Standout tracks: "Command of the Iron Baphomet", "Unholy Vengenace of War", "The Angelholocaust"


© 2001 vorfeed