Death Metal Search Engine
Show Posts
This section allows you to view all posts made by this member. Note that you can only see posts made in areas you currently have access to.
Topics - Bereft
[1]
1
« on: October 23, 2013, 04:29:56 AM »
Only Death Is Real
"Most people walking down the street, they're terrified of death," said Jane Hughes Gignoux, 83, an author who leads Death Cafe gatherings at her New York apartment. "But if you think of death as part of life and let go of the fear, you think more about living your life well."
http://www.news.com.au/lifestyle/health/death-cafe/story-fneuz9ev-1226744121398
Strikes me as a rebellion of realism against a neurotic society that views the individual life as sacrosanct. You won't last forever, so get stuff done while you can, and maybe that change will mean something more than your individual life. ANUSites would probably fit in well I think, at least until the hipsters invade and poison it with fatalism.
2
« on: April 18, 2009, 07:06:57 PM »
A teenage boy has been charged over a fire which destroyed a church on Sydney's north-shore.

St Andrew's Uniting Church at South Turramurra was gutted in the blaze, which started just before 1am today.

Police arrested the 17-year-old boy early this morning.

He has been charged with damaging property by fire and is expected to appear in Parramatta Children's Court later today.
link
There was mention of others who have not yet been identified.
Question: does this act still have any significance? In this context, I think not.
3
« on: February 23, 2008, 10:20:42 PM »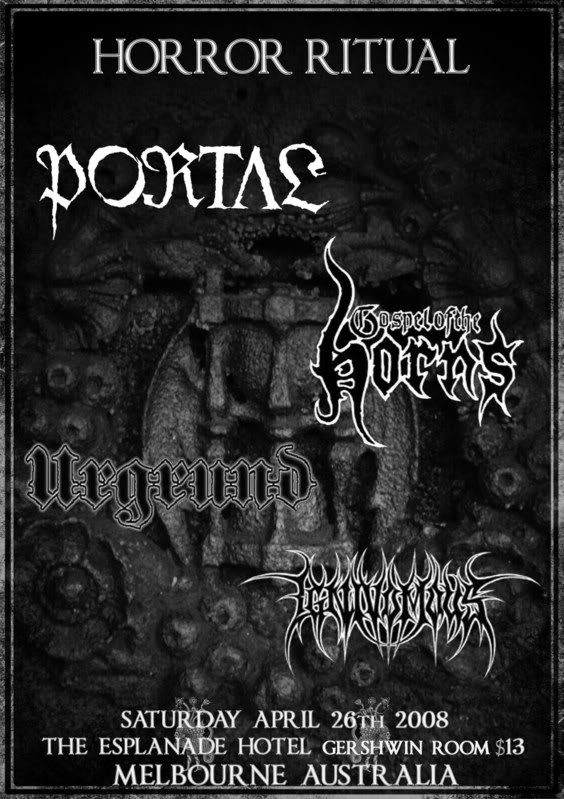 http://www.myspace.com/portalxiii
http://www.myspace.com/gospelofthehorns
http://www.myspace.com/urgrundheathens
http://www.myspace.com/ignivomousmetal
A rare opportunity to catch Portal live for those in the area, plus a few other bands that I can't really say arouse my interest(though I hear favourable things about Ignivomous). Although I won't be able to attend, I suggest this might be a good opportunity for a meet-up of Australian ANUS/Corrupt infidels.
[1]