Death Metal Search Engine
Show Posts
This section allows you to view all posts made by this member. Note that you can only see posts made in areas you currently have access to.
Topics - AIDS AIDS AIDS
[1]
1
« on: September 12, 2006, 03:57:01 AM »
Nuclear Death
Nuclear Death MP3s
---
"One of the most minimal and extreme death/thrash bands, Nuclear Death influenced generations after with their sparse riffwriting and song shaping."
Nuclear Death - Bride of Insect
(1990)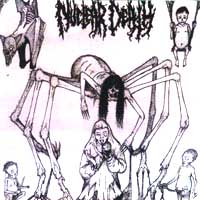 Nuclear Death - Bride of Insect
(1990, Mega)
Nuclear Death - Carrion for Worm
(1991)
Nuclear Death - Carrion for Worm
(1991, Mega)
2
« on: August 26, 2006, 02:34:55 AM »
[1]