Death Metal Search Engine
Show Posts
This section allows you to view all posts made by this member. Note that you can only see posts made in areas you currently have access to.
Topics - God bless you Dr. Kevorkian
[1]
2
« on: November 09, 2010, 10:05:41 PM »
Praetorius, Michael: Rapidshare, Blogspot, Megaupload
Michael Praetorius (1571 - 1621)
German Renaissance composer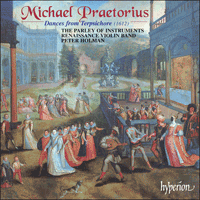 Michael Praetorius - Music from Terpsichore
(conductor Peter Holman. 2001, Megaupload)
3
« on: February 19, 2010, 10:33:40 PM »
SOURCE: Congress Travels More, Public Pays (Wall Street Journal)

In August, two Republican senators, Richard Shelby of Alabama and John Cornyn of Texas, went to Europe with their wives and aides to meet with banking regulators and industry executives.
[...]
His spokesman, Jonathan Graffeo, said the trip's chief purpose was to discuss with foreign officials the global financial crisis and regulatory reform. The senators spent the first five days in Germany, where they had three meetings with banking officials
[...]
Among side trips they took were two tours in vans driven by U.S. Embassy staff, including one along the Rhine, where they stopped at a heavy-metal festival. The trip cost about $70,000, according to a travel disclosure form filled out by the senators. A spokesman for Mr. Cornyn declined to comment.
Funny how the White House can predictably and thoughtlessly
brush off a presidential proclamation to recognize metal culture
, and yet stories like
these
pop up. $70,000?!? Bastards probably got bought all-access passes while they were at it.
Although, this also means that American hessians may have possible allies within the government. All the more reason to push for NDoS!
4
« on: January 13, 2010, 05:21:58 PM »
Deceased Tour Dates '10:
http://collect.myspace.com/index.cfm?fuseaction=bandprofile.listAllShows&friendid=13855427&n=DECEASED
Mar 19 2010 allentown pa ALLENTOWN, Pennsylvania
Mar 20 2010 GILS BAR AND GRILL va beach, va. va. beach, Virginia
Apr 16 2010 O BRIEN'S PUB allston, mass allston, Massachusetts*
Apr 17 2010 UNION POOL brooklyn, new york brooklyn, New York*
Apr 18 2010 KUNG FU NECKTIE philly, pa philly, Pennsylvania*
Apr 19 2010 SIDE BAR baltimore maryland baltimore, Maryland*
Apr 20 2010 KRUGS frederick maryland frederick, Maryland*
Apr 21 2010 THE SMILING MOOSE pittsburgh, pa PITTSBURGH, Pennsylvania*
Apr 22 2010 PEABODY'S cleveland ohio cleveland, Ohio*
Apr 23 2010 MACS BAR lansing michigan lansing, Michigan*
Apr 24 2010 RED LINE BAR chicago illinois CHICAGO, Illinois*
May 28 2010 Maryland Deathfest @ Sonar baltimore, Maryland
Jul 17 2010 'BLONDIES' MICHIGAN DEATH FESTIVAL detroit, michigan DETROIT, Michigan
Jul 24 2010 THE CANOPY CLUB 2010 Central Illinois Metalfest urbana, Illinois
* w/Superchrist
[1]