Death Metal Search Engine
Show Posts
This section allows you to view all posts made by this member. Note that you can only see posts made in areas you currently have access to.
Topics - FIAT
[1]
1
« on: October 21, 2011, 05:09:03 PM »
24-7 May 2012
Sonar
407 E Saratoga St
Baltimore, MD 21202
Running Order:
Thursday, May 24th:
AUTOPSY
AGALLOCH
EYEHATEGOD
DYING FETUS
DESASTER
RORSCHACH
NEEDFUL THINGS
DIE PIGEON DIE
EXTERMINATION ANGEL
Friday, May 25th:
GODFLESH
NAPALM DEATH
ARTILLERY
NEGURA BUNGET
UNSANE
GHOUL
BLACK WITCHERY
MACABRE
DEMIGOD
TODAY IS THE DAY
MORGION
NASHGUL
CASTEVET
Saturday, May 26th:
MORBID ANGEL
BRUJERIA
ANVIL
TSJUDER
WINTER
CONFESSOR
YOB
HORNA
ARCHGOAT
NOOTHGRUSH
HELLBASTARD
DEVIATED INSTINCT
THE DEVIL'S BLOOD
INTERMENT
HAEMORRHAGE
LOOKING FOR AN ANSWER
DRAGGED INTO SUNLIGHT
OCTOBER 31
INFERNAL STRONGHOLD
BLOODY PHOENIX
Sunday, May 27th:
ELECTRIC WIZARD
SAINT VITUS
SUFFOCATION
MORGOTH
DØDHEIMSGARD
SARGEIST
CHURCH OF MISERY
BETHLEHEM
UNANIMATED
DISMA
DEMONICAL
ULCERATE
RWAKE
THE DAY EVERYTHING BECAME NOTHING
COUGH
NAUSEA
COKE BUST
AGENTS OF ABHORRENCE
BACKSLIDER
http://www.marylanddeathfest.com/
2
« on: August 24, 2011, 06:16:13 PM »
GRAVE, BLOOD RED THRONE, PATHOLOGY and GIGAN will team up for a U.S. tour in August/September. Confirmed dates are as follows:
Aug. 30 - Brass Mug - Tampa, FL
Aug. 31 - Volume 11 - Raleigh, NC
Sep. 01 - Casbah - Charlotte, NC
Sep. 02 - Championship Bar - Trenton, NJ
Sep. 03 - The Gramercy Theatre - New York, NY
Sep. 04 - Petit Campus - Montreal, QU
Sep. 05 - Mod Club - Toronto, ON
Sep. 06 - Broadway Joe's - Buffalo, NY
Sep. 07 - Peabody's - Cleveland, OH
Sep. 08 - Blondie's - Detroit, MI
Sep. 09 - Reggie's Rock Club - Chicago, IL
Sep. 10 - Station 4 - St. Paul, MN
Sep. 11 - Osbourne Village Inn - Winnipeg, MB
Sep. 12 - The Exchange - Regina, SK
Sep. 13 - Pawn Shop - Edmonton, AL
Sep. 14 - Dickens - Calgary, AL
Sep. 15 - The Biltmore - Vancouver, BC
Sep. 16 - El Corazon - Seattle, WA
Sep. 17 - Hawthorne Theatre - Portland, OR
Sep. 18 - Slim's - San Francisco, CA
Sep. 19 - Key Club - W. Hollywood, CA
Sep. 20 - Chain Reaction - Anaheim, CA
Sep. 21 - Cheyenne Saloon - Las Vegas, NV
Sep. 22 - Clubhouse - Tempe, AZ
2011 marks the 20th anniversary of GRAVE's epic debut album, "Into The Grave", and the band is planning to play several special shows during the year featuring a performance of the entire first LP plus songs from "You'll Never See..." and "Soulless".
Source:
http://www.roadrunnerrecords.com/blabbermouth.net/news.aspx?mode=Article&newsitemID=155192
3
« on: May 03, 2011, 06:29:05 PM »
Friday 17 June 2011
Rail Club Fort Worth, TX, US
Saturday 18 June 2011
Dirty Dog Bar Austin, TX, US
Wednesday 22 June 2011
The Manhattan Room Philadelphia, PA, US
Thursday 23 June 2011
Sonar Baltimore, MD, US
Friday 24 June 2011
Dingbatz Clifton, NJ, US
Saturday 25 June 2011
The Blue Room Secaucus, NJ, US
Saturday 27 August 2011
Alcatraz Metal Festival @ Brielpoort Hall
Lucien Mathyslaan 9
Deinze, 9800 BELGIUM
Data culled from
http://www.songkick.com/artists/236833-helstar
and
http://www.myspace.com/events/View/10842879/HELSTAR--Alcatraz-Metal-Festival-Belgium-270811
4
« on: June 13, 2009, 10:25:38 AM »
Running order:
Doors 11:30 am - Show 11:45 pm / Both Days
Saturday July 4th
10:00 - 11:00 - Deicide
08:45 - 09:30 - Vital Remains
07:45 - 08:30 - Monstrosity
06:55 - 07:30 - Jungle Rot
06:10 - 06:45 - Pessimist
05:25 - 06:00 - Rumplestiltskin Grinder
04:40 - 05:15 - Bloodsoaked
04:00 - 04:30 - Fuck the Facts
03:20 - 03:50 - Dreaming Dead
02:40 - 03:10 - Torn the Fuck Apart
02:05 - 02:30 - Strong Intention
11:45 - 01:55 - Locals Acts
Sunday July 5th
10:00 - 11:00 - Absu
08:55 - 09:40 - Kult ov Azazel
07:50 - 08:35 - Anal Cunt
06:55 - 07:30 - Goreaphobia
06:10 - 06:45 - Total Fucking Destruction
05:25 - 06:00 - XXX Manic
04:40 - 05:15 - Insatanity
04:00 - 04:30 - Polterchrist
03:20 - 03:50 -
02:40 - 03:10 - Submerged in Dirt
02:05 - 02:30 -
11:45 - 01:55 - Local Acts
http://www.hostilecitydeathfest.com/
5
« on: May 17, 2008, 04:23:33 PM »
PESSIMIST has been confirmed for the 2008 New England Deathfest, which will take place August 9 & 10 at Club Hell in Providence, Rhode Island. This marks the return of the original PESSIMIST lineup, along with bassist Kelly Conlon, and the first show for the band since 2002!!! Other notable bands on the bill include Dying Fetus, Pyrexia, Malignancy, and Mortal Decay. For complete show info click the banner above, or visit
myspace.com/newenglanddeathfest
.
http://www.pessimist.com/index2.html
6
« on: March 11, 2008, 07:11:59 PM »
"At The Gates"

It is cold out here
and lonely is my journey
I walk the trail of broken souls
the darkest path through infinity
Far behind my body rot
For me no more tomorrow
Fear or pain I know not
and yet I am filled with sorrow
I am at the gates
Lord of chaos
Let me sleep
Space is deep
Lord of chaos...
Through the gates the journey goes on
The fate of my immortal soul
Through the gates the journey goes on and on...
All I crave is to sleep
All I crave is to sleep
Across the seas without no name
The weak spot of the creation
My crown of thorns
All life it drains
As the scars back of my mind
But at the side of my lake
Insanity wait for me to find
I am all as I am you and me
I am everything and will forever be
a part of you throughout eternity
When you die you too will be
Heaven waits below as you will see
I am at the the gates but where are the keys
All I crave is to sleep
All I crave is to sleep
Lord of chaos...


"Key To The Gate"

My eyes are shut I cannot see
though clear is thy despair
I drift away - far away
from places of which you seek

Though I seek thy hell
you close the gate before me
Your life is right, and I'm to
follow to your paradise

I cannot fall in love
love is for them
Lusting for the sky -
Heaven

Why did I come to this world
of sorrow why is this true
Where is my dagger of sacrifice

I will open the gates to Hell one day...

7
« on: March 06, 2008, 05:53:35 PM »
We're very proud to announce the upcoming release of SINISTER's "The Blood Past" CD featuring a complete collection of all the early, long-time out-of-print band material released during the 1990-1992 period. This magnificent release will include their 2 EP's from 1990, the 1990 and 1991 demos, the split EP with MONASTERY from 1991 plus special bonus tracks!. As that was not enough, the release will be packed with a comprehensive booklet including all the ep's and demo covers, tons of pics, liner notes, recordings info and more!. Expect a masterful cover artwork by none other than cult underground artist Chris Moyen (INCANTATION, BLASPHEMY, VITAL REMAINS, MORTICIAN, SARCOFAGO, etc) that is sure to capture the true essence of the early band stages and then translate into artwork!. Tentative Release Date: MDF 2008.
* Download advance mp3 --->
Putrefying Remains (6.46 MB)
* Myspace Site:
www.myspace.com/sinisterwingsofdeath
http://www.goregiasticrecords.com/index2.html
8
« on: August 26, 2007, 07:28:08 AM »
Extreme metal espouses a conspicuous anti-humanism, but in the context of the best of metal, what meaning can be extracted from such an ideological position? It should not suffice to declare anthropomorphism inherently unfounded as the egalitarians do, as this neglects an understanding of hierarchy. Rather, with an allusion to states which transcend the human for those brave enough to explore the depths of the soul, which Plotinus called the metaphysical wanderer, we may say, as Burzum did, that modern conceptions severely limit our possibilities of experiencing the Real. In other words, metal seeks to expand our way of viewing the world, for ultimately, modernity is really very close-minded, as evidenced by philosophers such as Wittgenstein, a stranger to the knowledge of hierarchy, who, in believing that our greatest future explorations lay in language, would have humanity reduce itself to the level of one of its creations, and in so doing, devolve, as of the lower the higher cannot be had.

"Our dwelling on the human order implies in no way that the human state occupies a privileged rank in the ensemble of universal Existence, or that it is metaphysically distinguished in relation to other states by the possession of any prerogative. This human state is in reality only one state of manifestation, like all the others, and among an indefinity of others; it is situated in the hierarchy of the degrees of Existence in the place assigned to it by its own nature, that is, by the limiting character of the conditions which define it, and this place confers on it neither superiority nor absolute inferiority. If we must sometimes envisage this human state in particular, it is solely because, being in the state in which we find ourselves, it thereby acquires an especial importance for us--but for us alone. This is an altogether relative and contingent point of view: that of the individuals which we are in our present mode of manifestation. That is why, especially when we speak of superior and inferior states, it is always to make this hierarchical division from the human point of view, taken as the only term of comparison directly graspable by us as individuals. It must not be forgotten that since every expression is an enclosure in a form and therefore effective in the individual mode, when we wish to speak of anything, even purely metaphysical truths, we can do so only by descending to an altogether different order--an essentially limited and relative one--in order to translate them into the language of human individuals." -- René Guénon, Preface to The Multiples States of the Being
9
« on: September 14, 2006, 03:09:43 PM »
Paula Hogan of MANIC Music & Distribution and Candlelight Records USA has contacted BLABBERMOUTH.NET to report that "eBay is [allegedly] currently starting a ban on black/extreme metal. A few of our vendors who have sizeable eBay stores are now finding their items pulled down by eBay directly. The list we have compiled so far that have been pulled for sale via any eBay stores or auctions is noted below. I'm sure there are more."
Added Dan Ferguson of Indianapolis, IN's Abyss Records: "I had a number of items removed and account suspended by selling black metal. It seems a group of so-called Christians have been reporting black metal bands (even though eBay has black metal as a search genre) as all racist and hateful and discriminatory."
http://www.roadrun.com/blabbermouth.net/news.aspx?mode=Article&newsitemID=58406
10
« on: December 06, 2005, 04:35:09 PM »
Morpheus
/
Morpheus Descends
Morpheus / Morpheus Descends MP3s
---
Morpheus Descends
"When people say "death metal," this is more often than not what pops into mind. Rigid blasting roll of terrifying explosion and post-technological mysticism defines this release as a powerful statement for the genre. This band heavily influenced the New York style bands such as Suffocation or Cannibal Corpse."
Started under the name of Morpheus in 1990, later changed it to Morpheus Descends in 1992.
Morpheus Descends - Ritual Of Infinity
(1992)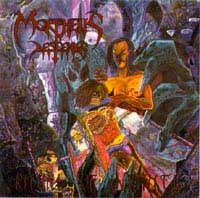 Morpheus Descends - Ritual Of Infinity
(1992, Mega)
Morpheus Descends - Chronicles of the Shadowed Ones
(EP 1994, Mega [.flac])
pt. 1
Morpheus Descends - Chronicles of the Shadowed Ones
(EP 1994, Mega [.flac])
pt. 2
Morpheus Descends - The Horror Of The Truth
(EP 1997, Mega [.flac])
11
« on: October 20, 2005, 05:19:38 PM »
12
« on: October 17, 2005, 02:09:58 PM »
Fri 11/4
"Thrashtoberfest" with Rigor Mortis
Deceased
Thine Eyes Bleed
Sun Decsends
Dimentianon
Sunlord
$15
Doors: 6:30pm
Show: 7pm
66 North 6th St.
Brooklyn, NY 11211
phone 718.599.5103
http://www.northsix.com/
[1]