Death Metal Search Engine
Show Posts
This section allows you to view all posts made by this member. Note that you can only see posts made in areas you currently have access to.
Topics - GS
[1]
1
« on: May 20, 2012, 12:53:27 PM »
IT'S ALIVE
Chips & Beer The Magazine #3. 120 pages.
Interviews w/:
ARES KINGDOM
CAULDRON BLACK RAM (w/ artwork by PUTRID)
CHRIS BLACK (HIGH SPIRITS/SUPERCHRIST, etc)
KRYPTS
SWALLOWED
WEAPON
MASSIVE feature on
NEW YORK CITY STREET METAL
, interviews with:
JAY JAY FRENCH (TWISTED SISTER)
ROSS THE BOSS (MANOWAR)
JOE LEONARD (FRIGID BICH) - First interview in an American zine since 1986!
DANNY LILKER (SOD, NUCLEAR ASSAULT, etc)
MIKE SCHUTZMAN (former owner of Slipped Disc Records in LINY)
Article/tribute to
C&B Patron Saint, JOE SPINELL and his masterwork, MANIAC
Thirsty & Miserable (with Blaash from WHERESMYSKIN zine)
VARGINA comic
and lotsa terrible reviews of terrible records
"Scenesters and hipsters will hate this magazine, which is another great reason why you should buy it." - Metal-Rules.com
New York Metal Primer
Villains "Taxi Driver" illustration by Beaver / Slipped Disc Records Interview
Chris Black Interview
Cauldron Black Ram Interview. Illustration by Putrid.
At this time the new issue is only available direct from 20 Buck Spin. By next week they should be at various US distros (NWN! The Ajna Offensive, Hell's Headbangers) and within a few weeks in the EU (High Roller being the primary place over there). Profound Lore usually gets some for the Canadians. Also various book stores and record shops around North America.
Here is a bunch of info about the new issue, sample pics, etc:
http://tinyurl.com/c2g9d9p
The mag also has its own website now and eventually will have most of the reviews of prior issues and other stuff:
http://www.chipsandbeer.net
Any 20 Buck Spin order of $25 or more will get one free for a limited time.
http://www.20buckspin.com
2
« on: June 05, 2008, 02:00:22 AM »
It is about time, that with a growing critical interest in the music and culture of heavy metal, a conference be held to explore, critique and bang heads on what this long standing movement is about, where it is going and what it has to offer, politically socially and philosophically...

Submissions are welcome on any of the following themes: Heavy metal and:

- Origins, Definition and History
- Genres and classification. Classical music/Opera
- Culture - Subculture - Underground - Popular Culture - Fans
- Religion - anti religion - Evil - Satanism
- Politics - Nationalism - the apolitical - Fascism
- Imagery - Iconography - Aesthetics
- Art - Design - Fashion - Performance - Theatre - Sleeve Art
- Gender Issues - Misogyny - Homo sociality - Masculinities - Deviant Sexualities
- Monsters - Madness
- Philosophical themes: Existentialism - Nihilism - Hedonism - Ethics
- Literature - Cinema - Documentaries - Soundtracks - Horror - Gothic - Anime - Cartoons
- Fashion

Papers will be considered on any related theme. 300 word abstracts should be submitted by Friday 13th June 2008. If your paper is accepted for presentation at the conference, an 8 page draft paper should be submitted by Friday 10th October 2008.
http://www.inter-disciplinary.net/ci/mmp/mmp1/cfp.html
3
« on: June 14, 2007, 08:46:36 AM »
What was the band like starting out?

Well, the music came very quickly. Basically, I wrote all the lyrics. I had a fairly imaginative mind back then. One of the things that influenced me was the art work of Frank Frazetta. I bought a couple of his plate books, would look at the pictures, and come up with a story or some lyrics around it. "Destroyer" was from a Frazetta painting. "Against the gods", as I recall. Even "Confrontation" was something of a melody line that came to me looking at one of his paintings, I think, although I had in mind taking it in another direction I'll mention later. So, the music was there. I'd take the melody / lyric line to Kevin, hum the melody line or sing a verse, chorus, etc., and then Kevin arranged his parts and the piece around that basic line. Then John would apply his knowledge of the bass to his parts. He had this really cool Alembic that he asked me to design artwork for up the fretboard. The guys at Alembic did a pretty interesting rendition of the artwork I gave him. The thing weighed a ton, as I remember it. He also played acoustic guitar on acoustic songs we did live.

We rehearsed at my house, in the basement. With all the drums it was the only option, really, and my folks were cool with that. So, that's how I remember it starting up. The atmosphere was a little more serious. John was a mysterious character.

Did you have a specific goal in mind for the band?

Musically, financially, professionally? Musically, though I see all this commentary on the web about Legend being a metal band, we didn't see it that way. I didn't. It was just a power trio playing rock with heavy, light and everything inbetween for influences. That's why there are funky spots, jazzy stuff that Kevin and Fred played, and the acoustic part of the show. Financially we certainly hoped and truly believed this was going all the way. For me, I just wanted to make enough money to buy some things for my folks, and also to open a couple of drum shops. Making an actual career out of it seemed less than possible, the way the industry functions. Bands in, bands out. Professionally, it was always my thing, no matter what I did, to do it as professional as possible. Do as much as can be done within the limitations one has. So, we dealt with our clothing, props, lighting, everything. Some of it may have been over the top, but still, we didn't want to play out just looking like any band out there. I remember John wore his black satin karate robe. Mom sewed some things for Kevin, Fred and me to wear. I had this monks robe made of some kind of gold material we found, which I didn't like and wore once or twice. And mom made a couple of other tops for me and Kevin to wear, out of fancy materials that caught lights and all. We had satin curtains she sewed up, and mounted them on poles. They were about 10 or 12' high, and we had the roadies pull them open as we went out to begin, while a Vangelis piece played in the background. The goal was to "make it." And as I recall, it was a very fast experience. seemed that way, anyway.
http://blog.myspace.com/index.cfm?fuseaction=blog.view&friendID=16512559&blogID=270025032&MyToken=6cb4db81-5805-463b-9ee5-c4327ad473dc
4
« on: November 20, 2006, 07:04:45 AM »
Go ahead, Kvetch.
Long-running New York death metallers IMMOLATION will enter Millbrook Sound Studios in Millbrook, NY with producer with Paul Orofino any day now to begin work on their seventh full-length CD. The new material is described in a press release as "very aggressive and much more intense" than the band's past work. "The songs are shorter, but pack more of a punch; definitely a darker, meaner album."
http://www.roadrunnerrecords.com/blabbermouth.net/news.aspx?mode=Article&newsitemID=62446
5
Revenant
Revenant MP3s
---
"Undernoticed because of its dessicated production and lengthy involved required for narrative understanding, this album defined a fast-moving hybrid of the less percussive of the two New York styles with the bulk rhythmic attack of a Florida band, possibly showing influences from melodic Eurometal like Pestilence."
Revenant - Prophecies Of A Dying World
(1991)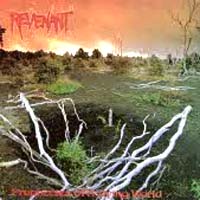 Revenant - Prophecies Of A Dying World
(1991, Mega)
[1]