Death Metal Search Engine
Show Posts
This section allows you to view all posts made by this member. Note that you can only see posts made in areas you currently have access to.
Messages - Gisli
16
« on: February 13, 2006, 03:40:59 PM »
Recently I was watching an interesting new age movie called "What The Bleep Do You Know?" and thought the music score sounded like Tangerine Dream. Sure enough, the original score was done by Christopher Franke.
17
« on: February 13, 2006, 03:23:51 PM »
Over the years, I've come across a suprising number of metal fans who listened to death and black metal that were also closet Christians. I've always wondered what the hell is going through their heads while listening to blatantly anti-Christian metal. How can these people not see the light when the truth is right in front of them in the music? They must be very confused.
18
Cathedral: Rapidshare, Blogspot, Megaupload
Cathedral
Cathedral - In Memorium [Demo]
(1990, Megaupload)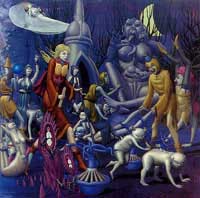 Cathedral - Forest of Equilibrium
(1991, Megaupload)
Cathedral - Soul Sacrifice EP
(1992, Megaupload)