Death Metal Search Engine
Show Posts
This section allows you to view all posts made by this member. Note that you can only see posts made in areas you currently have access to.
Messages - aerator
31
« on: April 26, 2006, 05:25:45 AM »
Prong
Prong MP3s
---
"Originally a Discharge-style hardcore band, Prong went through a phase of thrash which is reminiscent of middle Sodom or Dead Brain Cells in order to emerge as a champion speed metal band with their opus "Beg to Differ.""
Prong - Primitive Origins
(1987) [
CD $20
]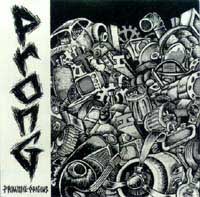 Prong - Primitive Origins
(1987, Mega)
32
« on: April 26, 2006, 04:14:45 AM »
PEANUT-BRAN BARS

1/3 c. creamy peanut butter
1 c. granulated sugar
2 eggs, well beaten
1/2 c. peanuts
3 c. bran flakes
1/4 c. semi-sweet chocolate pieces
1 tbsp. light corn syrup
2 tsp. water

Stir peanut butter, sugar and eggs together in a skillet. Cook over medium heat until mixture comes to a boil and pulls away from sides of skillet, stirring constantly. Stir in peanuts and cereal, mixing thoroughly. Turn into a buttered 9 x 9 x 2 inch pan. Spread mixture evenly in pan. Chill until firm, 2 to 3 hours.

Combine semi-sweet chocolate pieces, corn syrup and water in a small saucepan. Stir constantly over very low heat until chocolate is melted and mixture is smooth. Drizzle melted chocolate mixture over top of chilled mixture in a zigzag pattern. Cut bars. Makes 2 dozen.
http://www.cooks.com/rec/doc/0,1710,152175-238194,00.html