Death Metal Search Engine
Show Posts
This section allows you to view all posts made by this member. Note that you can only see posts made in areas you currently have access to.
Messages - Kronet
[1]
1
Tha-Norr
Tha-Norr MP3s
---
"Ambitious hall-rocking black metal."
Tha-Norr - Wolfenzeitalter
(1995)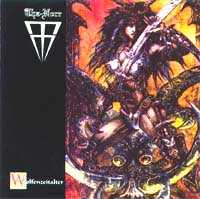 Tha-Norr - Wolfenzeitalter
(1995, Mega)
3
« on: October 15, 2006, 04:15:25 AM »
Schumann, Robert: Rapidshare, Blogspot, Megaupload
Robert Schumann
Heidenlarm issue #4 on Schumann's first symphony, taken from "Classical for Metalheads" article:
A densely Romantic symphony, this work makes no attempt to hide its
passions which come on like a popular piece, but then interweave in
a complexity of changing texture of pattern. Quite many beautiful
and absurdly musically profound phrases here in varying lengths,
forms and rhythms, but the music develops its strength from the
ability to return to themes through either extremely selective
repetition or use of obliquely similar phrases. Additionally, this
makes unexceptional but precisely tasteful use of the orchestra, and
is probably one of the better pieces to introduce metalheads (or
anyone else who likes Romantic and epic music) to classical.
Robert Schumann - Symphony No. 1
(Mediafire)
Robert Schumann - Toccata in C Major / Blumenstück / Nachtstücke (Night Pieces) / 4 Fugues
Sviatoslav Richter, piano
---
Kinderszenen, Kreisleriana
Martha ARGERICH, piano
DG 1984
Robert Schumann - Konzertstück Op. 92
Introduction and Allegro Appassionato (Konzertstück) for Piano and Orchestra in G major, Op. 92
Rudolf SERKIN, piano
Philadelphia Orchestra
Eugene ORMANDY, cond.
Sony 1968
Robert Schumann - Symphonies Nos. 1 & 4
Staatskapelle Dresden
Wolfgang SAWALLISCH, cond.
EM 1988
Robert Schumann - Symphonies Nos. 2 & 3
Berliner Philharmoniker
James LEVINE, cond.
DG 1988
[1]