Death Metal Search Engine
Show Posts
This section allows you to view all posts made by this member. Note that you can only see posts made in areas you currently have access to.
Messages - Rotten Ralph
46
« on: April 04, 2013, 04:07:24 PM »
47
« on: April 01, 2013, 03:17:32 PM »
On both band pages for Master and Speckmann Project there's a link to Deathstrike that doesn't work because no underscore has been used. The real link has an underscore like: death_strike.
48
« on: March 27, 2013, 08:03:43 PM »
1. Have a best of section like the one
here
on the old site. Those "best ever" lists helped me out a ton when I first came to the DLA. At the moment the reviews section might be a bit daunting for a newcomer.
2. Make sure each band page on the reviews has an MP3 link to the audiofile section. Most of them have it but there's a few missing.
3. There's a bug on the reviews section when you're on an album review and then click on another album by the same band. Takes you to an error page.
49
« on: March 24, 2013, 05:51:49 PM »
Cultus Sanguine
Cultus Sanguine MP3s
---
Cultus Sanguine
"Primary fusion of black metal with gothic doom, an interesting branching for the late stages of black metal's explosion."
Cultus Sanguine - Cultus Sanguine
(1995) [
CD $18
]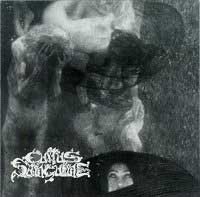 Cultus Sanguine - Cultus Sanguine
(1995, SendItz)
Cultus Sanguine - Cultus Sanguine
(1995, Mega)