Death Metal Search Engine
Show Posts
This section allows you to view all posts made by this member. Note that you can only see posts made in areas you currently have access to.
Messages - Necrocosm
31
« on: August 30, 2011, 08:16:29 PM »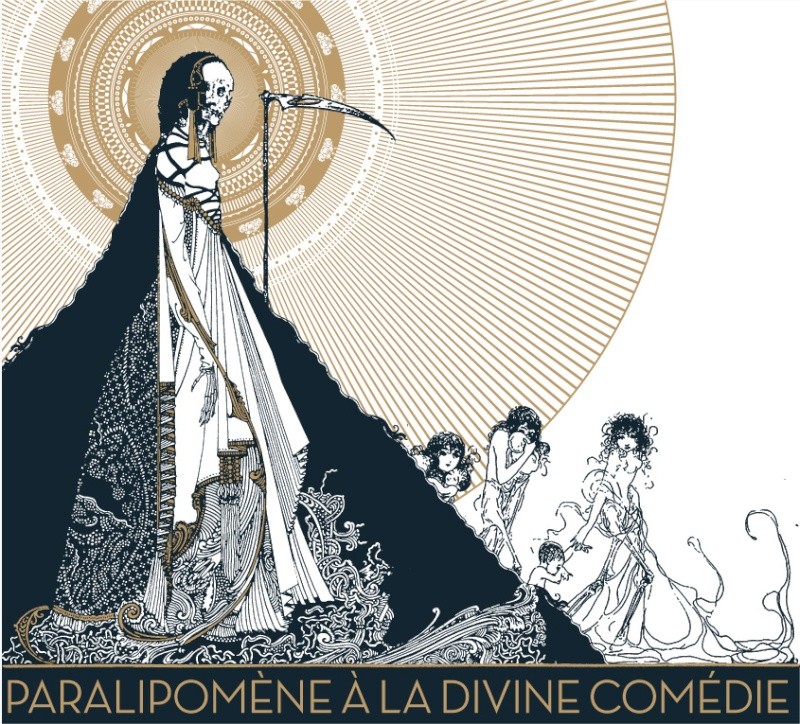 The first release of
Mors Ultima Ratio
available in exclusive distribution through Necrocosm.
DAPNOM
"Paralipomènes à la divine comédie"
CD Digipack
4 page-booklet strictly limited to 500 copies - MUR-001 - 11.90€
Also available special TS limited to 30 copies and Girly to 5 copies.
Special pack available CD + TS or Girly. - 23.90€
The Greatest French Dark Ambient Artist is back with his most elaborated release.
4 tracks of Dark Ritual Sophisticated Evil Music.
Incredible artwork signed Metastazis
(Morbid Angel, Secrets of The Moon, Ascension, Neo Inferno 262...).
"Je vous appelle à la vie, ô forces mystérieuses !
Noyées dans les obscures profondeurs de l'esprit créateur,
craintives ébauches de la vie,
à vous j'apporte l'audace !"
32
« on: June 26, 2011, 02:45:51 PM »
Le Devenir n'est plus !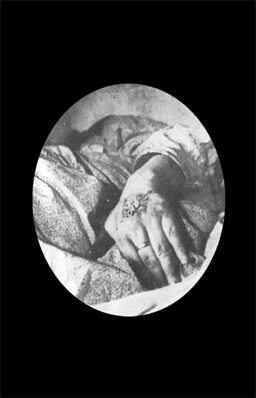 SEKTARISM
"Le Testament"

Pro-tape - Strictly limited to 99 copies

4 euro without postage.
Their third offering.
Oppressive Religious Funeral Doom/Drone musick.
Another stone of the Apostles of Ignominy, with members from Darvulia & Malhkebre.
A
Zanjeer Zani Production
exclusively distributed by
Necrocosm.

To order:
Via our webshop:
http://www.necrocosm.net/vpc/distro.php5
or by e-mail:
Personal order : order (-at-) necrocosm (-dot-) org
Distributors : wholesale (-at-) necrocosm (-dot-) org
Sektarism's releases available:
SEKTARISM "L'Offrande" MCD limited to 500 copies - few copies in stock
SEKTARISM "Hosanna Sathana" Pro-tape limited to 99 copies
SEKTARISM "Rejoignez notre Temple" TS - Size XXL - last copy
SEKTARISM "Rejoignez notre Temple" Girly - Size M - last copy
The Apostles of Ignominy circular embroided patch
Ce chemin tu prendras
Celui de ta perdition...
33
« on: June 01, 2011, 12:59:55 PM »
34
« on: May 20, 2011, 07:17:35 PM »
The last opus of these french freaks is now available on pre-order - 11.90€

"13 comptines pour caresser du majeur l'Innocence, la Pureté, la Chaleur".

Encore plus loin que Virus STN, toujours plus bas vers et pour Lui.
Cette oeuvre s'adresse à ceux qui pensent que tout a été dit et dégueulé, dans une société bien trop lisse.
All pre-orders will be sent Monday, 30th May 2011.
Distributors contact us for wholesale prices at
[email protected]
.

Also available some special pack CD + TS or Girly - 21.90€
For the vinyls fanatiks, Gatefold Double LP + insert available now in distribution!
Listen some tracks (Fais le, Ennui, A.N.T.I.) of this recording on their myspace:
http://www.myspace.com/diapsiquir
"Je t'assure que la Vase et l'Extase ne font qu'un."
http://www.necrocosm.org
35
« on: February 12, 2011, 03:55:32 PM »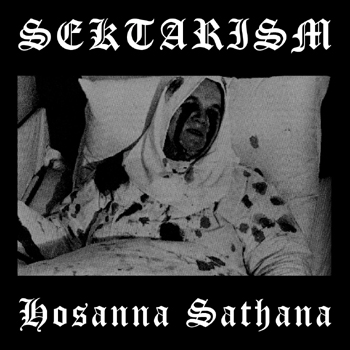 Low and Oppressive Funeral Doom
Totaly pro-tape - Strictly limited to 99 copies - 4€
Puissent Ses élus écouter son message, dans l'abnégation et le recueillement. Vous n'êtes rien et Il est tout.
A release by
Zanjeer Zani Productions
, under
Necrocosm's exclusive worldwide distribution
.
To order:
http://www.necrocosm.org
or
[email protected]

WOUNDS ARE ART
36
« on: October 27, 2010, 05:04:18 PM »
New Old School Death Metal Label
GOSPELS OF DEATH
Proudly presents: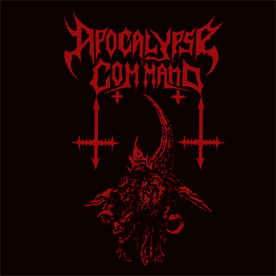 APOCALYPSE COMMAND
"Abyss Fiend of Darkness" MCD

Pure Bestial Death Metal by ANGELCORPSE's guitarist Gene Palubicki!
3 Tracks of Blasphemy & Mayhem!
Limited edition. (500 copies) - 6.90€
Gospels of Death is
under Necrocosm's Exclusive Worldwide Distribution
.
For all order and information:
http://www.necrocosm.org
or
[email protected]
DEATH METAL OVERKILL!!!
37
« on: October 09, 2010, 11:04:54 PM »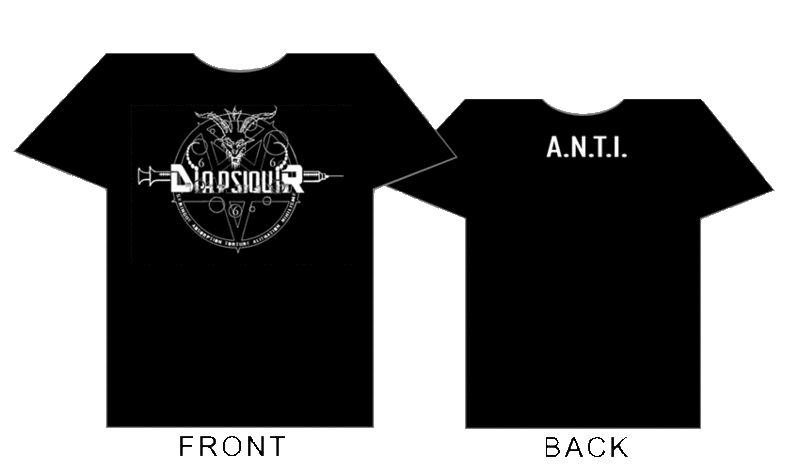 Get Filthy under Diapsiquir Decadent Urban Banner!

DIAPSIQUIR
Logo

Limited Edition!
White quality printing on both sides / high quality shirt.
Available Sizes: S, M, L & XL - 12.90€
Girlies also Available (Sizes S, M & L) - 12.90€
To order:
http://www.necrocosm.org
[email protected]

- DEGENERATION IS ART -
38
« on: September 26, 2010, 05:02:39 PM »
!NEWS IN STOCK!
TIMELESS "Madness Become Method Issue" Book "Zine containing : Interviews from : Romain Slocombe, Dennis Cooper + Words from : Michael Williams (Eyehategod), Philip Best (Whitehouse/Consumer Electonics) + new, unseen or very rarely seen artworks from : Romain Slocombe, Trevor Brown, Keit Ota, Tampopo, Motomichi, Seven Bastards, Daisuke Ichiba, Beatrice Cussol, Mijn Schatje, Elles Sont de Sortie, Kiki Picasso, Loulou Picasso, T5dur, Pyon, Stu Mead, Cameron Jamie, Blanquet, Gilles Berquet, Mirka Lugosi, Antoine Bernhart, Guy Lemaire, Julien Carreyn, Jonas, Jankowsky, Jonathan Canady, Fredox, Jean Pierre Le Boul'ch, Gea, Otto, Pakito Bolino, Tisbor (Splinter vs Stalin), Keith Brewer (Taint), Michael Williams (Eyehategod), Intrinsic Action, Philip Best (Whitehouse/Consumer Electonics), Bruce Benderson, Peter Christopherson (Soisong/PTV/Coil/Throbbing Gristle), Jordi Valls (Vagina Dentata Organ), Gaspar Noe, Elzo, Angelo aka Joseph Farrel, Martin of Holland. 150 pages - 16 x 24 cm" For deviant and harsh minds only! [Label: Timeless] - 24€
THOMAS KARLSSON "Qabalah, Qliphoth and Goetic Magic" Book "Qabalah, Qliphoth and Goetic Magic is a unique practical introduction to magic. The main thread of the book is the exploration of the Qliphoth and the dark mysteries which have for so long been a repressed part of western esotericism. Instead of ignoring and denying the dark side, the author reveals, step by step, how man can get to know his Shadow and, through this, reach a deeper knowledge of the Self. By exploring and not by repressing the Shadow it can be transformed from a destructive force into a creative power. The book deals with the problem of evil, the symbolism behind the fall of Lucifer and mans creation process according to Qabalistic philosophy. The theories that are presented in this book are also linked to practice. Several examples of rituals, meditations, magical exercises and occult correspondences can be found within. Qabalah, Qliphoth and Goetic Magic contains more than one hundred demonic sigils and pieces of art that were created specifically for this book. A unique collection of all the sigils from the classic grimoires Lemegeton: The Lesser Key of Solomon and the infamous Grimorium Verum are also included." 240 pages, relied and illustrated book with hardcover. [Label: Ajna] - 39€
TEMPEL OV BLOOD "Tales of Sinister Influence" Book One copy BACK IN STOCK! In English. Contains the following satanic fiction short stories relating to Tempel ov Blood teachings A Hermit´s Confessions, Solvet Saeclum in Favilla, Azanigin Pt. I- Dark Night of the Soul, Azanigin Pt. II- The Devil´s Highway, Azanigin Pt. III- A Clandestine Burning, Night of Satan, A Long Reach, Yasoda-Lila. 72 pages. [Label: Ixaxaar] - 8€
SKULLFLOWER "Pure Imperial Reform" CD quote from label: "New Skullflower CD now available on Turgid Animal Records. Recorded last year live on an Antwerpen radio station comes this new guitar wall "composition" from Matthew Bower and Lee Stokoe. This is a real CD (a first for Turgid Animal) limited to 1000 copies with artwork desinged by MB himself and pro-printed on quality grey paper in standard jewel cases. This is a seriously solid release and is for fans of modern Skullflower recordings and anyone who just loves a good harsh racket!" [Label: Turgid Animal] - 8.90€
GELSOMINA "Pythogenetics: Collection" CD Quote from label: "Since the early 2000's, up until the UK tour in the summer of 2008, Gelsomina has been the musical outlet of Finnish Harsh Noise fiend, Pekka PT. A brutal mix of junk metal abuse and pedal worship, sometimes resulting in total unflinching chaos and other times resulting in a more structured industrial noise masterwork. Having released dozen's of tapes, cd's and vinyl it was never going to be an easy task to wittle it all down to CD length but through the critical eyes of the man himself, Pekka has managed to pull together 74 minutes of what he considers the best of his Gelsomina, and I couldn't agree more. Featuring a full colour tray card and 4 page booklet with liner notes by Mikko Aspa (Grunt/Freak Animal Records) and Pasi Markkula (Bizarre Uproar/Filth and Violence). Essential Harsh Noise document by a now defunct but legendary project. But it's not all bad Watch out, Sick Seed is on the rise!" [Label: Turgid Animal] - 8.90€
BLACK LEATHER JESUS "Skuff" CD Quote from label: "The latest full length by these US Harsh Noise Heroes! Kevin Novak, Richard Ramirez, Scott Houston, Vance Osborne and Sean Matzus take you on a journey of self degradation and filthy revenge riddled noise violence. Step back in time to the slave auction. Hear the abuse. Black and White covers designed by our very own Tisbor. Edition of 500 copies." [Label: Turgid Animal] - 8.90€
EXCRUCIATE 666 "Riding Fires Of Hate" CD First full lenght of this hateful black metal band, escaped from the old era as they exist since 1994! [Label: Infernal Kommando - 8.90€
GNAW THEIR TONGUES "All The Dread Magnificence Of Perversity " CD Digipack Picking up where 2008's An Epiphanic Vomiting Of Blood left off, Gnaw Their Tongues is back with nine new tracks of fearsome blackened orchestral chaos and abstract horror that still sounds like little else out there. [Label: Crucial Blast] - 9.90€
GNAW THEIR TONGUES "An Epiphanic Vomiting Of Blood " CD Digipack Killer release on a luxuous Digipack. Quote from Crucial Blast "Gnaw Their Tongues, an enigmatic project from the Netherlands that has wowed fans of messed-up heaviosity [...] This undefinable mass of black amorphic horror is one of the most intense listens we've engaged in recently, a nihilistic pit of howling orchestral strings and blackened abstract doom, operatic female voices plunging into a fetid sewer of filth and blackness, equal parts avant black metal and splattered sludge and symphonic horror movie score. [Label: Crucial Blast] - 9.90€
BONG "Novum Castellum" CD Double Quote from label: "The first ever doom record on Turgid Animal. A reissue of the "In And Around Newcastle" live CD-r box set (originally issued in an edition of 50 copies by Fuckin' Amateurs last year) by North East England's Drone/Doom masters BONG. These live sets are essentially "bootleg" (albeit official) recordings and as such are not of the clearest quality, which only adds to the charm in my humble opinion. "Novum Castellum" includes the entire "In And Around Newcastle" recordings plus an extra disc of bonus live material." Limited to only 300 copies. Packaged in 3-way DVD case with pro-printed artwork and inserts. [Label: Turgid Animal] - 14.90€
MR. PETER HEYDEN "first cycle complete" EP Original, tormented Drone/Rock played like an improvisation. [Label: n/a] - 5€
ABSU / DEMONICAL "Split" EP with thick printed inner sleeve [Label: Temple of Darkness] - 5€
CLOAMA / MUTANT APE "Dementia" EP quote from label: "Finlands best kept secret, Cloama meets England's vilest, Mutant Ape in a Power Electronics show down with lyrics and artwork based on dementia. Limited 250 copies on black vinyl." [Label: Turgid Animal] - 5€
FAUX PAS "Stoy = Gull" EP quote from label: "Lasse Marhaug joins Sten Ove Toft in a true Harsh Noise collaboration project. They hail from Norway and make harsh and unforgiving music. What's not to like? Limited to 200 copies on black vinyl." [Label: Turgid Animal - 5€
MUTANT APE "Live and Proud" EP Quote from lable: "Great document of last summer from Mutant Ape. I played both these shows with him and they were two of the best shows I've seen Mr Proctor do...it's just total over-the-top, unpretentious NOISE. It's aggressive and in-yer-face the haters can say whatever the fuck they want but Mutant Ape always delivers the good quite frankly. HARSH NOISE, NO BULLSHIT. Perfect! First side was recorded here at a great show we did with Bizarre Uproar and Gelsomina and the other from the great Distraction fest in Newcastle". - Al Mabon 150 copies on orange vinyl and fullcolour double-sided fold-over sleeve. [Label: Turgid Animal / At War With False Noise] - 5€
EXCRUCIATE 666 / DAWN OF CRUCIFIXION "Obscene Perversion In Genocide / AssGoat" EP Split EP, two tracks from each band. Hail the Great Goat Cult on your turntable! Limited to 500 copies. [Label: Infernal Kommando / Sabbath's Fire / Kaos] - 5€
DEFUNTOS / STRIBORG "Florestas de Perpétua Solidão" EP Slow and cold black/doom metal to enhance your winter nights. Limited to 500 copies. [Label: Dunkelheit / Sabbath's Fire / Infernal Kommando] - 5€
ABIGOR / BLACKLODGE "Time" LP Double Gatefold Gatefold double LP that features both last opus of each band, marking concretely the conceptual link between both albums. "Time is Satan's way of keeping everything from happening at once" (Albert Einstein) [Label: End All Life] - 18.90€
LES APÔTRES DE L'IGNOMINIE / MALHKEBRE / DARVULIA / SEKTARISM "Sigil" Patch High Quality Embroided Patch - Size : 10 cm - Limited to 100 copies - Support the Apostles! The Reign of Ignominy is coming! [Label: Battlesk'rs] - 4€
MALHKEBRE "Prostration" Tape Pro-tape - thick mat paper - limited to 300 copies. Four messages of black proselytism resulting from reflections about Nothingness and Final Salvation, destined to glorify the Unique and to remind you how unfathomable His splendour is. [Label: Tour de Garde] - 4€
BELETH "Nieuchronne Widmo Smierci" Tape First album of this polish black metal band on magnetic version! Limited to 300 copies. [Label: Werewolf / Hell is Here] - 4€
RESUSCITATION "There Will Be Darkness" Tape Satanical Brutal Death Assault! First album, tape limited to 435 copies. [Label: Demented Omen Of Masochism] - 4€
PLAGA "Trąby Zagłady " Tape First demo from this new enigmatic polish band. [Label: self released] - 4€
ACTUM INFERNI "Birth of Black Aeon" Tape Satanic black metal with epic guitar parts. [Label: Basement Murder] - 4€
EJECUTOR "4 Vientos de Ejecucion" Tape Death/Thrash metal firepower, first release from the band! [Label: Proselytism] - 4€
POISON TONGUE "Lick You Sweety" Tape "Sexual witching occult industrial! Inspired by Havohej, Von, Fulci and Giallo films. Musicially comes off as a mixture of Beherit's non-metal compositions, Atrax Morgue, Steel Hook Prosthesis and Goblin soundtracks! 50 dubbed cassettes. 7.25 x 7.25 artwork housed in a 7'ep sleeve. Black chrome cassettes with 4 different colored sticker facings. Hand numbered card also included." [Label: NoVisible Scars] - 5€
RU-486 "Iron Empire" Tape "Debut full length out now through NoVisible Scars. Iron Empire musically features various forms of raped and beaten scrap metal, junknoise, feedback manipulation, and analog synth. In the tradition of the 80's Broken Flag style,(old)Controlled Bleeding and Bizarre Uproar." RU-486 package: 7.25 x 7.25 covers/insert housed in a 7'ep re-sealable bag. Hand numbered card. Mastered on pro manufactured and imprinted(chrome)black cassettes. Album repeats on both sides of the cassette. Limited to 100 copies. [Label: NoVisible Scars] - 6€
TRANSCENDENT DEVICE "The Hopelessness Of Logic" Tape "NoVisible Scars first release, viscerally bleak cinematic dark ambiance. First ever Transcendent Device cassette release of unreleased material after a 2 year hiatus.Sounds constructed solely without the use of keyboards, samplers, and or computers.Inspired by: The "void", Personal Tradegy/Loss, Tibetan meditative sounds, Steven Jesse Bernstein." Comes in a EP cardboard and bag, including a hand-numbered card. Limited to 50 copies. [Label: NoVisible Scars] - 4.5€
STRIBORG "Bleeding Black Tears Of Hate" TS High quality white printed on front and back. [Label: n/a] - 9.90€
STRIBORG "Darkwoodlands" TS High quality white printing on front and back. [Label: n/a] - 9.90€
SKULLFLOWER "v/a" TS "Design by Matthew Bower. Double-Sided Design. Highly Quality White Prints on Heavy Black T-Shirt." Paste this link if you want to see the full design:
http://www.mutant-ape.co.uk/acatalog/info_7.html
[Label: Turgid Animal] - 9.90€
DEMENTED OMEN OF MASOCHISM "#1" Zine "Demented Omen of Masochism zine #1 – july 2008, english, xero 24xA4, 15 inties SABBAT (jap), MODER (ger), NWN Prods (usa), BESTIAL RAIDS (pol), ZBT (fra), IN SOLITUDE (swe), DEGIAL (swe), KAM LEE (MASSACRE, MANTAS/DEATH), MERCILESS DEATH (usa), THRONEUM (pol), SETHLANS (ita), INFERNAL RITES (ger/nor), MORGUE (USA), HELLFIST (pol), ZEMIAL (grc)" [Label: Demented Omen Of Masochism] - 5€
DEMENTED OMEN OF MASOCHISM "#2" Zine "Demented Omen of Masochism zine#2 – november 2008, xero 28xA4, 18 inties (english) + almost 100 reviews, gig reports (polish) ENFROCER (swe), ABHORROT (aut), DECEASED (us), SADOMATOR (dnk), VOIDS OF VOMIT (ita), KRATORNAS (phl), SANGUIS IMPEREM (us), BLACK WITCHERY (us), KINGDOM (pol), MANDATORY (ger), IRONFIST (phl), RESURRECTION (us), PYOVELI (fin), RIOTOR (can), NECROSCOPE zine (pol), ROT (pol), PSEUDOGOD (rus), PERSECUTOR (pol), LEICHENGOTT (pol)" [Label: Demented Omen Of Masochism] - 5 e
CHILDREN OF CAINE "Issue 2" Zine A4 American fanzine from 1997, inavailable for many years! In this issue: Absu, Yen Pox, Loretta's Doll, Tesco Vee(Meatmen), Broken Hope, Black Lodge, December Wolves, Elysium, Windham Hell, Acheron, Dayglo Abortions... And much more. Includes chronicles, muic, cinema, books... reviews, coming from the true good old years - 4.5€
To order:
http://www.necrocosm.org
Or write to
[email protected]
!DEATH IS ART!
39
« on: September 26, 2010, 05:00:09 PM »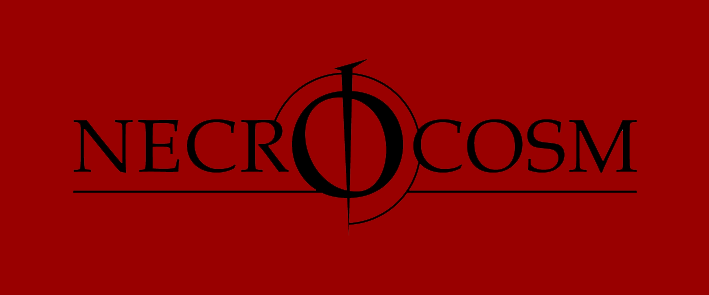 [size=150]Distribution and Production of Dark and Extreme Underground Arts[/size]
Our Necroreleases:
NECRO-001
DAPNOM
"
Regwoisvokwos Gwhenmi Welminti
"[SOLD-OUT] Indus (France)
NECRO-002
DIAPSIQUIR
"
Virus STN
" Industrial Metal (France)
NECRO-003
DEAD CONGREGATION
"
Purifying Consecrated Ground
"[SOLD-OUT] Death Metal (Greece)
NECRO-004
MELEK-THA
"
Apokalypsia
" Indus (France)
NECRO-005
NEO INFERNO 262
"
Hacking the Holy Code
" Black/Industrial Metal (France)
Labels on Exclusive Distribution:
Battlesk'rs Productions
(underground black metal label)
Kubernoise
(industrial and noise)
Kult of Nihilow
(Sludge, Doom, Drone, low music finnish label at his best – Exclusive distribution in France only)
New Death Records
(french death metal)
And also more than 5000 references into our worldwide mail order, go on our website:
http://www.necrocosm.org/
For all order or asking, please contact Necrocosm on
[email protected]
Or by snail mail at :
NECROCOSM
Appt 5
25, rue du Soleil Levant
31500 TOULOUSE
France
[size=150]
Moral is not our virtue, moral is not ours, Anti-moralistic Art for Anti-conformism![/size]