Death Metal Search Engine
Show Posts
This section allows you to view all posts made by this member. Note that you can only see posts made in areas you currently have access to.
Topics - MLK
16
« on: May 20, 2008, 02:12:31 PM »
Pale Reflections by Programmed Cell Death released for free
The new album from Programmed Cell Death is available for free download from HI.ARC.TOW. Through the forest of lights, the concrete wasteland and the masses of soulless beings, the album is a journey through a living hell. Cover artwork for the album is provided by the excellent
Apostol
, who will also be responsible for the accompanying visual art to Cryosyncopy's new album. FLAC's should be up soon.
Download Pale Reflections (MP3)
Programmed Cell Death page @ HI.ARC.TOW
Download images:
Front cover
&
Back cover
This work is released under a
Creative Commons license
.
17
« on: April 20, 2008, 04:59:58 AM »
Síol Na Gréine: Rapidshare, Blogspot, Megaupload
Síol Na Gréine
Incandescence
(2008, website)
Nihil
(2009, website)
Adhradh "Worship"
(2010, hiarctow.com)
18
« on: April 19, 2008, 10:16:59 AM »
Síol Na Gréine - Incandescence
As part of its commitment to separating culture from profit,
hi.arc.tow
releases Síol Na Gréine's "Incandescence" under a Creative Commons copyright. It is free for anyone to download, to distribute and to copy so long as the attribution remains intact. Additionally but not contractually, its authors ask that anyone who enjoy the album acts to strengthen their local culture and its language, customs, values and people.
Síol Na Gréine ("Seed of the Sun") takes the listener away from a modern world of categories and numeric values to look at the playful will to thrive permeating all objects living and unliving in the universe. From the tiniest molecular structures to the vastest bodies of the universe within a singular organic network, this will is crafted from impulse signals and matter. Ten aural depictions of this process remind us of the underlying beauty of existence even in its ugliness, so that we can transcend the fatalism that brought us to a low point of selling art for money.
Download here
About HI.ARC.TOW
HI.ARC.TOW are an emergent artistic community based upon the shared values of meaningful creativity and practical integrity. United by common vision and not petty divisions such as style or popularity, artists include Beithíoch, Cryosyncopy, Abhorrent, Programmed Cell Death & Síol Na Gréine.
HI.ARC.TOW Homepage
19
« on: March 30, 2008, 05:29:19 AM »
Abhorrent
- Technical death metal from Texas
Resembling Deeds Of Flesh in both its wealth of riff-variations and athletic rhythmic assault, this music surges constantly forwards referencing itself only tangentially, as brief glimpses into parallel dimensions of organic possibility that pass by with a deathlike unstoppable certainty. The intensity is almost overwhelming and following the more intricate details of pieces as they unfurl requires attentive listening, but at the same time there is a simplicity of epic motion ingrained within this music at its meta-level keeping it enganging for more than merely technical reasons. Abhorrent is like the amoral and violent force of nature, realizing itself through pure will and power both in spite of death and echoing it vitriolically all the way to its end.
Abhorrent Myspace
20
« on: March 07, 2008, 10:19:24 AM »
Klaus Schulze recorded a new album with Lisa Gerrard. The Australian singer Lisa Gerrard (former Dead Can Dance) enter Klaus Schulze's studio in late November 2007, to record her voice for her collaboration with Klaus.
SPV will release this recordings under the title 'Farscape' on the 27th June 2008.
KS' Myspace
Schulze has for years been mediocre. However, naiively perhaps, I can't help but be a bit intrigued and excited.
21
« on: January 05, 2008, 04:01:00 AM »
Psychedelic industrial ambient from
HI.ARC.TOW
"Cryosyncopy's first album
Recollection Of Lost Fragments
can now be downloaded from HI.ARC.TOW completely free. Written in 2005, production overhauled in 2007, ROLF is a journey through a dark, mysterious dream world"

Recollection Of Lost Fragments
HI.ARC.TOW website
22
« on: December 12, 2007, 03:52:33 AM »
Irish black metal from HI.ARC.TOW
"The first Beithíoch album Díolaim is now available to download completely free. The album is made up of material written between '02 & '05 that has hitherto been unreleased. This will be the first in a series of a Bethíoch works to come to light, how future albums will be released is not entirely certain yet."
Download Díolaim
23
Beithíoch: Rapidshare, Blogspot, Megaupload
Beithíoch
Beithíoch - Díolaim
(2007, website)
Beithíoch - Aisling Dhorcha
(2008, website)
24
« on: June 10, 2007, 02:06:51 PM »
Debussy, Claude: Rapidshare, Blogspot, Mediafire
Debussy, Claude
Claude Debussy - 12 Études for piano
Mitsuko Uchida, piano
CD 1
Debussy - En blanc et noir;
Ravel - Ma mère l'Oye;
Debussy - Petite suite, Landaraja, Cortège et air de dance, Ballade
CD 2
Ravel - Rapsodie espagnole;
Debussy - Six Épigraphes antiques, Symphonie en si mineur, Marche écossaise, Prélude à l'après-midi d'un faune;
Ravel - Entre cloches, Frontispice
Claude Debussy - Violin Sonata in G Minor L 140
Augustin DUMAY, violin
Maria João PIRES, piano
DG 1995
Claude Debussy - Printemps, Première Rhapsodie, Jeux
The Cleveland Orchestra
Pierre BOULEZ, conductor
DG 1992-1995
Claude Debussy - 19 Songs
Dietrich FISCHER-DIESKAU, baritone
Hartmut HÖLL, piano
Brilliant/Claves 1988
Claude Debussy - Les Dernières Mélodies
Songs 1904-1918. Best performance I've heard for all of them.
1-3: Trois Chansons de France
4: Noël des enfants qui n'ont plus de maison
5-7: Le promenoir des deux amants
8-10: Fêtes galantes
11-13: Trois poèmes de Stéphane Mallarmé
14-16: Trois ballades de François Villon
Bernard KRUYSEN, baritone
Noël LEE, piano Bösendorfer
Naïve 2001
Claude Debussy - La Mer, Nocturnes, Première Rhapsodie, Jeux
The Cleveland Orchestra
Pierre BOULEZ, cond.
DG 1995
Claude Debussy - The Complete Préludes
Hans Henkemans, piano
PH 1952 (mono)
Claude Debussy - Douze Études
Mitsuko UCHIDA, piano
PH 1990
Claude Debussy & Maurice Ravel: String Quartets
Emerson Quartet
DG 1986
25
Drogheda
Drogheda MP3s
---
"Extreme experimentation in grindcore rhythm and texture."
Drogheda - Pogromist
(1996) [
CD $12
]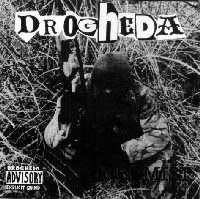 Drogheda - Pogromist
(1996, Mega)