Death Metal Search Engine
Show Posts
This section allows you to view all posts made by this member. Note that you can only see posts made in areas you currently have access to.
Messages - MLK
91
« on: December 14, 2007, 09:45:43 AM »
cool dude, dont forget to tell all your nigerian and chinese friends, votáil a shinn féin xx <3
92
« on: December 12, 2007, 03:52:33 AM »
Irish black metal from HI.ARC.TOW
"The first Beithíoch album Díolaim is now available to download completely free. The album is made up of material written between '02 & '05 that has hitherto been unreleased. This will be the first in a series of a Bethíoch works to come to light, how future albums will be released is not entirely certain yet."
Download Díolaim
93
Beithíoch: Rapidshare, Blogspot, Megaupload
Beithíoch
Beithíoch - Díolaim
(2007, website)
Beithíoch - Aisling Dhorcha
(2008, website)
94
« on: December 04, 2007, 06:44:17 AM »
interesting as you mentioned industrial and both of these are influenced by industrial and ambient music. though usually industrial tends to be very urban, hopeless and fatalistic territory..
see track "parasite":
www.myspace.com/programmedcelldeath
When you take out the rockish elments, industrial metal basically becomes Kraftwerk on guitars. Its an interesting basis for building upon, has its limitations (phrase) but also has room for scope in other ways, particularly for building up multiple rhythmic and melodic layers. This is essentially how Summoning work.
Blizzard Beasts!, Hate!, Nespithe!: these are all albums which have left dormant fruits, still waiting for the necessary environmental conditions to ripen and birth a new generation.
This is interesting. Whilst its nothing "new", these albums do represent some of the most refined developments in the underlying riff-logic of metal and therefore are a good place to start for the continuation ofmetal's uniquely phrasal nature.
95
« on: December 04, 2007, 05:39:54 AM »

Nonsense. It's exactly the same compositional style as A Journey's End only the mood is of the stronger Bathory variety rather than usual downtrodden modern trend. There are a few filler tracks as always but it's possibly their most tuneful album. I don't know what your distinction is based upon, unless it's the usual 'earlier albums are always better' tripe.
No its not a case of "older is better absolutely".
Journey's End and Imrama are definately their most noteworthy albums, but then they dipped with Spirit The Earth Aflame and Storm Before Calm - took too simplistic and populistic a direction. Gathering Wilderness was still on the populistic edge of things but was a more refined, less clichéd affair.
The new one (having now heard a few more tracks) Is a backwards step from GW. Too rocky, too many obvious non-ideas. The band members intellectual capacities seem not to have waned, but their ambitions seem to have changed, thus (as far musical artistic merit goes) it comes across as a very cynically concieved album.
96
« on: November 12, 2007, 07:04:58 AM »
known quality:
Molested - Blod Draum
Bathory - Hammerheart
Black Sabbath
Black Sabbath
Black Sabbath
Black-- OK ALREADY
Cathedral - In Memoriam ep / Demo
Coroner
Destruction
Emperor / Enslaved split
Isengard
judas priest - sad wings of destiny
Master - And on the seventh day, god created Master
Mayhem - Live in Leipzig
NOCTURNUS
nuclear assault (survive)
Primordial - Imrama
Sabbat (UK)
Slayer - Reign In Blood (this has a small review in the neoclassical section)
VARATHRON - "Walpurgisnacht"
Voivod - Phobos
Suuri Shamaani - Mysteerien Maailma


interesting but not vital
Carcass - Necroticism
Disembowelment
Exhorder
Mercyful Fate
Necrovore


Unknown
Afflicted
Agressor
Artillery - Fear of Tomorrow
Assassin
Assuck
Atrophy
Aurora Borealis
Bad Brains
Bolt Thrower: War master and Realm of Chaos BRUTALITY
Carbonized
Cemetary
Chasm, The
Cirith Ungol
Creepmime
Deceased - Luck Of The Corpse
Devastation
Disgrace
Disincarnate
Excruciatiing Terror
Exmortis
Funeral - Tristesse
Goreaphobia
Gorefest - False
Insanity
Invocator : Weave the apocalypse
King Diamond- "Abigail" & "Them"
Legion of Doom
Lemming Project
Loudblast
MALEVOLENT CREATION
Master's Hammer - Ritual
Messiah
Miasma
Mithras
Morgoth
Neurosis
Nihilist
Nocternity "Onyx"
Obliveon
Origin
Pavor
Pentagram (US)
Purtenance
RIPPING CORPSE "Dreaming with the Dead"
Rottrevore
Seance - Fornever Laid to Rest
Siege
Sindrome
Sorcery
Tyr - How Far to Asgaard, Eric the Red
Uriah Heep
Watchtower
Wicked Innocence
Windham Hell
Winter (US)
Zones

Removed known garbage, spearated work of known worth from work of unknown value.
97
« on: June 10, 2007, 02:06:51 PM »
Debussy, Claude: Rapidshare, Blogspot, Mediafire
Debussy, Claude
Claude Debussy - 12 Études for piano
Mitsuko Uchida, piano
CD 1
Debussy - En blanc et noir;
Ravel - Ma mère l'Oye;
Debussy - Petite suite, Landaraja, Cortège et air de dance, Ballade
CD 2
Ravel - Rapsodie espagnole;
Debussy - Six Épigraphes antiques, Symphonie en si mineur, Marche écossaise, Prélude à l'après-midi d'un faune;
Ravel - Entre cloches, Frontispice
Claude Debussy - Violin Sonata in G Minor L 140
Augustin DUMAY, violin
Maria João PIRES, piano
DG 1995
Claude Debussy - Printemps, Première Rhapsodie, Jeux
The Cleveland Orchestra
Pierre BOULEZ, conductor
DG 1992-1995
Claude Debussy - 19 Songs
Dietrich FISCHER-DIESKAU, baritone
Hartmut HÖLL, piano
Brilliant/Claves 1988
Claude Debussy - Les Dernières Mélodies
Songs 1904-1918. Best performance I've heard for all of them.
1-3: Trois Chansons de France
4: Noël des enfants qui n'ont plus de maison
5-7: Le promenoir des deux amants
8-10: Fêtes galantes
11-13: Trois poèmes de Stéphane Mallarmé
14-16: Trois ballades de François Villon
Bernard KRUYSEN, baritone
Noël LEE, piano Bösendorfer
Naïve 2001
Claude Debussy - La Mer, Nocturnes, Première Rhapsodie, Jeux
The Cleveland Orchestra
Pierre BOULEZ, cond.
DG 1995
Claude Debussy - The Complete Préludes
Hans Henkemans, piano
PH 1952 (mono)
Claude Debussy - Douze Études
Mitsuko UCHIDA, piano
PH 1990
Claude Debussy & Maurice Ravel: String Quartets
Emerson Quartet
DG 1986
98
Drogheda
Drogheda MP3s
---
"Extreme experimentation in grindcore rhythm and texture."
Drogheda - Pogromist
(1996) [
CD $12
]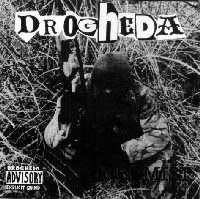 Drogheda - Pogromist
(1996, Mega)
99
« on: February 22, 2007, 03:10:17 AM »
This weeks radio nihil:
1. Berlin Philharmonic Orchestra - Dies irae (W.A. Mozart) [1.54]
2. Berlin Philharmonic Orchestra - Tuba mirum (W.A. Mozart) [3.56]
3. Mutiilation - To the memory of the dark countess [6.33]
----------------------------------------------
4. Immolation - Harnessing ruin [4.35]
5. Demilich - Erecshyrinol [3.17]
6. Lord Wind - Dark forces of hades [6.36]
----------------------------------------------
7. Averse Sefira - Helix in audience [8.14 ]
8. Brian Eno and Robert Fripp - Ankaa [7.01]
9. Mala Punica - giovine vagha - Amor c'al tuo sugetto (F. Landini) 9.21]
10. Jordi Savall - canon 3a from 'Musikalisches opfer' (J.S Bach) [2.06]
----------------------------------------------
10. Summoning - Habbanan beneath the stars [7.13]
RADIO NIHIL - Neoclassical radio