Death Metal Search Engine
Recent Posts
1
« Last post by gabalgabow on September 28, 2016, 09:38:32 AM »
2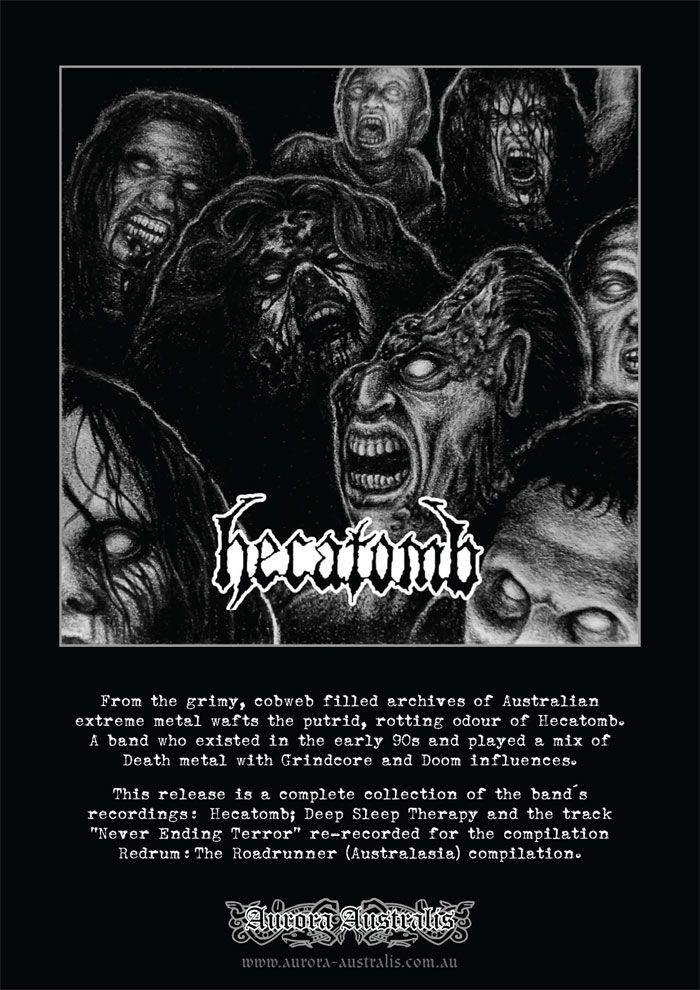 HECATOMB (untitled collection) CD
out now on Aurora Australis. $15 AUD + $2.75 post
Samples:
https://soundcloud.com/aurora_australis_records/sets/hecatomb-self-titled-1
Order:
http://www.aurora-australis.com.au/releases/AAR_029.htm
3
« Last post by fistoffreedom on September 27, 2016, 08:40:11 PM »
2017 - Armstrong Metal Fest Band Submissions Now Open!
After a successful 2016 line up that included headliners Beyond Creation, Dayglo Abortions, Unleash The Archers, Archspire, Rivers of Nihil, The Zenith Passage and more. ARMSTRONG METAL FEST announces they are now taking submissions for their 2017 edition held in Armstrong, BC at the Hassen Arena. The festival has been showcasing a high caliber of Western Canadian metal along with international touring acts for the last 8 years.
Band submissions open September 1, 2016 and end November 1, 2016 11:59pm PST.
Please send submissions to the following email:
bandsamf@gmail.com
What should you send?
- BAND NAME
- ONLINE MUSIC (Where can we check out your music example: bandcamp)
- AREA/CITY BANDS FROM
- GENRE/ DESCRIPTION OF WHAT KIND OF BAND YOU ARE
- HOW LONG HAVE YOU BEEN TOGETHER AS A BAND?
- LAST ALBUM RELEASE DATE/NEXT PLANNED ALBUM RELEASE DATE
- EXPERIENCE/ WHO HAVE YOU SHARED THE STAGE WITH
- CONTACT PERSON/CONTACT EMAIL
- ADDITIONAL INFO/COMMENTS
Don't worry about sending an EPK right off the start! They are great to have, but not for AMF's initial submission; once a band is on the roster an EPK may be requested for media outlets.
Last year AMF had 162 band submissions!
69.4% of the total band line up for AMF 2016 was made of bands that had placed a band submission.
58.3% of AMF 2016's line up were bands that had never played the festival before.
http://www.armstrongmetalfest.ca/
4
« Last post by gabalgabow on September 25, 2016, 07:19:21 AM »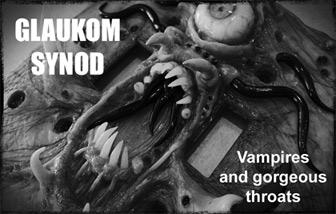 Out now! This is the new release of GLAUKOM SYNOD that keeps on haunting the caves since 2005. Old school industrial with the intensity of black metal and grindcore.
The music is rooted in old industrial, and influences range from old school death to noisecore
Five new songs and two remixes. Out on Visceral circuitry records.
Full streaming on Youtube:
https://www.youtube.com/watch?v=s-2XbI0YoAg&list=PLOP18nqHJq7_Smn6jydq1342dDNHzo2IO
Separate songs:
1. Dronocosm:
https://youtu.be/s-2XbI0YoAg
2. Vampires:
https://youtu.be/ZJA9oP6BMPY
3. Jungle glaukom fever:
https://youtu.be/umPB9u_rPZE
4. Ejaculohydron Tricephalis:
https://youtu.be/5D2XXa9D_xE
5. Throattomb:
https://youtu.be/itY4XL5OJfM
6. Absoloz omogr:
https://youtu.be/IkDhLsRQNfk
7. The iron tongue:
https://youtu.be/5EFl4tChN9g
Tape version will follow...
5
« Last post by gabalgabow on September 24, 2016, 08:24:09 AM »
24/09/2016:
Last distro news:
ABERRANTE (Panama) Control natal por toxicos Demo tape. Old school grindcore/ Death metal
ABSCESSION (Swe) Grave offerings CD. Swedish death metal
BASTARD GRAVE (Swe) Unmarked grave Demo tape. Swedish death metal
BASTARDOS (Argentina) Descraneados en las calles Demo tape. Thrash metal
CADAVERIC INCUBATOR (Fin) Unburiend morbidity Demo tape. Obscure death metal/ Grindcore
CARNATION (Bel) Cemetery of the insane MCD. Old styled death
FUMIGADOR (Panama)/ DEMONOMANCER (El salvador) Split tape. Underground death grind/ Black death
HARM (Ger) The evil CD. Old school death
IMPACTOR (Ger) Forces from beyond MCD. Digipack. Old school thrash
RECKLESS MANSLAUGHTER (Ger) Blast into oblivion CD. Death metal
http://nihilisticdistro.tictail.com/products/last-news
YOUTUBE LINKS:
TREPANATOR: Old school death from France,
with ex members of DEEP VEIN
https://www.youtube.com/watch?v=AXtF00gukaw
FIEND: Crushing grindcore from Usa
https://www.youtube.com/watch?v=SU46teLsGu8
COPOREAL DECAY: Old school death from 1992
https://www.youtube.com/watch?v=nbSea_cbY78
6
« Last post by gabalgabow on September 23, 2016, 11:06:42 PM »
9
Order UNEARTHLY TRANCE "Leila" t-shirt @
http://chromepeeler.com/
Features a picture of Leila Waddell, the Scarlet Woman muse of Alester Crowley!
Limited edition! Officially sanctioned by the band! This shirt is available for order until October 14th.
The amount ordered is the amount that will be made! No additional shirts will be printed!
ORDER NOW! All orders will be shipped the week of October 24th.
Note: while supplies last there is a package deal for the shirt PLUS the Unearthly Trance split LP with THE ENDLESS BLOCKADE!
Visit the Chrome Peeler bandcamp to stream Unearthly Trance's split 7" with Wooden Wand and check out UT's noise project ABANDONER. Stream/download @
https://chromepeelerrecords.bandcamp.com/
STILL AVAILABLE:
HOLY SONS - "Lost Decade 2" LP + download
DEATHPILE - "Final Confession" Double LP + download
THEE ELECTRIC BASTARDS - "Live! At Club Awesome" CD
TEAM ROBESPIERRE / BREVATOR split 10"
YOU'VE GOT YOUR ORDERS VOL. 2 CD
10
« Last post by aquarius on September 15, 2016, 10:19:37 AM »
Veles is great!

Listen to 'Triumph of Pagan Beliefs'.