Death Metal Search Engine
Recent Posts
11
« Last post by gabalgabow on April 18, 2015, 10:00:49 PM »
19/04/2015:
Last distro news:
OLD SCHOOL: Death metal/ Thrash metal/ Black metal...
-ASESINATO (Chile) Blasfemia Demo tape. Old school thrash death
-BASTARDOS (Argentina) Descraneados en las calles Demo tape. Old styled thrash
-BONESAW (Uk) The Illicit Revue CD. Digipack. Old school death influenced by Autopsy.
-DARK INSURRECTION (Chile) Destroy the Servant of god Demo CDr. Death metal/ Death black
-DEROGATORY (Usa) Derogatory MCD. Old school death
-ECTOPLASMA (Greece) Everlasting deathreign Demo tape. Old school death
-GLACIAL FEAR (Ita) Demo 1993. Tape. Old death metal (Rerelease)
-HEADFIRST (Fra) The sound of agony Demo tape. Thrash metal. Members of Affliction gate, Hungry johnny.
-IMPETIGO (Usa) Rode island deathfest - Live 1992. Bootleg tape. Old school death grind/ Grind
-INFECTED PRIEST (Fin) Hammering nails to fragile bones Demo tape. Death metal/ Grindcore. Members of Saattovaki
-KILLING FIELDS (Thailand) Gigantirix extinction Tape. Old styled thrash
-NECROMANTEION (Bol) Spirit of darkness Demo tape. Black death
-THE SULLEN ROUTE (Rus) Madness of my own design CD. Death doom
-TOXEMIA (Philippines) Ancient demon CD. Old death metal/ Death doom
BRUTAL: Brutal death, Death grind, Goregrind...
-ABANDONED MORTUARY (Hungary) Emotional wasteland Demo tape. Death grind
-BARBARITY (Rus) Crush of hypocritical morality Tape. Old brutal death
-BLUE HERPS (Fra) Nodul CD. Digipack. Brutal death
-EXEGUTOR (Rus) Embassy of hell Tape. Death grind/ Grindcore
-FLAYING (Latvia) Commandments - violated CD. Brutal death
-MULK (Fra) Testo(y)sterie CD. Digipack. Cyber brutal/ Noisecore/ Brutal death
-ORGASMIC VICTIM (Rus)/ BRUD (Ukraine)/ DISEMTOMB (Rus) Split CDr. Goregrind/ Death grind/ Goregrind
-POLYMORPH (Ger) Disgraceful supper MCD. Old brutal death/ Death metal
Fanzine: UNDERWORLD (Usa) #6: Trenchrot, Istidraj, Cultfinder, Toxemia, Evil madness, Demona, Funeral rites, Dethrone records, Spectral manifest, Nuclear rock radio... + reviews and a CDr compilation. 44 pages. A4. In english. 2015.
http://nihilisticdistro.tictail.com/products/last-news
12
« Last post by Mpastardos on April 15, 2015, 02:05:19 PM »
The review for the second full length album of Strynn from France, "Alienation (2014)", is online. Read before you buy.
English
http://www.orthodoxblackmetal.com/strynn-alienation2014.php
Greek
http://www.orthodoxblackmetal.com/strynn-alienation2014gv.php
14
« Last post by gabalgabow on April 12, 2015, 09:13:37 AM »
12/04/2015:
Micro distro update:
BEER CORPSE (Australia) Rough as guts Demo tape. Grindcore/ Death grind
BURIAL SHROUD (Usa) Angelic annihilation MCD. Obscure death metal
MORTOFOBIA (Bol) Mirando a la muerte Demo tape. Death metal
MURDER HOLLOW (Fin) Murder hollow Demo tape. Death doom
OMINOUS (Usa) Intercorpse CD. Death metal/ Old brutal death
Back in stock: PRAISE THE FLAME (Chile) Profane cult Demo tape. Death metal
http://nihilisticdistro.tictail.com/products/last-news
15
« Last post by gabalgabow on April 11, 2015, 09:05:46 AM »
Hello,
New reviews of the OSSUAIRE tape have appeared!
BRUTALISM Webzine (Hol)
This is a re-release of this French death metal bands 2005 demo tape, although listening to the tracks I would swear it was from the early 90's. This is savage old school death metal. The production is perfect for the style, it's creepy and earthy in all the right places and the music itself is like a dismembering ritual on a harlot from hell or at best the most daunting music to teach any particular person that pisses you off a real lesson in assaulting death metal!
There are a few atmospherics, the title track 'Le troubadour nécrophageophile ' is savage, with the brutality of the early Florida scene, the guttural vocal attack of later brutal death metal with an overall sound that's sounds like war, especially with the blast beats added. 'Necrofistum prima nocte' again tugs at the heartstrings of the death metal purist, groovy and battering, even underneath some pretty raw production. Bolt Thrower may spring to mind, but that's too easy, but you get the meaning, its getting towards that stage of naming every early 90's death metal band as an influence, which I feel is from both sides of the pond, i.e. Europe and the USA.
Refreshing is how I would describe this release, old school is bounded around a lot for bands that play a particular style, you may be fed up of hearing that term, but this is one of those releases that actually feels right to be tagged in such a way. The vintage is perfect and if you want to burst a blood vessel, bang your head and smash shit up, then Ossuaire know how to provide that perfect soundtrack. 4/5. Maul Madison
CHAINSAW GUTSFUCK Newsletter (Chile)
El primer demo de Ossuaire les va a volar la raja. Estos franceses saben lo que es tocar death metal oscuro, sin conseciones ni altibajos maricones. Gracias a Gab de Nihilistic Holocaust nuevamente por hacer llegar este material. Encontraras en estos 4 temas y una intro de momentos epicos de brutalidad como el antiguo Morbid Angel y esa atmosfera plagada de riffs intensos de 'In Battle there's no Law". La tematica se basa en los horrores y atrocidades del medioevo. Quizas el mejor demo llegado a Chainsa para este issue.
MEDIEVAL TORTURE ETERNAL
16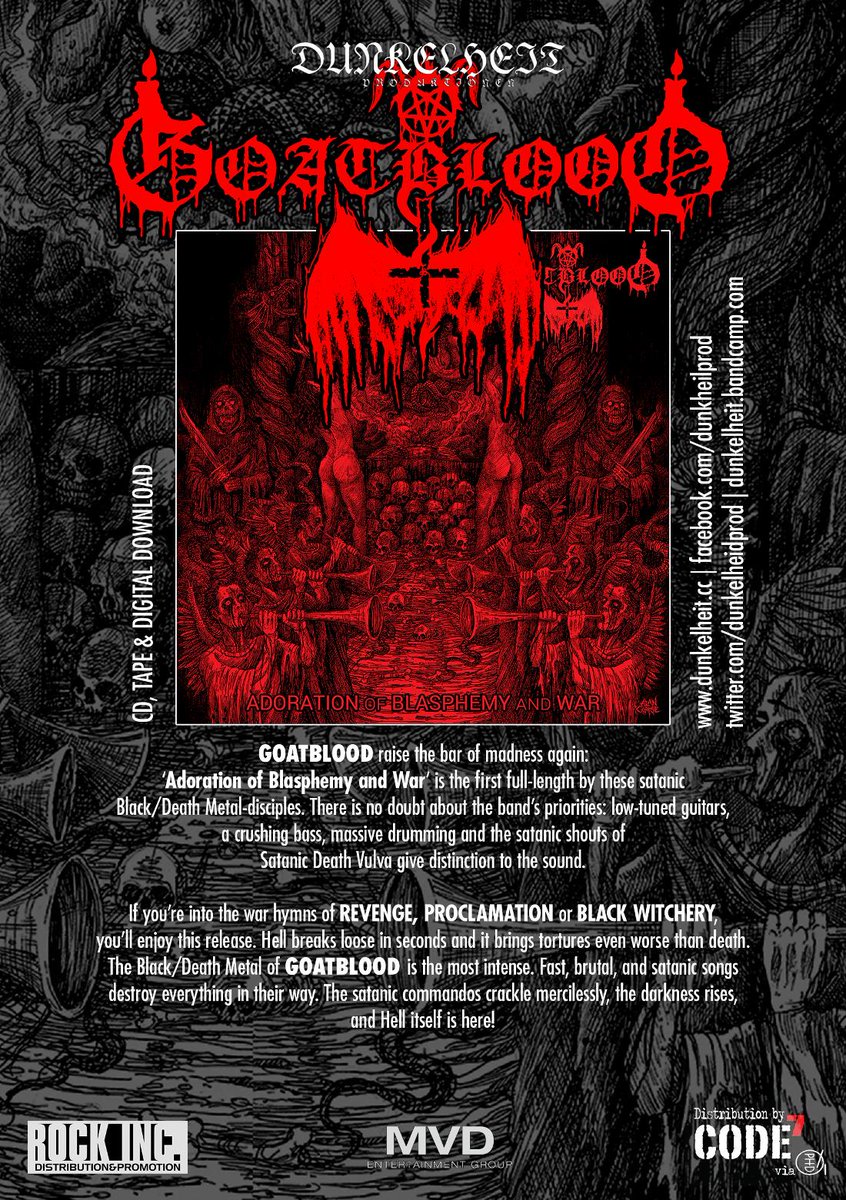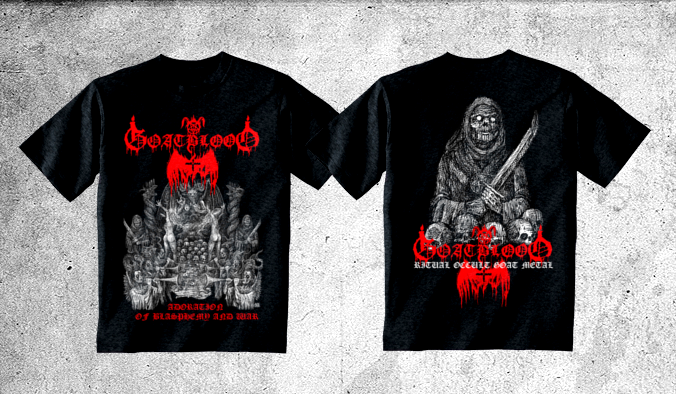 GOATBLOOD
Adoration of Blasphemy and War
DP049 | CD | TAPE | DD
GOATBLOOD raise the bar of madness again: 'Adoration of Blasphemy and War' is the first full-length by these satanic Black/Death Metal-disciples. There is no doubt about the band's priorities: low-tuned guitars, a crushing bass, massive drumming and the satanic shouts of Satanic Death Vulva give distinction to the sound.
If you're into the war hymns of REVENGE, PROCLAMATION or BLACK WITCHERY, you'll enjoy this release. Hell breaks loose in seconds and it brings tortures even worse than death. The Black/Death Metal of GOATBLOOD is the most intense. Fast, brutal, and satanic songs destroy everything in their way. The satanic commandos crackle mercilessly, the darkness rises, and Hell itself is here!
The cassette edition is limited to 150 copies. Black cassettes with noble gold print and A2 poster.
The first 50 CDs come with a embroided logo patch.
YouTube
https://www.youtube.com/watch?v=nGmEqeS9tGw
Bandcamp
http://dunkelheitprod.bandcamp.com/album/adoration-of-blasphemy-and-war
Tracklist
1. The Appearance of the Goatloard 01:55
2. Sado Liquidator 02:42
3. Animal Anal Acrobatic 01:53
4.Arkoholocausted 01:57
5. Eve pisses on Adam 02:08
6. Deluge in Heaven 01:40
7. Bombing Blood 02:26
8. Necromorph Application Point 02:13
9. Human Waste Disposal 02:05
10. Trident Worship 01:39
11. Op Vulva 02:01
12. Ascension to the South 02:33
13. Mary Fisted Amen 01:52
14. Trumpets of Baphomet 02:06
15. La Chisea della Capra 01:47
Tracklist 31:04
Dunkelheit Produktionen
Label for Negative and Somber Music Art
www.dunkelheit.cc
17
EXHUMATION
OPUS DEATH
The Indonesian Death Metal squad finally recorded their debut album "Opus Death". 10 blasphemous, rotten and raw hymns of traditional Metal ov Death. In the shadows of legends like MORBID ANGEL, NECROVORE and old MAYHEM, the asian sect open the gates of hell... again!
Cassette edition by MORBID BASTARD RECORDS
(Asian) CD press by PULVERIZED RECORDS
CD/DD by DUNKELHEIT PRODUKTIONEN
Bandcamp
http://dunkelheitprod.bandcamp.com/album/opus-death
YouTube
https://www.youtube.com/watch?v=z8j2g-8IkM4
Dunkelheit Produktionen
Label for Negative and Somber Music Art
www.dunkelheit.cc
18
LASTER
De Verste Verte is hier(E)
The debut of LASTER, exclusively on Dunkelheit Produktionen, CD including a patch! This masterpiece contains four tracks filled with negativity and raw energy. The superior composition which always stay true to black metal despite their atmosphere enthrall and inspire you every time you listen to them. This is a milestone of the Dutch style!

Powerful, yet full of pain; furious, yet mourning; technically and atmospherically crafted, this album will immediately satisfy you. LASTER write enthralling songs in perfect balance between superior composition, a harsh mood and Black Metal, which they live to the fullest. A Masterpiece!

Dunkelheit Produktionen releases "De verste verte is hier" on CD, including a patch!

(D)
Das Debütalbum von LASTER, weltexklusiv auf CD inklusive Patch! Das Meisterwerk enthält vier Tracks voller Negativität und Energie. Anspruchsvolle Tracks, die über ihre Atmosphäre hinweg stets dem Black Metal verpflichtet bleiben, fesseln und inspirieren bei jedem Hördurchlauf. Ein Meilenstein der holländischen Schule!

Die Niederlande gelten bei vielen als unbeschriebenes Blatt, wenn es um Black Metal geht – doch der genuine Black Metal-Anhänger kann von dort Großes erwarten, wie das erste Album "De verste verte is hier" der grandiosen LASTER eindrucksvoll demonstriert!

Kraftvoll und schmerzerfüllt, rasend und trauernd, technisch und atmosphärisch überzeugt das Album sofort. LASTER schreiben packende Songs, die zwischen kompositorischem Anspruch, harscher Stimmung und gelebtem Black Metal die perfekte Balance halten. Meisterhaft!

Dunkelheit Produktionen veröffentlicht "De verste verte is hier" auf CD, die beim Pre-Order auch ein Patch enthält!

Tracklist

1. Alles wat mij bevalt, ontvalt me 13:37
2. Tot de tocht ons verlicht 10:03 listen on Bandcamp
3. Ik - mijn masker 15:03
4. De verste verte is hier 6:05

Total: 44:50
Dunkelheit Produktionen
Label for Negative and Somber Music Art
www.dunkelheit.cc
19
DHWESHA
SthoopaThis is the debut album of DHWESHA, including rolling Death Metal originating directly from the unfathomed Origins of mystical cultures combined with an obeisance to the dark gods of the original scene. Brute, yet melodic riffs, furnished with vocals sounding as if they came from the depths of infinite catacombs. The indian Death Metal band DHWESHA present their first album, including eight occult und dark formulas in the essence of a rotten Death Metal ritual ! The darkest vocals ever heard break through the massive riffs and speak of ancient rites and deepest denial of human ignorance. Fans of ARCHGOAT, DEAD CONGREGATION & old BOLT THROWER will be pleased.
Tracklist
1. Sattva Bali 6:28
2. Sthoopa 5:51
3. Dhwesha 3:50
4. Hoy! Sala 4:04
5. Ugra Narasimha 3:35
6. Sabhe 5:19
7. Yuddhabhumi 6:01
8. Kapala Haara 6:27

Total: 41:38
DHWESHA @
YOUTUBE
DHWESHA @
FACEBOOK
DHWESHA @
BANDCAMP
Dunkelheit Produktionen
Label for Negative and Somber Music Art
www.dunkelheit.cc
20
AGONIZED
Gods... 1991
(E)
In 1991 the sun must have never risen in Finland – this was when AGONIZED recorded a single demo of pure darkness and death: "Gods…" is a raw punch in the face of everything the light stands for. 24 years after this brilliant demo saw the darkness of the night... Dunkelheit now releases this underground masterpiece in limited quantity of 100 pro cassettes. Every copy includes a high qualitative embroided logo patch and an A2-Poster with the original artwork of Chris Moyen from 1991... No remastering, no digital remixing – only the original '91 spirit!
(D)
1991 muss in Finnland ein Jahr ohne Sonnenlicht gewesen sein – damals nahmen AGONIZED ihr einziges Demo voller Dunkelheit und Tod auf: "Gods…" ist ein Schlag ins Gesicht all dessen, wofür das Licht steht. DUNKELHEIT veröffentlicht dieses Meisterwerk des rauen Untergrunds nun in limitierter Auflage von 100 Kassetten inkl. Aufnäher und A2-Poster mit originalem Chris Moyen Artwork. Der Sound bleibt unangetastet – nur die reine Stimmung von 1991... Keine Remasterung, Kein digitales abmischen...
YouTube
http://youtu.be/MzEe6G5fRME
Dunkelheit Produktionen
Label for Negative and Somber Music Art
www.dunkelheit.cc