Death Metal Search Engine
Recent Posts
21
« Last post by toxicinsult on July 06, 2016, 01:11:19 AM »
Need some new metal songs to listen to? Junkyard Prophet is set to release their album "Stand Your Ground" this July. Junkyard Prophet, a heavy metal band from Minneapolis, Minnesota, focus has always been on youth and their future, so much so that they turned down a major record deal out of fear it would water down their message. They've performed many shows and shared the stage with bands like Pantera, Regime and Savage. They've sold over 40,000 CD's in the Midwest alone and don't show any signs of slowing down. Their aim is to give the people music with a message.
Keep up with Junkyard Prophet on Facebook here:
http://bit.ly/JP-Facebook
, Twitter here:
http://bit.ly/JP-Twitter
, and their official website here:
www.JunkyardProphet.net
.
22
« Last post by Caligari on July 05, 2016, 02:23:52 AM »
Sonic Poison's Harsh Demonstration... is seven tracks of blown-out primitive grindcore dispatched with the reckless abandon indicative of a young band eager for blood. Approximately ten minutes of Finnish-style seizure-inducing, organ-grinding mayhem in which gnarly feedback prevents anything like reprieve, solos flare up like caustic acid reflux, and the drums leave psychological welts.
150 Copies / Pro Tapes / Pro Covers
Listen:
https://caligarirecords.bandcamp.com/album/harsh-demonstration
Support:
http://caligarirecords.storenvy.com/
23
« Last post by gabalgabow on July 02, 2016, 08:58:47 AM »
New CDs and tapes for sale.
DEATH METAL ASSAULT
CHAOS BLOOD (Uk) Fragments of a shattered skull MCD. Death metal/ Blasting death
DEMONIC RAGE (Chile) Omen of doom CD. Old school death/ Obscure death (Contains demos and Eps).
DEMONIC RAGE (Chile)/ FETID ZOMBIE (Usa) Split CD. Obscure death/ Death metal
EVOKED TERROR (Peru) ...Rise upon unholy darkness Demo tape. Old school death
HATROSS (Panama) Vengeance of evil Pro CDr/ Cardboard sleeve. Old styled death
MASS BURIAL (Spa) Of carrion and pestilence CD. Old styled death.
NECROBASTARD (Chile) Necro Avance MMXIV Demo tape. Old styled Death metal
NIHIL DOMINATION (Ecuador)/ GOATBAPHOMET (Ecuador) Split CD. Black death
POISONOUS (Bra) Perdition's den CD. Old school death/ Obscure death
SADISTIC (Chile) Diabolical ascending Demo tape. Old styled death.
BUCCAL DEFECATION (Argentina) Testament of brutality CD. Brutal death
http://nihilisticdistro.tictail.com/products/last-news
24
« Last post by Spinal on June 28, 2016, 02:08:08 PM »
That's a good way of putting it, voddy. Summing is on a whole other level than most bands in more than one respect.
(Hi aquarius, nice to see you here again!)
25
« Last post by aquarius on June 24, 2016, 06:45:23 PM »
Yeah, Summoning's great!

Listen to Dol Guldur.
26
« Last post by vOddy on June 23, 2016, 08:14:31 AM »
There are similarities between Summoning, Ulver, and Agalloch.
All three have (fewer or more) elements of black metal. All three's tales take place in environments like the depths of a forest, or atop the heights of mountains.

But there are also differences, some of which make Summoning a superior metal band.
Ulver is passive and docile in the presence of magnificent nature. Summoning is invigorated in its presence.
Agalloch has a woe is me attitude and dwells on petty issues with a small minded, egocentric view, giving the impression that the imagery of desolate winter is merely used as a metaphor for an individual's state of mind.
Summoning sees humanity as a part of the greater nature, and thus, avoids that view in favour of a grander one.

My advice to like minded people: Listen to Summoning. Don't waste too much time and effort on Agalloch. Don't make the mistake I did.
27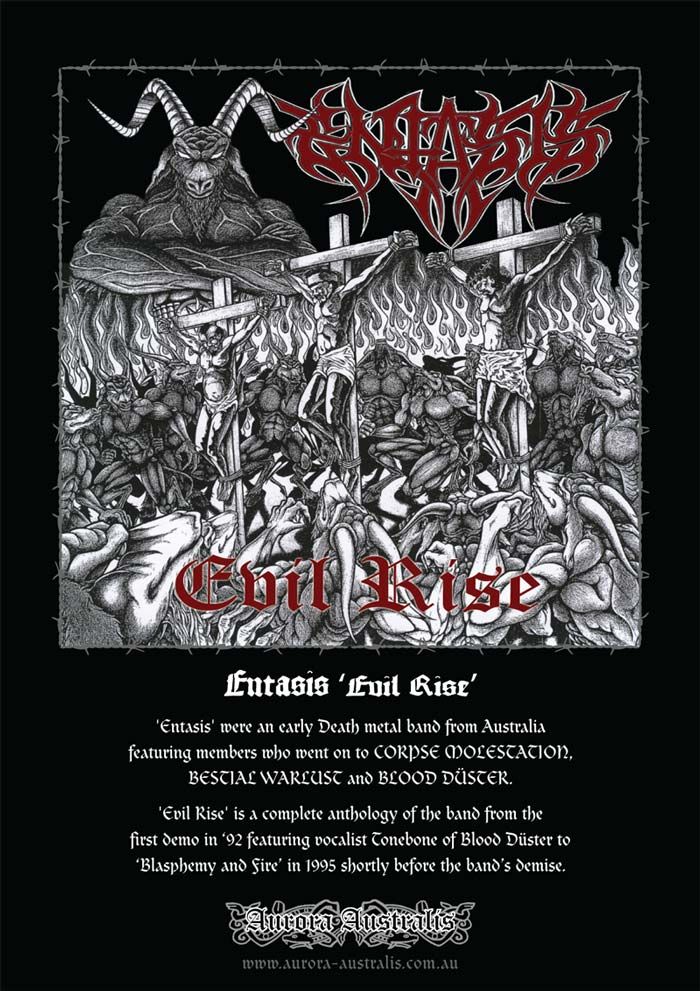 ENTASIS "Evil Rise" CD out now on Aurora Australis. $15 AUD + post
Samples:
https://soundcloud.com/aurora_australis_records/sets/entasis-evil-rise
Order:
http://www.aurora-australis.com.au/releases/AAR_028.htm
28
« Last post by gabalgabow on June 18, 2016, 08:48:56 AM »
18/06/2016:
Last distro news:
DEUS INVERSUS (Ger) The downfall MCD. Death metal
FURIOUS BARKING (Ita)/ DESMODUS (Ita) Italian thrash relics Split CD. Thrash metal demos from the earky 90's.
HELL TORMENT (Peru) Hell terror CD. Black death
NECROBUTCHER (Bra) Corrosive and schizophrenic noisy torment CD. (Demos from 88 & 89). Deep underground grindcore/ Black death
OBSECRATION (Gre) Behold the pale horror MCD. Death metal
ROT (Pol) Kingdom of antichrist sodomy Demo tape. Black death
SCULPTOR (Rus) Pact with the doomed CD. Digipack. Doom/ Death doom
SHAMBLES (Thailand) Realm of darkness shrine CD. Obscure death/ Death doom
SORROWFUL (Mex) In the rainfall CD. Doom death
VHS (Usa) Screaming war gore CD. Death meta with punk and thrash influences.
HARMONY DIES (Ger) I'll be your master CD. Old brutal death
http://nihilisticdistro.tictail.com/products/last-news
29
« Last post by fenrir on June 15, 2016, 12:34:16 PM »
Possessed by the fucking moon:

Gorgoroth - Pentagram
Burzum - Det Som Engang Var
Darkthrone - Under a Funeral Moon
Ildjarn - Demo II
30
« Last post by Mpastardos on June 13, 2016, 07:33:29 AM »
The review for the very interesting second full length album of Aryman from Poland, "Czarne rytuały otchłani (2016)", is online.
English
http://orthodoxblackmetal.com/aryman-czarnerytualyotchlani2016.php
Greek
http://orthodoxblackmetal.com/aryman-czarnerytualyotchlani2016gv.php