Death Metal Search Engine
Recent Posts
21
« Last post by gabalgabow on March 16, 2017, 08:10:45 AM »
The first reviews of the BLACK BLEEDING MCD start to appear,
here are two ones.

The distribution is starting to take shape, many trades worldwide, the MCD should be quite easily available a bit everywhere.

Bye,
G


SCUMFEAST BLOG
It's getting to the point where I should change the header for the blog to Home of the Reissues since I've been reviewing a lot this month. That's fine of course because then you and I would miss out on past gems that for some reason didn't get their due respect or at least some recognition that fans would want to know about. Case in point right here, BLACK BLEEDING, a blackened death three piece from Belgium but considers themselves a Belgian/ French band.
The band is not new in fact they've been around since the late 90s and have three full length albums under their belts to show for it. Their most recent was A Bright Future which was released in 2014. This one here, The Awakening, was a demo they put out back in 2005. It was originally released on tape by Nihilistic Holocaust back then. But now the original label has re-released it with new artwork, layout and basically making it look like a semi-decent package. Trust me if you've seen the older cover art then you'll be glad at the upgrade.
Of course I had to go listen to their last two full lengths (the previously mentioned A Bright Future from 2014 and it's predecessor The Great Satan from 2009) to get some feeling because this one predates those two. The Awakening is five songs of which I believe the band was in the midst of a re-branding in order to see where they were headed. The albums that came after this are more melodic which is why this is interesting because on here the songs all have an old school feel, yeah there's melody but also more experimentation.
This thing opens with "The Sleeper has Awakened", and uses a soundbite from the movie Dune as well. A good send off with savage blackened death riffage, both cavernous and shrieked vocals. After a barrage of sound the band knows how to throw a segue in before the soloing and blast beat attack commences. That same theme carries through on the next three cuts. I'd say " Lord of the Worms" is a punisher. Then we get to cut five, "Demonic Quantum Boundaries" where the band starts off with some psych blues rhythm and whispers but then kicks into overdrive with a hellish assault. The thing ends almost hypnotically with a jam out and them a atmospheric keyboard outro.
Rating: 4/5


DEADLY STORM Blog (Cze)
Ještě rozespalý vstoupím do koupelny a tam se umývá ve vlastní krvi nějaká cizí žena. Tváře choré, ruce kostnaté, s popelavou barvou kůže. Popadnu, co mám první po ruce a urazím ji hlavu. Druhý den si pro mě přijdou. Zabil jsem svoji vlastní matku.
Příběhy schizofreniků by vydaly na spoustu tlustých knih. V úvodu zmíněný jsem četl a u toho poslouchal znovu realizované demo "The Awakening" belgicko/francouzských tmářů BLACK BLEEDING. Materiál, původně z roku 2005 nepostrádá ani po těch dlouhých letech sílu a opravdu připomíná podobné zážitky, jako zmíněná noční krvavá seance. Smíchejte death metal (i ten melodický), thrash a black a po řádném zatřepání natřete tmou. Pak pochopíte, o čem jsou prodlužující se stíny ve starých katakombách.
"The Awakening" je pestré, zákeřné album, které vám pronikne do žil pomalu, polehounku. Chvílemi sice získávám lehký pocit monotónnosti a občas se moje mysl od poslechu odpoutává, ale jako celek působí album náležitě studeně, ošklivě a zle. Nebude a nikdy nepatřilo do první ligy. Nevadí to, vždyť i v lize druhé se dají občas nalézt příjemně zahnívající desky. "The Awakening" patří k těm zdařilejším. Pokud bych měl hodnotit procenty, tak bych volil něco kolem sedmdesáti. Možná přeci jen chybí trošku víc síry, žhavých kousků temnoty a špíny. Každopádně, pokud máte chuť na černotou umazaný death metal, tak neváhejte. BLACK BLEEDING jsou jasným důkazem toho, že i v předpeklí bývá někdy pořádně ošklivo. Dobré album.

sumarizace:
"The Awakening" je pořádně temným kouskem hudby. Death/black metal v provedení BLACK BLEEDING je nechutný, ošklivý, zlý a pochází snad ze samotného pekla. Oceňuji černou jiskru, kterou zde cítím z každé skladby. Album je to ostré, mokvající a nahrané někde v hlubokých bažinách plných mrtvol. Belgicko - francouzská kostnice byla otevřena a vydává další a další svědectví o zlu. Skladby jsou mocné, krásně gradují a mají v sobě spoustu temné energie. Vítejte na okultní mši, podávat se budou prokleté hostie! Černý death metal, který otevírá dveře do podzemí! Velmi dobře!

Asphyx says:
"The Awakening" is a really dark piece of music. Death/black metal in interpretation of BLACK BLEEDING is disgusting, ugly, evil and comes perhaps from hell itself. I appreciate the black sparkle that I'm feeling from each song. The album is sharp, weeping and recorded somewhere in the deep swamps full of corpses. Belgian - french ossuary was opened and gives more and more testimony about evil. The songs are powerful, they escalate nice and have a lot of dark energy. Welcome to the occult Mass, it will be served cursed wafers! Black Death Metal, which opens the door to the underground! Very good!


22
Band Submissions Open For Days of The Dead Fest 2017 (Red Deer, AB) - October 27-29
Applications Open Until April 1st
Halloween may be about putting on a costume and trick or treating around your city block, but in Red Deer, AB it's about so much more. The rumours in the area describe a mass pilgrimage, a collective gathering from across Alberta and beyond, a zombie mosh pit coming alive. Are the rumours true...? Well during the Days of The Dead Fest, a Heavy Metal Music Festival Costume Party Extravaganza takes over!
Founded in 2014 by local Red Deer resident and music scene contributor Justin Shadows of Shadows Productions plus vocalist of town favourites Leave The Living, DAYS OF THE DEAD Fest celebrates the heavy sounds of metal, punk and hardcore along with the ritual of transforming yourself in to another character during the Halloween weekend in October.
Shadows explains:
"At first it was an excuse for a costume party with the bands I've developed friendships with, but has gradually changed into something that I feel Red Deer deserves to call its own. The crowds here are so supportive and I love giving them a gigantic event they can look forward to. Days of The Dead came to be because the first year we held it, the festival fell on the Day of the Dead - November 1st."
Now in its 4th year, Days of The Dead has grown from a two day event hosting 15 bands for both all ages and 18+ to a three night reunion of friends, music fans and a Halloween aficionados.
"I want it almost to feel like a family reunion, where you come and see friends you haven't seen in a while and even if you're new, you feel welcomed with open arms." says Shadows.
This 2017 festivities will be held with over 30 bands for a weekend of heavy metal bonding, friendship, family, music, and love on October 27th & 28th at The Vat for the 18+ shows and on the 29th their all ages event at the International Beer Haus.
Submissions from bands and support staff/volunteers for the 2017 edition are now open until April 1st.
Please read the following instructions on applying.
Email your info to shadowsproductionsrd
gmail.com and in the subject line have your band name & DOTD4 SUBMISSION.
They will review submissions after April 1st and listen to all the submissions and go from there.
Please submit the following:
*BANDS*
- Bio
- EPK or links to social media
- Links to your music
- Why should we consider you for the festival?
- Pay expectations
*SUPPORT STAFF*
In search of: Merchandise Crew, Experienced Stage Hands
- Relevant skills
- Previous Experience
For more info, please visit:
https://www.facebook.com/DaysOfTheDeadRD/
23
« Last post by Jim21 on March 08, 2017, 08:38:45 AM »
24
« Last post by gabalgabow on March 05, 2017, 03:27:40 PM »
25
« Last post by Rotten Ralph on March 04, 2017, 10:07:57 AM »
Temporary bump. Claustrum / Clausthome MP3s re-uploaded.
26
« Last post by gabalgabow on March 04, 2017, 09:22:07 AM »
04/03/2017:
Last disto news:
CEREKLOTH (Denmark) This temple is a grave Demo tape. Death metal
DEKAPITED (Chile) contra iglesia u estado Demo tape. Old school thrash
DEMONS GATE (Australia) Demon's gate MCD. Doom/ Heavy
DESERT CRONE (Swe) Distorted solitude Demo tape. Stoner/ Doom
DEVOTION (Spa) Necrophiliac cults CD. Old school death/ Death doom
EVIL MADNESS (Chile)/ INFANT DEATH (Nor) Split tape. Old school thrash/ Black thrash
EXTREME ROT (China) Obscure suffering MCD. Brutal death
GRAVEYARD GHOUL (Ger) Slaughtered, defiled, dismembered Tape Lp. Death metal
HADIT (Ita) Introspective contemplation of the microcosmus MCD. Death black
HELLSODOMY (Turkey)Chaostorm Demo tape. Black death
INSEPULTO (Costa rica) Morbid spawn of resurrection CD. Death metal
INSTINTO (Spa) Dimonis Demo tape. Crustcore
MORBID FLESH (Spa) Dying lapidation Demo tape. Morbid death metal
THY FEEBLE SAVIOUR (Usa) Blasphemic disgust Demo tape. Black metal. Members of Morbosidad,, Blaspherian, Sacrilegious torment...
TORMENTER (Malaysia) Blasting torment Demo tape. Old school thrash
TURBOCHARGED (Swe) Militant Tape. Old school thrash
http://nihilisticdistro.tictail.com/products/last-news
-----------------------------------------------------------
New release: BLACK BLEEDING "The awakening" pro MCD
http://nihilistic-webzine-distro.fr/Label/moreinfos/moreinfos_blackbleeding3.htm
http://nihilisticdistro.tictail.com/product/black-bleeding-fra-the-awakening-mcd
https://nihilisticholocaustrecs.bandcamp.com/
..
27
« Last post by Caligari on March 03, 2017, 04:35:06 AM »
French atmospheric black metal band KLLK have been around since 2010 and with this second EP display impressive compositional growth and astonishing capacity to balance out muddy cavernous black metal with gorgeous abstract passages of pure translucent ambiance. Le Brasiers des Mondes is comprised of seven transitional cuts that show the band more like craftmen than musicians.
Listen:
https://caligarirecords.bandcamp.com/album/le-brasier-des-mondes
Support:
http://caligarirecords.storenvy.com/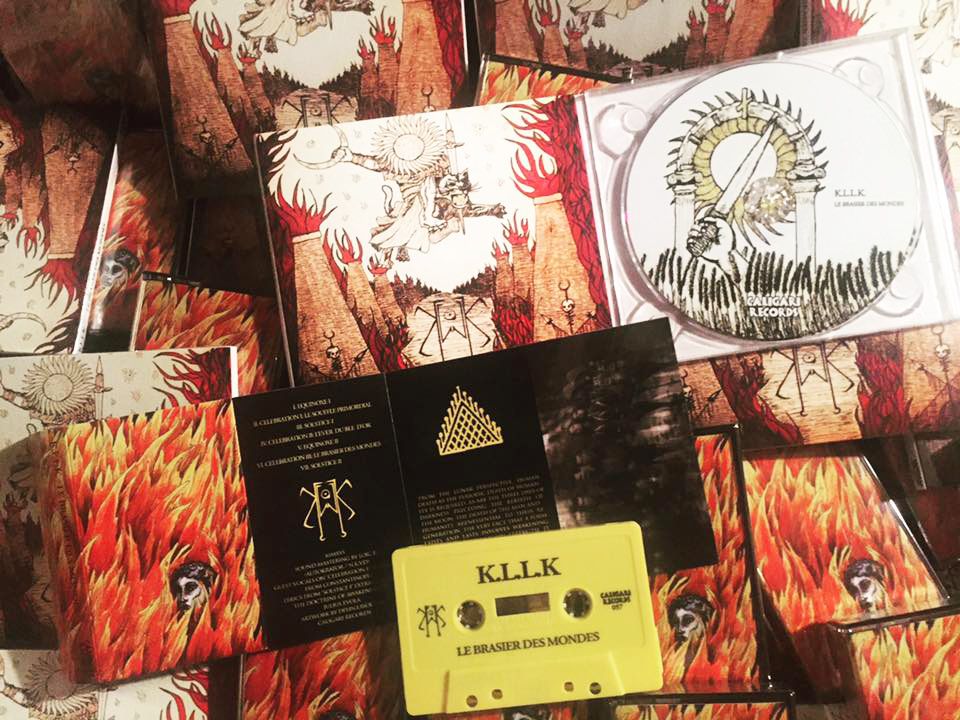 No Clean Singing: 'haunting, hallucinatory, ritualistic, grief-stricken, fiery, and ultimately slow, stately, and majestic — though even then, the shadow of death hangs over it.'
28
ARMSTRONG METAL FEST 2017 w/ REVOCATION, NINJASPY, AGGRESSION, GOLERS and more! Tickets On Sale Now!
Nestled in the Okanagan valley, the town of Armstrong has become British Columbia's largest mosh pit. Trembling the Rocky Mountains and creating a gathering of metalheads like no other in Western Canada, ARMSTRONG METALFEST, now in its ninth year returns with a 2017 line up that metal fans from across country will feast on from sunrise till way past sunset on July 14th and 15th at the Hassen Arena.
Weekend pass available for $120 CAD regular pre-sale with camping included in ticket price. Weekend of festival, the weekend pass will be $160 CAD at the festival gate. Day pass will be available at the festival gate only for $70 CAD. Camping is an additional $20 CAD for day pass per night. Please visit the following link for details and purchase:
https://armstrongmetalfest.ca/tickets/
Confirmed for the fest is the following line-up:
(day line-ups and set times will be revealed at a later date)
Aggression
Angelmaker
Apollyon
Arkenfire
Atrous Leviathan
Cell
Citizen Rage
Cocaine Moustache
Dahlmers Realm
Dead Quiet
Dragstrips Devils
Drop Dead Fred
Exit Strategy
Expain
Eye of Horus
Galactic Pegasus
Gardener
Gatekeeper
Gladius Sky
Golers
Ninjaspy
Nomad
Odinfist
Ossific
Planet Eater
Revocation
Serephic Nihilist
Slagduster
Spore
Tales of The Tomb
Terrifier
The Avulsion
Train Bigger Monkeys
W.M.D.
Xul
Zuckuss
About:
Taking influence from Europe's music festival circuit, Armstrong Metal Fest is a heavy metal celebration that encourages metal heads from across Canada and the globe to mosh and camp with the backdrop of great outdoors of British Columbia's Okanagan Valley. What started as a backyard party in 2009 with nothing but eleven local metal bands such as Terrifier, Xul and Odinfist to name a few, has grown into a a huge success admired by the Western Canadian Metal scene. 2016 was the eighth year of the festival and was its largest year for music and attendance. Previous years of the festival have seen line ups with Cattle Decapitation, Suffocation, Beyond Creation, Dayglo Abortions, Rivers of Nihil, The Zenith Passage, Anciients, Bison BC, Striker, Crimson Shadows, Holy Grail, Archspire, Cryptopsy, Unleash The Archers, Divinity, Into Eternity, Ninjaspy, Vesperia, XUL, Odinfist, Death Toll Rising, Gomorrah among many others.
For more info, please visit
www.ArmstrongMetalFest.ca
29
« Last post by gabalgabow on February 22, 2017, 07:53:13 AM »
22/02/2017:
Last disto news:
DEATH'S COLD WIND (Pol) Subyugador - In goat we trust CD. Bestial death metal
DEBONED (Can) Demo 2013. Tape. Grindcore
FANTOM (Hungary) / FANATIC ATTACK (Hungary) "Fantomania ultra" Split CD. Old styled thrash black: Thrash metal
FEROSITY (Pol) Blasphemous verses CD. Death metal/ Old brutal death. Influenced by Morbid angel, Malevolent creation, Old suffocatiion.
FLESH THRONE (Usa) Onslaught MCD. Death metal/ Brutal death
LIVIDITY (Usa) Fetish for the sick/ Rejoice in morbidity CD. Old brutal death. Rerelease of demo and MCD from 96/97.
PERSECUTOR (Chile) Demo 2008, En vivo Tape. Death metal/ Thrashing death
RIPRIDE (Fin) Ripride Demo tape. Thrash metal
WITCHTIGER (Fin) Warlords of destruction CD. Old school heavy metal (Members of Devil lee rott, Evoked curse, Slugathor, Pagan rites
http://nihilisticdistro.tictail.com/products/last-news
30
« Last post by gabalgabow on February 18, 2017, 09:45:50 AM »
A lot of french death metal songs from the past were added on my Dailymotion channel.
Old school death and old brutal death from the 90's or beginning 00s:
Melem, Mortuary, Broken fear, Hatred dusk, Vacarme, Eviternity, Purge, Amethyste, Byatis, Kabbal, My sovereign, Lamentations, Massacra, Sludge, Arckan obscura, Heretik…
Embrace the cryptic nostalgia:
http://www.dailymotion.com/playlist/x4epdf_gabalgabow_death-metal-france/
SPREAD THE MORBIDITY!