Death Metal Search Engine
Recent Posts
31
« Last post by gabalgabow on August 19, 2017, 12:24:32 AM »
19/08/2017:
Last distro news:
AKATECHISM (Ger) Dripping flames Demo tape. Doom/ Black/ Dark
ANATOMIA (Jap) Cranial obsession Promo 2017. Tape. Old school death
DEATHCULT (Usa) Tyrant of all tyrants CD. Old school metal: Between thrash metal, black and death. (2nd album)
DEIVOS (Pol) Endemic divine CD. Brutal death/ Polish death. (Members of Parricide, Azarath, Ulcer)
DRENCROM (Chile) Banished from sanity Demo tape. Thrash metal, aggressive and old styled.
KURNUGIA (Usa) Condemned to obscurity MCD. Old school death/ Obscure death
MORBID PERVERSION (Chile) Rites of lust and blasphemy CD. Old school death/ Death black. Members of Poisonous, Impetuous rage
NAUTHIK (Ger)/ BABYLON ASLEEP (Ger) Split tape. Doom
NOCTURNAL VOMIT (Gre) Screams from the pandemonic tomb CD. Black death
ORDEAL (Gre) Ordeal MCD. Doom/ Death metal
QRIXKUOR (Uk) Three devils dance Demo tape. Death black, obscure stuff.
RELENTLESS (Usa) Night terrors CD. Doom metal/ Heavy doom (Members of Deathcult, Scythe)
SPECTRAL APPARITION (Uk) Manifestation Demo tape. Death metal/ Blackened death
http://nihilisticdistro.tictail.com/products/last-news
32
« Last post by gabalgabow on August 11, 2017, 10:28:40 AM »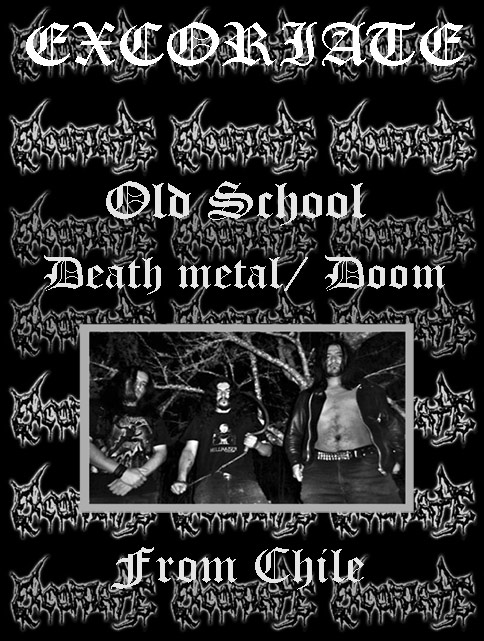 33
« Last post by gabalgabow on August 07, 2017, 11:15:58 AM »
VISCERAL CIRCUITRY Recs:
Webshop updated with a lot of new sickness!
Grindcore, harsh noise, industrial, dark ambient...
GLAUKOM SYNOD (Fra) Macabre remixes Demo CDr.
Industrial/ Cyber grind.
DISFIGURED HUMAN MIND - Abominacoes cadavericas no degredo Demo tape.
Grindcore/ Raw grind/ Noisecore
GORGASMICO PORNOBLASTOMA/ DISFIGURED HUMAN MIND Split tape.
Goregrind death grind/ Harsh noise grind
Special packaging
YOGASH GHOUL GOD (Usa) Morbid spiritualism: The serenity of the corpse Demo CDr/ Pro CDr.
Lofi black metal/ Noise grind/ Improvised
YOGASH GHOUL GOD (Usa) the great dead ones Demo CDr/ Pro CDr.
Black metal/ Grind noise
NOTHINGISTTRUE - Anti antifa Demo CDr. Dvd case
Harsh noise
SYRINX/ PLAYING WITH NUNS Split. Pro CDr
Dark ambient
CLAY FIGURE - Songs for friends of the past CDr.
Garage rock/ Alternative
BABEL Z (Fra) Night garden Demo CDr
Dark electronics, experimental, ambient, drum'n bass
BABEL Z / SLY - "Staz" Split CDr.
Dark electronics, experimental, ambient, drum'n bass
LASER MOUTAIN - The uncommon ingestion of lazer mountain Demo CDr.
Noise experimental
CHICA X - Demo CDr
Experimental, noise, lofi
Evocation Of The Demons Compilation CDr.
Death/ Black/ Thrash/ Grind compilation.
http://visc.tictail.com
34
« Last post by gabalgabow on August 05, 2017, 02:33:15 AM »
35
« Last post by gabalgabow on August 05, 2017, 12:18:28 AM »
05/08/2017:
Last distro news:
DEIQUISITOR (Denmark) Deiquisitor Tape Lp. Death black/ Death metal
HELLISH GOD (Ita) Impure spiritual forces MCD. Fast satanic death
IRONBIRD (Malaysia) Heavy metal evil Demo tape. Old school heavy metal
LURKING TERROR (Ita)/ MORBUS GRAVE (Ita) "Omega doom" Split CD. Old styled death
NECROHERESY (Slovakia) Divine betrayal MCD. Old styled death/ Thrashing death
OLIGARCH (Australia) Hypocrisy oath Demo tape. Bestial death black. Members of Belligerent intent, Cemetery Urn,
TOXIC CARNAGE (Bra)/ RAPTURE (Bra) Split tape. Thrash metal
http://nihilisticdistro.tictail.com/products/last-news
YOUTUBE LINKS/ LISTENING ADVICES :
OLFACTION
Cool mixture of old school death and goregrind,
for fans of ooold Dead infection and cool retro gore.
https://youtu.be/I_MtXddVBdI
Y&T - Live 1986
Cool heavy metal from the 80's
https://youtu.be/WnxE7_bNV5o
GLAUKOM SYNOD:
Industrial/ Cyber grind from the caves
https://www.youtube.com/watch?v=6MDg0krhZVo
..
36
« Last post by gabalgabow on July 30, 2017, 01:59:08 AM »
The first review of the EXCORIATE Tape was published on VOICES FROM THE DARKSIDE Webzine, Ir's a very good review!
It's always a great pleasure for me to find out about new (more or less) bands that are dedicated and see their idea through, no matter how long it takes, not minding the circumstances. EXCORIATE from Chile fit this category. The band from Puerto Montt in the Southern part of Chile is around for 15 years now, but the discography is very manageable. Just two split releases (a CD and a tape album) and two demo tapes, the first of which became part of a split tape release with DEMONIC RAGE. This newest release, the band's second demo tape, also saw the dark of day before as EXCORIATEs part of the "A Dismal Journey To The Oblivion" CD with their brother band HORRIFYING in 2015 on the Chilean label Apocalyptic Productions. But the four songs were too good not to be released again worldwide. Thus they were put out under the name "...Of The Ghastly Stench" by dedicated French underground label Nihilistic Holocaust. But what makes these four tracks so good that they should be heard by anyone? Well, I guess most of you recurring readers will by now have heard from the nearly legendary reputation of the Chilean extreme Metal underground. EXCORIATE feeds this reputation here in a perfect way. The band is praised as old school Death Metal, but this is just half of the truth. The other half is Doom Metal. And even though this mix is not a new invention, EXCORIATE are a very refreshing band in the genre. Their main influences are those pioneering bands of the times before 1991, when Death Metal was still on its way to rise from the underground. Sometimes I hear moments of old MORGOTH and early PESTILENCE, sometimes it's a lethal dose of old Doom heroes. The instrumental intro piece 'Teofisto' is nearly pure Doom stuff, while the following 'Oh! Peaceful Derketa' should please anyone who might dig a fine mix of INCANTATION and early CELTIC FROST. I can hardly deny that it needed only this song to praise EXCORIATE for what they delivered, but the other two songs are of the same quality for sure. 'Black Streams On The Ground Of Cruelty' summons the spirit of old MORGOTH and 'Ghostly Stench Of Mortal Remains' is either great old fashioned Death Metal, with a not as high dose of Doom, but hints on the Swedish school of Death Metal instead. So, EXCORIATE should please all those who love their Death mixed with Doom, played the old school way and with loads of passion. As an additional bonus extra, the sound of "...Of The Ghastly Stench" is authentic, just like it is a very good demo recording from that era I already wrote about. Honestly, if this tape would have been released back then, it would have a cult status today for sure! And I wish it will have it in 25 years, it is worth that status 100%. Especially if you take into concern that "...Of The Ghastly Stench" comes along like a professional release with a printed cover, black tapes and an extra sticker. I just raise all of my thumbs for EXCORIATE and leave it up to you not to miss this great band. Visit: nihilistic-webzine-distro.fr and listen at: nihilisticholocaustrecs.bandcamp.com
http://www.voicesfromthedarkside.de/Albums-EPs-Demos/E/EXCORIATE--11130.html
37
Blackart Designs Productions:
"Perception" by Requiem Laus From Ep "Last Winter 2107"
(Official Music Video)
July 2017
facebook.com/requiemlaus
facebook.com/designsblackart
Video:
https://www.youtube.com/watch?v=eY46lyDrdmA
38
« Last post by gabalgabow on July 25, 2017, 11:58:44 PM »
Last distro news:
DISSIDENT (Chile) Unleash the violence... In thrash we trust CD. Thrash metal
FRACTAL ENTROPY (Mex) Transcendens Tape. Technical death in the end 90's, beginning 00's style.
INFERNALIA (Ita) My will MCD. Death black
KOROIDIA (Usa) Apparitions Demo tape. Death metal in the 90's style, reminds me of Brutality, Morbid angel, Morta skuld.
METASTASIS (Can) Putrefied humanity Demo tape. Gore grind/ Death grind
NECROVOROUS (Gre) Crypt of the unembalmed cadavers CD. Old school death/ Death doom influenced by Autopsy. (Members of embrace of thorns)
OFFENCE (Pol) R.A.W Tape. Death metal influenced by Dismember.
http://nihilisticdistro.tictail.com/products/last-news
39
« Last post by gabalgabow on July 25, 2017, 11:15:04 AM »
Trades are possible,
send a message.
40
« Last post by gabalgabow on July 19, 2017, 11:27:26 AM »