Death Metal Search Engine
Recent Posts
71
« Last post by anomiepsyops on February 16, 2016, 06:51:07 PM »
The First Print Edition of underground journalist Ryan Bartek's extreme metal travel book "THE BIG SHINY PRISON" has been released to worldwide distribution.
This 484 page, 6x9 Paperback is available for $18.95 / €17 through Amazon USA, Europe & UK. "The Big Shiny Prison" is also available at 55% wholesale discount through the Ingram Spark/LSI distribution network, putting it on the systems of 38,000+ booksellers & retailers worldwide.
Inspired by the legendary works of Henry Miller, Jack Kerouac and Hunter S. Thompson, Detroit writer Ryan Bartek traveled the USA to create his own heavy metal road saga of extreme journalism.
1 year, 35 States, 600+ hours on Greyhounds & 1000 cities later, "THE BIG SHINY PRISON" was complete – a unique travel book featuring hundreds of interviews with legends in the metal/punk undergrounds, as well as other alternative cultures in the USA.
Less a "music book" and more a tribute to the Beat Generation, this genre-defying work combines the classic autobiographical road novel with Bartek's self-styled "Extreme Journalism" within the Modern Underground.
"The Big Shiny Prison (Volume One)" features appearances/interviews with members of Brutal Truth, DWARVES, Pig Destroyer, Repulsion, AxCx, MDC, Psyopus, Abysmal Dawn, Kylesa, Ludicra, Cephalic Carnage, Atheist, Impaled, HIMSA, Melechesh, Severed Savior, In Memorium, STALAGGH, Kettle Cadaver, Otesanek, The Angelic Process, 7000 Dying Rats, Screaming Mechanical Brain, EXITIUM, Light This City, Genghis Tron, Blood Stained Dusk, Solger, VILE, Sol Evil, SINDIOS, Kill The Client, OCTAGON, The Gracchi, My Uncle The Wolf, Apocryph, Salt Lick, Amish Noise, Lesbian, Churchburner, Fre-Ne-Tik, Alchemical Burn, Crematorium, Waco Jesus, Snotrokitz, Suicide Holiday, Vertigo Venus, Kill The Precedent, Beefcake In Chains,, Dreaming Dead, They Live, Diverje, Scorched Earth, Quinta Essentia, Alternative Tentacles, Whorehouse of Representatives, RU-486, Mathematicians, Anal Pudding, A.K.A. MABUS, Disgorge, Nihilistik Terrorist, Lysia Gori, The Crashing Falcon, Stormdrain, Bu Hao Ting, Potty Mouth Society, Funeral Age, Uranium Death Crow, Stahlmantel, Hammers of Misfortune, Ron of Japan, Sasquatch Agnostic, Jakked Rabbits, We Both Know, Hunab Ku & others.
Any reviews or news coverage is highly appreciated. Anomie Press is a self-funded DIY Publisher. Ryan Bartek is available for interview upon request:
ryanbartek@hotmail.com
FREE PDF Promo "The Big Shiny Prison (Volume One)"
http://www.mediafire.com/view/dkjjpfdlk6odeba/
Amazon USA:
http://www.amazon.com/Big-Shiny-Prison-1/dp/0692626158/
Amazon UK:
http://www.amazon.co.uk/Big-Shiny-Prison-1/dp/0692626158/
Amazon Europe :
http://www.amazon.co.uk/gp/gateway-eu
"The Big Shiny Prison (Volume One)" Cover Art:
http://i234.photobucket.com/albums/ee37/bigshinyprison/The%20Big%20Shiny%20Prison%20Cover%20Art.jpg
News, reviews, promotion, interview requests:
ryanbartek@hotmail.com
This book will remain a Free PDF download at the author's official website. Download Ryan Bartek's book collection/music discography – including albums from Vulture Locust, A.K.A. MABUS, Sasquatch Agnostic & The REAL Man In Black 100% FREE @
www.BIGSHINYPRISON.COM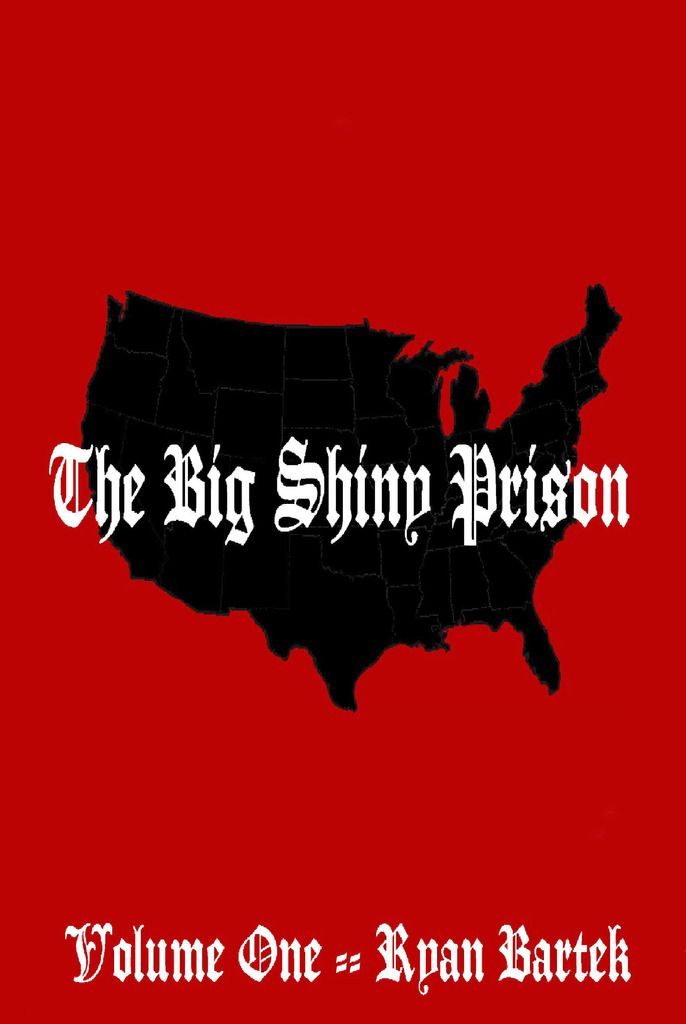 72
« Last post by Mpastardos on February 16, 2016, 12:43:52 PM »
The review for the second demo of the three-member band from Spain Inexorable End, "Voices of a Frozen Heart (Demo 2015)", is online.
English
http://orthodoxblackmetal.com/inexorableend-voicesofafrozenheartdemo2015.php
Greek
http://orthodoxblackmetal.com/inexorableend-voicesofafrozenheartdemo2015gv.php
73
« Last post by August on February 13, 2016, 05:49:01 AM »
I don't see anything wrong with labeling homosexuality as a mental disorder or condition. The only problem is, so what? Does it impede their ability to contribute to society? And if it's a disorder that prevents them from reproducing, what's the concern? They can't have kids. Aside from all that, there's no way of curing it (despite what nutjob Christians would have you believe). So we're simply stuck with them, which is fine with me. More men and women for a workforce, but without the sexual competition.

The homosexual behavior (acting like the opposite sex) makes you socially dysfunctional in all sorts of ways though. I don't know any homosexuals myself however, maybe most of them aren't the cartoonish fruitcakes you see on tv.
74
« Last post by Spinal on February 12, 2016, 08:28:09 AM »
On topic... I can't really think of any good folk metal at this moment. The term leaves a somewhat sugary, but bad taste in my mouth. What kind of bands did you have in mind, voddy?
75
« Last post by Spinal on February 12, 2016, 08:25:30 AM »
While I'm not that well versed in folk music, my impression is that some similarities between black metal and folkish music can be observed. For example in some folk music - I'm mostly at home with swedish folk music since, well I'm swedish - there is a lot of repetition on certain melodies or chunks of musical information that gradually metamorphose, in some cases without the listener being aware of it, depending on his/hers attentiveness and sensibility. The changes could be in the melodies themselves or their context, or both. The same could be said about some better black metal, could it not?
76
« Last post by gabalgabow on February 09, 2016, 07:31:07 PM »
Cool you like it
77
« Last post by vOddy on February 08, 2016, 08:19:15 PM »
There are many silly works within the category of music referred to as folk metal. In many cases, the quality of the music and the connection to folk music can both be questioned.
Some culture's folk music would probably not mix well with metal, like some styles of metal would probably not work well with folk music. Heavy metal and black metal seem like the best candidates to me. I think that an attempt to musically speak about the things that metal and folk music can have in common would result in the metallic parts resembling either heavy metal or black metal.


So my questions for you are:

Are there any folk metal bands that you think are good? Let me know why you like a band that you like. And if no band appeals to you, dissect a shitty one and explain why it's bad.

and

Is folk metal as a style capable of producing great music, or is it a flawed genre?


78
« Last post by gabalgabow on February 07, 2016, 04:00:25 PM »
Second issue still available with:
Interviews: Forced Kill, Condor, Vigilance, Evilnight, Castle Freak, Carrion-zine, Revel in Flesh and Black Crucifixion.
There's also some articles and plenty of record, zine and live reviews on 52 A4 sized black & white pages. Written in english!
Facebook page:
https://www.facebook.com/abhorrentvisions/?fref=ts
Youtube teaser I made:
https://youtu.be/6_WgSNGi6Ek
79
« Last post by gabalgabow on February 05, 2016, 04:39:06 PM »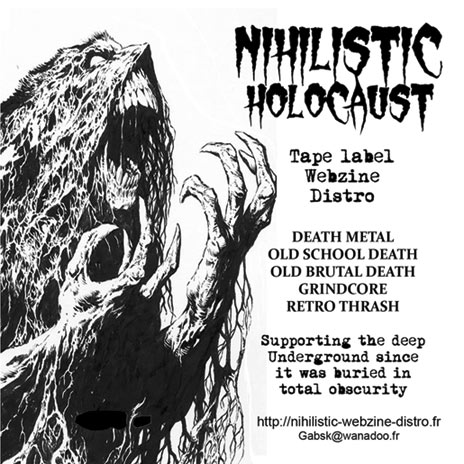 80
« Last post by vOddy on February 03, 2016, 06:41:14 PM »
The best of Metal stays with us forever. I would say that it actively alters our perceptions of the world around us (and, perhaps, the world "behind" us [consciousness et al, I'll get onto that at some point if I haven't already]). Like a "life experience" (going bungee jumping, being entangled in a hostage situation, coming close to death but surviving), this music informs us about our realities, our lives, and our selves, and, as such, it is indispensible.
I agree with your conclusion, but I don't quite follow your reasoning that got you there. The stuff about time.
Anyway, have a good day.