Death Metal Search Engine
Recent Posts
71
« Last post by gabalgabow on October 22, 2016, 10:18:52 AM »
22/10/2016:
Last distro news:
BONESAW (Uk) The illicit revue CD. Digipack. Old styled death, influenced by Autopsy.
ICE WAR (Can) Dream spirit MCD/ Cardboard sleeve. Old school heavy metal/ Hard rock
OUTCAST (Australia) Outcast Demo tape. Old school heavy metal
OVERCHARGE (Ita) Speedsick Demo tape. Speed metal/ Punk. Sounds like Motorhead meets Disfear.
PATHOGEN (Philippines) Thrust into oblivion Demo tape. Old school death
PISSBOILER (Swe) Pissboiler Demo tape. Doom death
SHITFUN (Bra) Promo 2013. CDr. Cardboard sleeve. Grindcore/ Death grind
SON OF STORM (Thailand) In drunk we thrash Demo tape. Old styled thrash
TREPANATOR (Fra) Mutant birth MCD. Digipack. Death metal/ Old school death. (Previous members of Deep vein).
XASTER (Usa) Años de blasfemia CD. Old styled black thrash
CULTURE GRIND (Indonesia) ROTTEN CROTCH (Usa) Split CDr. Underground grindcore noise
http://nihilisticdistro.tictail.com/products/last-news
LISTENING ADVICES/ Youtube Links:
DARKLORD: Monstruous cavernous black death/ death metal from Australia.
Released in 1994.
https://www.youtube.com/watch?v=8X1n3Ml9vxU
CANDLEMASS: Crystal ball live 2013: With metal bands the older songs are often the best,
It's the same for doom metal.
https://youtu.be/BUhen5X-Qzg
SHUD: French morbid/ Thrashing death from the 90's.
https://youtu.be/kmkD1cY5GXY
KING DIAMOND - live 1987
One of the best Heavy metal bands from Denmark.
https://youtu.be/z48wzApFnEQ
.
72
« Last post by gabalgabow on October 15, 2016, 03:54:22 PM »
73
« Last post by gabalgabow on October 12, 2016, 01:42:03 PM »
74
« Last post by Requiem_Laus on October 08, 2016, 01:20:03 PM »
75
« Last post by gabalgabow on October 07, 2016, 06:15:14 PM »
77
« Last post by gabalgabow on October 01, 2016, 04:00:26 PM »
78
« Last post by gabalgabow on September 28, 2016, 09:38:32 AM »
79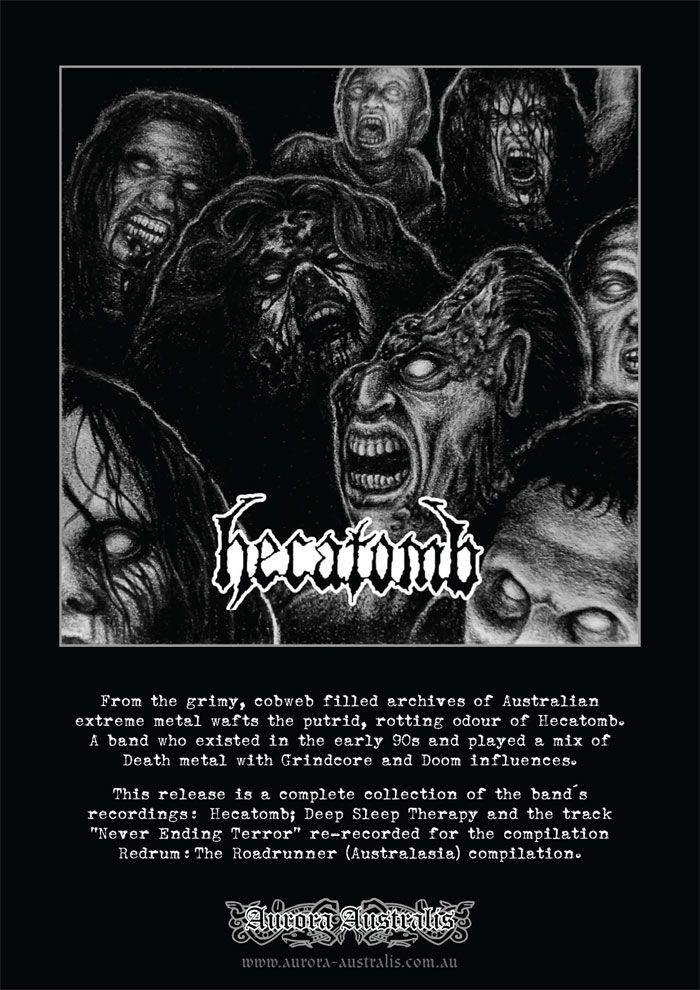 HECATOMB (untitled collection) CD
out now on Aurora Australis. $15 AUD + $2.75 post
Samples:
https://soundcloud.com/aurora_australis_records/sets/hecatomb-self-titled-1
Order:
http://www.aurora-australis.com.au/releases/AAR_029.htm
80
« Last post by fistoffreedom on September 27, 2016, 08:40:11 PM »
2017 - Armstrong Metal Fest Band Submissions Now Open!
After a successful 2016 line up that included headliners Beyond Creation, Dayglo Abortions, Unleash The Archers, Archspire, Rivers of Nihil, The Zenith Passage and more. ARMSTRONG METAL FEST announces they are now taking submissions for their 2017 edition held in Armstrong, BC at the Hassen Arena. The festival has been showcasing a high caliber of Western Canadian metal along with international touring acts for the last 8 years.
Band submissions open September 1, 2016 and end November 1, 2016 11:59pm PST.
Please send submissions to the following email:
bandsamf@gmail.com
What should you send?
- BAND NAME
- ONLINE MUSIC (Where can we check out your music example: bandcamp)
- AREA/CITY BANDS FROM
- GENRE/ DESCRIPTION OF WHAT KIND OF BAND YOU ARE
- HOW LONG HAVE YOU BEEN TOGETHER AS A BAND?
- LAST ALBUM RELEASE DATE/NEXT PLANNED ALBUM RELEASE DATE
- EXPERIENCE/ WHO HAVE YOU SHARED THE STAGE WITH
- CONTACT PERSON/CONTACT EMAIL
- ADDITIONAL INFO/COMMENTS
Don't worry about sending an EPK right off the start! They are great to have, but not for AMF's initial submission; once a band is on the roster an EPK may be requested for media outlets.
Last year AMF had 162 band submissions!
69.4% of the total band line up for AMF 2016 was made of bands that had placed a band submission.
58.3% of AMF 2016's line up were bands that had never played the festival before.
http://www.armstrongmetalfest.ca/