Death Metal Search Engine
Recent Posts
81
« Last post by Mpastardos on February 02, 2017, 09:10:56 AM »
The review for the (not so) new album of the Swedish Dom Dracul, Cold Grave (2016), is online.
English
http://www.orthodoxblackmetal.com/domdracul-coldgrave2016.php
Greek
http://www.orthodoxblackmetal.com/domdracul-coldgrave2016gv.php
82
« Last post by gabalgabow on January 28, 2017, 01:55:03 AM »
28/01/2017:
Last disto news:
BRODY'S MILITIA (Usa) Covered in violence CD (Includes patch). Punk hardcore/ Thrash
DEROGATORY (Usa) Derogatory MCD. Old school death
DESTINO/ ENTIERRO (Spa) Cryptic Procession of the yellow sign CD. Death doom
DESTROYER ATTACK (Ecuador) Diabolical ectoplasm Demo tape. Death black
DOOM FORMATION (Usa) Definition of evil MCD. Old death metal (Rerelease of demo from 1995)
ECTOPLASMA (Gre) Skeletal lifeforms Demo tape. Old styled death
FLESH THRONE (Usa) Upon the throne of flesh MCD. Cardboard sleeve. Death metal/ Brutal death/ Obscure death
HUMAN CHUNKS (Usa) Defleshed abhorrent torture Demo CDr. Brutal death
IMPETIGO (Usa) Rode island deathfest - Live 1992. Bootleg tape. Old school death grind/ Grind
MASS BURIAL (Spa) Soul's necrosis CD. Old school death
MORTUARY (Russia) Tank destroyer MCD. Death metal, heavier à la Bolt thrower, Morbid angel...
OLDSKULL (Thailand) Oldskull of death MCD. Old death metal
REMAINS (Mex) ... Of death MCD. Old school death
http://nihilisticdistro.tictail.com/products/last-news
LISTENING ADVICES/ YOUTUBE LINKS:
AUTOPSY - Live 1990
Morbid death metal, live in 90's with good sound.
https://youtu.be/jY4r5K3cg4k
GODFLESH - Live 1990
Awesome! Godflesh recorded live between Streetcleaner and Slavestate
I'm surprised with the quality of the sound!
https://youtu.be/H5qeTpcAM2Q
ANGEL WITCH - Live 1981
Old school heavy metal from Uk, from the early days of the NWOBHM!
https://youtu.be/2P2ROLO1OJo
ENFORCER – Demo 2005
80's heavy metal from Sweden. The first release, when it was still the solo project of the vocalist.
https://youtu.be/2n_LEeHiHLU
DEATH METAL/ BRUTAL DEATH COMPILATION
Once physically released, now online to kick your brain.
https://youtu.be/PwtLlBEMPtg
.
83
« Last post by gabalgabow on January 21, 2017, 11:25:15 AM »
The new GLAUKOM SYNOD tape, as well as older Glaukom releases,
are now available on the new VISCERAL CIRCUITRY Webshop :
http://visc.tictail.com
Check it out for industrial, grindcore, noise and experimental stuffs at cheap prices.
New reviews also appeared:
LORDS OF METAL Webzine (Hol)
Spread The Sickness !! That is what it says on the Facebook page of Glaukom Synod, a French industrial metal / grindcore band that has been defying the ears of many listeners since 2005. It's weird music which is made here. A lot of electronics, with grunts and sampled guitars that are repeated in loops. Even the well-known call of Tarzan undergoes a treatment 'Jungle Fever Glaukom'. Is all this something for a metal magazine, I hear you ask? Maybe, maybe not. The discussion can be held indefinitely, like who should and should not be in the Dutch national football team. Fact is that this subsonic attack is much heavier than what Metallica and Megadeth have produced in recent years, so based on that criterion, I say yes, it belongs here. A brave metalhead indeed to take this challenge. Berto. 75/100
MOURNING THE ANCIENT Webzine (Usa)
Glaukom Synod are bizarre electronic industrial. Like all ambient/industrial music you have to be in the right mood for this. You have to be able to let the music take you into a trance like state. Only then can you really judge if it fulfills or falls short. First, how to describe this band? Well, it has a very insane and aggressive feel. Pounding electronic drums, unrelenting beats and odd sounds/samples give it flesh, while a sheer insanity are its soul. Its noisy, driving melodies are like a stabbing madness. It's something to behold, I think I may have lost my mind for a second or two while listening. Sanity is overrated anyway! I liked this and would really like to hear a track with some kind of vocals.
FATAL UNDERGROUND Zine (Ger)
Manchmal frage ich mich wirklich ,ob ich in all den Jahren ,in welchen man sich nun intensive mit der Szene beschäftigt hat ,vielleicht doch sein Verständnis für Kunst und insbesondere für Musik irgendwie verloren gegangen ist .Habe ja nun absolut nix gegen abgefuckte ,brutale oder total artige Mucke ,aber das ,was sich hier in den gut 15 min .über mich ergießt ,verlangt mir und sicherlich auch einen großen Teil von Euch ,echt schon verdammt viel ab .Irgendwie kann ich mich auch ganz schwach daran erinnern ,dass ich von diesen französischen Musikvertretern irgendwann schon mal geschockt wurde und mir da auch der Schreck verdammt tief in den Gliedern steckte .Denn das ,was man uns auf seinem aktuellen Werk ,in 5 neue Stücken und 2 Remixen ,"musikalisch" darbietet ,gehört mit zu dem "härtesten" was man sich vorstellen kann .Beworben wird mit "Old school industrial with the intensity of black metal and grindcore".Mmmh ,was Industrial betrifft könnte man ja dem noch zu pflichten ,zu mindestens wenn man auf bizarre elektronische Klänge und unerbittlichen auf einen einstampfende Beats steht .Komponiert wurde das Geschehen deshalb wohl auch mit ner 16 bit software .Was nun die Intensität von Black Metal und Grindcore betrifft ,kann ich nur so viel dazu sagen ,dass dies hier für mich damit eher nix zu tun hat .Das gesamte Geschehen hat ganz einfach nur ne nervigen Charakter ,und selbst nach dem x-ten Durchlauf erschließt sich für mich hier einfach kein wirklicher Sinn .Sorry! Wer trotzdem mal seinen Ohren was wirklich nicht Gutes tun will ,der soll halt mal die Scheibe bei
https://visceralcircuitryrecs.bandcamp.com/
oder
https://www.facebook.com/glaukomsynod/
antesten , bevor man seine sauer verdienten Euronen investiert .Fest steht auf jeden Fall ,dass du für so ne Form der Musik absolut frei von irgendwelchen musikalischen Vorurteilen sein musst .Denn das ,was dir hier mit immerhin 7 Songs dargeboten wird ,ist musikalischer Stoff ,aus denen nur Alpträume entstehen können oder du im Drogen- oder Alkoholrausch auf alles scheisst ,was da draußen in der Welt so passiert . ( LEO )
DARK ENTRIES Webzine (Bel)
Glaukom Synod is sinds het ontstaan in 2005 een exponent van extreme underground metal en industrial. Het soloproject van deze Franse onderdaan heeft een voorliefde voor industrial uit de oude doos, denk aan Skinny Puppy, Godflesh, Frontline Assembly. In de mix gooit deze noise terrorist ouderwetse deathmetal en grindcore in de stijl van Morbid Angel, Napalm Death en Carcass met tegelijk meer hedendaags geluiden, gemodelleerd uit subgenres als 'cybergrind' en 'harshnoise'. Op deze 'single sided' cassette staan vijf nieuwe tracks en twee remixes. In zijn totaliteit een zestien minuten durende helletocht. De songs zijn versnipperde fracties, intense geluidsuitbarstingen met wisselende grimmige en pikzwarte stemmingen. Soms krankzinnig en striemend, dan weer de waanzin nabij hakken de breaks en beats genadeloos in op de trommelvliezen. Zelfs een icoon als Tarzan ontsnapt niet wanneer zijn typische kreet wordt vervormd en gecontamineerd met een doodsreutel en staccato door merg en been snijdend gedreun in 'Jungle Glaukom Fever'. 'Vampires And Gorgeous Throats' is een momentopname, een enerverende, onrustwekkende factor die je vreedzame, zorgeloze, comfortabele leventje van geborgenheid duchtig overhoop haalt en je met de neus op de feiten drukt. De wereld gaat om zeep en er is geen weg terug.
METAL REVOLUTION Webzine (Hol)
Now, I will be the first to admit that the whole Electro scene is far from anything that I can relate to, or even enjoy. As such, it is very hard for me to find anything good or interesting to say about a release like Vampires and Gorgeous Throats. It is labelled as being 'Dark Electro' which, upon closer inspection, apparently translates as several sounds and melodies-turned-onslaught through the use of 16 bit software. It contains seven tracks which cover roughly fifteen minutes of, for me, completely indeterminable sounds. Definitely not something I would recommend – But then again, I am far from a fan of the genre. Brian
84
« Last post by sofiana on January 20, 2017, 01:46:13 PM »
Could anyone please upload F. Chopin's Nocturnes ?
85
DEICIDE-In Hell I Burn
[faster and BESTIAL BLACK/DEATH cover by

DimensionTerror]
86
« Last post by Rotten Ralph on January 14, 2017, 02:58:19 AM »
Temporary bump. More Infamous added.
87
« Last post by gabalgabow on January 14, 2017, 01:37:47 AM »
14/01/2017:
Last disto news:
DEATH INVOKER (Peru) Necromantic Desecration CD. Old styled black death/ thrash
DEMORED (Ger) Absolution through dissolution MCD. Old school death
ENVOKE (Bra) Unnatural cancer of the humanity CD. Fast death metal/ Death black
INFAMOVS (Chile) Emanation of Impure heresies Demo tape. Old school death/ Obscure death
INSOLITUM (Bra)/ MORBID PERVERSION (Bza) Abysmal necroalliance Split CD. Old school and morbid Death metal
KARA CEPHE (Turkey) Kara cephe Demo tape. Industrial doom death like old Godflesh
KRAMP (Serbia) Demo 2002 + bonus live Tape. Death grind
OLD CHAPEL (Rus) Symptoms of possession Demo tape. Death doom
PAPA NECROSE (Bra) Driven to evil Demo CDr. Cardboard sleeve. Old school death (Old Death, Obituary...)
RECRUCIFIXION (Bra) irreligion Demo CDr. Cardboard sleeve. Old school thrash
ROTEM (Por) Nightmare forever MCD/ Pro CDr. Death metal/ Death black
SEPULCHRAL (Fra) Rehearsal of the living dead Demo tape. Old school death/ Putrid death
VENUS TORMENT (Chile) The Overdose of Suffering Tape Lp. Old styled thrash death/ Thrashing death.
http://nihilisticdistro.tictail.com/products/last-news
-------------------------------------
YOUTUBE LINKS/ LISTENING ADVICES:
BYATIS – Demo 2001.
It was a great death metal band from France, quite old school and brutal,
quite technical and hellish at the same time.
https://youtu.be/6Hf1c7YprnQ
IRON MAIDEN – Live Japan 1981
The band live at the time of the second album, with Paul Di Anno on vocals.
They don't play some of these songs live since a long time!
https://youtu.be/K_ENE8mux-4
SKELETON OF GOD
This band was playing killer death metal a brutal way in the 90's...
Now they play ultra smoked/ Psychedelic metal/ Stoned death metal
I have CDs in stock
https://www.youtube.com/watch?v=dGaF1NWCExk&t=271s
SLUDGE - Suspission Process
Cool death metal song from this French band from 1996.
https://youtu.be/zfKkqcQsZ5I
ARCKAN OBSCURA – Death metal/ Black metal from 1996
Exhuming more French metal demos from the past.
https://youtu.be/0gSoivfaqb0
88
Why now? I got really into movies about 5 years ago, Tarkovsky, Bergman, and Fellini are what changed my mind about the value of the medium. All have the ability to tap into and illustrate human introspection, and portray deeply flawed characters without making them champions or archetypes. There is much Dostoevsky in this kind of filmmaking.

Also, these three are rare due to their mostly apolitical approach. Many great auteurs muck up their work with outdated leftist political cliches. But some politically-motivated directors are still worth the time (Renoir, Bunuel, etc).
89
« Last post by Rotten Ralph on January 02, 2017, 08:08:56 AM »
Best of Grindcore
---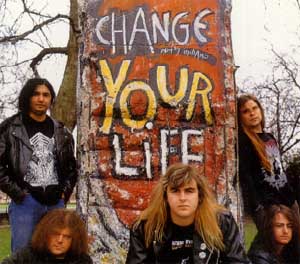 "A further evolution of the sound hardcore punk created and thrash developed, grindcore slams together abrasive riffs in order to achieve a release from intensity at the end of each song. Its name comes from that grinding, caused by fast alternation between chromatic notes and the contrast with rigid whole note patterns that lift the listener up from the directionless thrashing. Where purest, grindcore celebrates individual life and rejects social mores by reminding us that we are mortal, frail and the clock is ticking, so we need to cast aside the pointless and frustrating (grinding) in life and replace it with open spaces of our own imaginations."Band name links to review; album name links to downloads.
Best of Grindcore
Blood
-
Impulse to Destroy
Blood
-
O Agios Pethane
Bolt Thrower
-
Realm of Chaos
Bolt Thrower
-
The IVth Crusade
Bolt Thrower
-
...For Victory
Brutal Truth
-
Need to Control
Carbonized
-
For the Security
Carcass
-
Reek of Putrefaction
Cianide
-
A Descent Into Hell
Godflesh
-
Streetcleaner
Napalm Death
-
Death by Manipulation
Napalm Death
-
Utopia Banished
Napalm Death
-
Fear, Emptiness, Despair
Pathologist
-
Grinding Opus of Forensic Medical Problems
Repulsion
-
Horrified
Terrorizer
-
World Downfall
90
« Last post by wehopeyoudie on January 02, 2017, 02:41:36 AM »
Condor - Sangreal

Been following these goes for a while now, good example of maturity done right.