Death Metal Search Engine
Recent Posts
91
« Last post by aquarius on June 24, 2016, 06:45:23 PM »
Yeah, Summoning's great!

Listen to Dol Guldur.
92
« Last post by vOddy on June 23, 2016, 08:14:31 AM »
There are similarities between Summoning, Ulver, and Agalloch.
All three have (fewer or more) elements of black metal. All three's tales take place in environments like the depths of a forest, or atop the heights of mountains.

But there are also differences, some of which make Summoning a superior metal band.
Ulver is passive and docile in the presence of magnificent nature. Summoning is invigorated in its presence.
Agalloch has a woe is me attitude and dwells on petty issues with a small minded, egocentric view, giving the impression that the imagery of desolate winter is merely used as a metaphor for an individual's state of mind.
Summoning sees humanity as a part of the greater nature, and thus, avoids that view in favour of a grander one.

My advice to like minded people: Listen to Summoning. Don't waste too much time and effort on Agalloch. Don't make the mistake I did.
93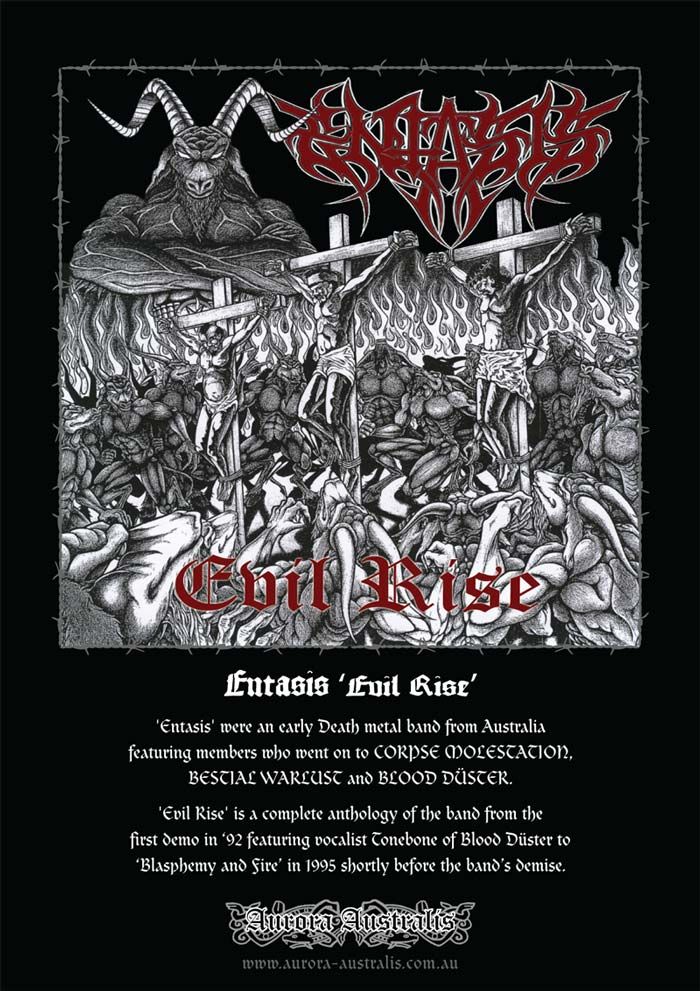 ENTASIS "Evil Rise" CD out now on Aurora Australis. $15 AUD + post
Samples:
https://soundcloud.com/aurora_australis_records/sets/entasis-evil-rise
Order:
http://www.aurora-australis.com.au/releases/AAR_028.htm
94
« Last post by gabalgabow on June 18, 2016, 08:48:56 AM »
18/06/2016:
Last distro news:
DEUS INVERSUS (Ger) The downfall MCD. Death metal
FURIOUS BARKING (Ita)/ DESMODUS (Ita) Italian thrash relics Split CD. Thrash metal demos from the earky 90's.
HELL TORMENT (Peru) Hell terror CD. Black death
NECROBUTCHER (Bra) Corrosive and schizophrenic noisy torment CD. (Demos from 88 & 89). Deep underground grindcore/ Black death
OBSECRATION (Gre) Behold the pale horror MCD. Death metal
ROT (Pol) Kingdom of antichrist sodomy Demo tape. Black death
SCULPTOR (Rus) Pact with the doomed CD. Digipack. Doom/ Death doom
SHAMBLES (Thailand) Realm of darkness shrine CD. Obscure death/ Death doom
SORROWFUL (Mex) In the rainfall CD. Doom death
VHS (Usa) Screaming war gore CD. Death meta with punk and thrash influences.
HARMONY DIES (Ger) I'll be your master CD. Old brutal death
http://nihilisticdistro.tictail.com/products/last-news
95
« Last post by fenrir on June 15, 2016, 12:34:16 PM »
Possessed by the fucking moon:

Gorgoroth - Pentagram
Burzum - Det Som Engang Var
Darkthrone - Under a Funeral Moon
Ildjarn - Demo II
96
« Last post by Mpastardos on June 13, 2016, 07:33:29 AM »
The review for the very interesting second full length album of Aryman from Poland, "Czarne rytuały otchłani (2016)", is online.
English
http://orthodoxblackmetal.com/aryman-czarnerytualyotchlani2016.php
Greek
http://orthodoxblackmetal.com/aryman-czarnerytualyotchlani2016gv.php
97
« Last post by gabalgabow on June 12, 2016, 10:03:17 AM »
This is the new album of OCEAN OF ZERO from Australia.
Old school death meets early brutal death, with an obscure/ underground vibe.
I didn't see too much peoples talk about it while this albums deserve more listeners!
Check out two songs here:
https://youtu.be/QbvXE-x7V8Y
CD released by Obscure domain:
http://www.obscuredomain.com
98
« Last post by Tree on June 04, 2016, 04:39:56 PM »
Molested - Blod-draum
(1995)
Molested - Blod-draum
(Original master, Mega)
99
« Last post by gabalgabow on June 04, 2016, 09:16:02 AM »
04/06/2016:
Last distro news:
ADE (Ita) Prooemivm Sangvine CD. Death metal/ Fast Death metal/ Technical death
ARCHITECTURE OF AGGRESSION (South africa) Democracy : Consent to Domination CD. Death metal
DEGGIAL (Turkey) Confronted with deggial's wrath MCD. Black metal. (Members of Burial invocation, Engulfed...)
DEMONIAC (Chile) The unacceptable truth Demo tape. Old styled thrash. (Member of Terror strike...)
DESTROYER ATTACK (Ecuador) Diabolical ectoplasm Demo tape. Death thrash/ Death black
EXTREME ROT (China) Obscure suffering MCD. Brutal death
GOD DISEASE (Swe) Doom howler / Abyss cathedral CD. Old school death metal (Contains two Eps)
MOSS (Uk) Carmilla Marcilla / Spectral Visions MCD. Slim digipack. Doom.
OCEAN OF ZERO (Australia) Where Sickness Prevails (The Demos) CD. Old school death/ Old brutal death
ORDEAL (Gre) Ordeal Demo tape. Doom/ Death doom
SABBAT (Jap) Satanasword Tape. Black thrash
SABBAT (Jap)/ HADES ARCHER (Chile) Split CD. Black metal
TORTURE THRONE (Fra) Thy serpent's cult MCD. Old school death
TORTURE THRONE (Fra) Stench of innocence MCD. Old school death
http://nihilisticdistro.tictail.com/products/last-news
100
« Last post by Tree on June 03, 2016, 04:15:46 PM »
Withered Earth
Withered Earth MP3s
---
Withered Earth - Forgotten Sunrise
(1997)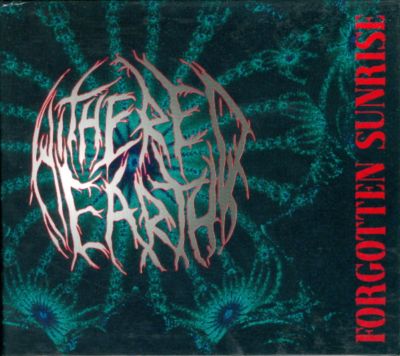 Withered Earth - Forgotten Sunrise
(Mega)