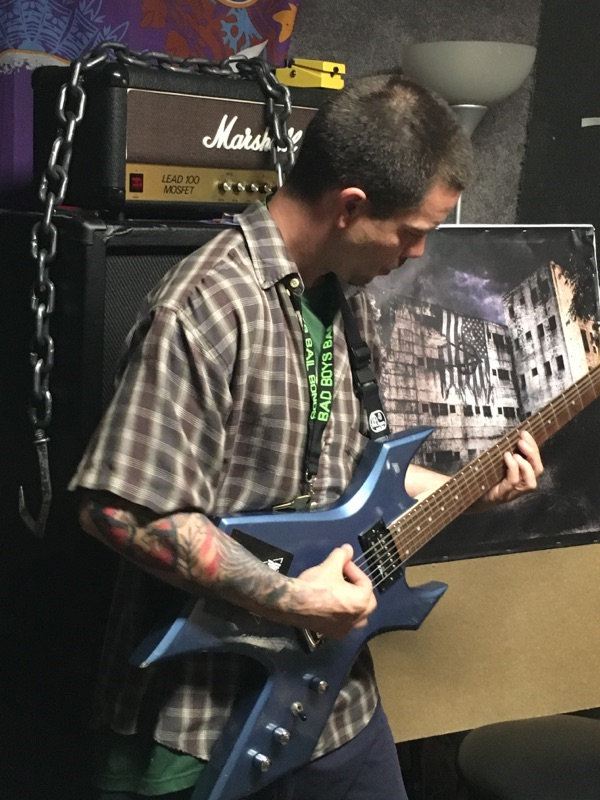 Steve Cefala of Dawning and Nothing Left blew up at our staffer's Sadistic Metal Review of the Nothing Left demo and spammed comments to several recent articles of ours Saturday:
Sadistic Metal Reviews: Crypto Radio Rock
"Nothing Left was an underground band which had Mike Beams ( former Exhumed member singing ) plus former Pale Existence members .
The album is brutal .
The author of this article is a nit wit with an axe to grind against me personally .
I challenge him to a boxing match . Am sick of his antics."
"This site has become worthless. Anyone who still reads it is a moron."
"Mortician is a great band. The fact that you lumped NL in with them in a negative way is an honor to us and shows what a bunch of gay losers you are."
"Ironically – the whole reason I re-eleased NL on bandcamp was that I got very tired of how every nit-wit can give his opinion on Youtube etc. and it was very popular on Youtube by the way . But frankly as an artist I know when I have created something good . And your opinions are unnecessary to me as an artist . and I think of you listeners as sheeples for needing sites like yours to tell them what to think about a given album . Frankly- the underground would be better off without social media. without critics. and without sites like this."
"The current mentality of the metal underground is something I am ashamed to be associated with . Those who are smart should rather play just about any other genre but metal given the current state of its music and critics. Even most of the famous acts you guys cuck for have members working at gas stations etc and have to pay for their own tours etc, The labels you worship like Relapse are run by one guy basically . The whole thing is an illusion . When there is a big concert most of the money is going to the big beer companies – not the musicians or labels.and no one is making any money or getting many hot chicks . and theres not much good music coming out in this genre, except for the stuff you guys rip on . So you tell me – whats the whole point of underground metal again? you guys mostly cuck for the famous bands and diss the underground ones . Its a fairly transparent formula you use . Its for retards frankly."
"A lot of us experienced underground metal musicians could write much better articles than you so called experts. Sure – the site would probably be not as "popular" because banal negativity of anything not trending would not be our thing . But in terms of actually doing what the site purports itself to do – bringing underground bands to public's attention – the average 10-15 year vet of actual underground bands would write better articles than you guys .
Articles should appeal to reason and to artistic intent instead of offhanded sophistry and overly- critical sense of self- entitlement of your pathetic younger generation . Where you never put any art that you created yourself for criticism, but instead free-ride off the backs of hard working musicians while you sit back and sip on your latte mocha frapuchino or however you spell it."
"According to my bandcamp site stats the critic only listened to part of 2 songs by the way before issuing his hit piece. He missed that there are also black metal riffs mixed in for instance , and he missed the fact that the album is percussive and that the simple song names reflect things such as the drum fills. For instance the song Bludgeoned begins with smashing tom hit fills as if bludgeoning something . Or that Tank Crush Skull that song is meant to replicate the sound of a tank but through using the whole band to create that . Critic is a moron."
"Current writers have never made the personal sacrifices necessary to metal to where they have a decent perspective on being an artist . Thinking its their job to trash the underground artists who sacrifice their time and effort to bring you free listening material is counterproductive. These sadistic metal review articles are pure negative garbage in general and reflect poorly on the authors who penned them .
The sadistic metal reviews are also very poorly written and their authors lack the experience and authority to even have the right to judge these releases."
Sadistic Metal Reviews: Dark Descent into Uranus
"Another really lame negative pointless article from this once decent site which has turned into a worthless abyss of sophistry."
Sadistic Metal Reviews (07/04/16)
"In the 90s – when metal was actually good – the underground was not filled with negative snobs. Now that metal sucks dick – all you nerds are on here shitting on the underground bands who work hard and make sacrifices to bring you mostly free listening .
You are like black people who complain about not getting enough welfare.
You are thankless miserable pieces of shit."
Interview: Fred Estby of Dismember
"I love Dismember. But this article highlights what sucks dick about this site:This site is a cuck for already established bands
while shitting on the majority of underpaid hardworking underground bands ."
"My criticism is for the so called "staff" written articles. Not for the sites founder. But overall metal needs to reach a much higher level of maturity. Metal used to be a community of misfits who embraced each other because they did not fit in . Bands were seen as expressing themselves. Now the whole thing is about trying to be cool, trendy, and popular. Metal community is turning into something very lame – not unlike American Idol – but for metalheads. The more you are hated by zines such as this – the better a job you are doing frankly of not following their butt-wad trends."
The majority of underground bands justifiably never earn a profitable return on their material as their material is derivative, boring dreck. Cefala misguidedly recreating the sound of tank treads driving over skulls simply doesn't convey the desired emotion well as the opening to Terminator 2 does visually or Bolt Thrower musically. Why should anyone expect positive reviews of a recording whose sole artistic aim is emulating the noise of industrial machinery anyway? Nothing Left's backhoe noises were trashed the same as Portal's vacuum cleaner.
Steve complaining that we treated him worse than Fred Estby is unfounded too. Steve was treated cordially when interviewed years ago and I myself negatively reviewed both Indecent and Obscene and Massive Killing Capacity. If he expects the same amount of reverence, that will never happen; Fred Estby played on and wrote much of two of the most beloved death metal albums of all time while Steve only played in a few good but not great experimental bands, none of which ever recorded an album published by a decently distributed label. Stating that critical thinking and appreciating well-written music are trends, Steve Cefala has clearly aligned himself with the scenester "pat each other on the back, hand out participation trophies, and suck down artificial cheese grease at Pizza Hut afterward" funderground tee-ball team.
Tags: dawning, funderground, Hate Mail, industrial noise, noise, nothing left, scenester, steve cefala