Goatcraft at Anti-Christ Mass XV
by Brett Stevens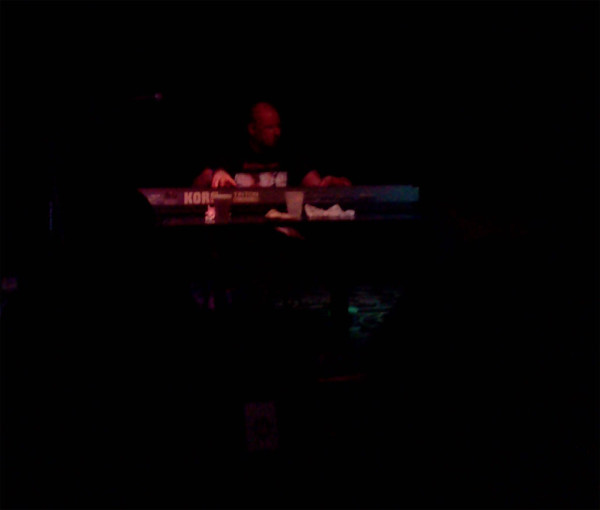 The end of the year is the worst time to get anything done because every hour of the day is spoken for by six different needs at a bare minimum. We're all trying to beat the deadline of the holidays themselves, because once Santa and/or baby Jesus appear, nothing is going to get done but the mass consumption of holiday food, alcohol and other happy oblivion. Thus it was that I arrived late to Anti-Christmass XV, the fifteenth incarnation of Houston's long-running blasphemous end of year metal festival.
Produced by Luis & Jess Carlos of The Adversary Productions, Anti-Christ Mass XV is like all of their shows: organized, dedicated and friendly to local talent. Some would criticize it for that latter tendency, saying that it's foolishness to give Panteon, Satanical Torment, Avaris, Behelit and Church ov Melkarth the stage when larger bands might be induced to show up. However, the point is in part to support the local scene by reducing its inbred nature by showing these bands off head-to-head, making it clear who's rising and who's stagnant.
Owing to the aforementioned end-of-year mania, this reviewer arrived late in time to catch headlining act Goatcraft, who took to the stage at 1 a.m. in a swirl of cigarette smoke. The stage, covered in an elegant carpet and adorned with framed sigils and occult sayings, seemed isolated with only one 6'5″ musician and his gigantic KORG TritonTM electronic keyboard. Coated in stage blood from head to foot, Lonegoat began playing without saying a word.
For those unfamiliar with the project, Goatcraft is "necroclassical" which is a neoclassical version of the dark ambient keyboard music that became popular after black metal. The difference in the Goatcraft approach is that the band emulates the negative and ambiguous feel of metal but tries to translate it to keyboards, both through mood/melody and use of a hammer-intense technique that blasts chromatic fills underneath chord progressions to create a sense of sonic space imploding with shattering rage. Goatcraft's second album, The Blasphemer, will be available from I, Voidhanger records on February 3, 2014; currently, you can purchase the CD verson of Goatcraft's first album, All For Naught, for $6.66 at Forbidden Records.
Lonegoat played a fifty-minute uninterrupted set that combined themes from the first two Goatcraft albums with a heavy degree of intense showmanship and sonic manipulation that is closer to what a noise band like Zeni Geva or an electro-acoustic act would do. The hammering technique utilizes the sonic properties of not just the keyboard but the hall itself because so many notes in rapid succession create an echo effect that produces a wave of sound sweeping over the listener. Sitting and sometimes standing, the demoniacal musician played the crowd by sweeping from high notes to low, from quiet to loud, and from the elegant melodies that comprise the inner core of his works to the pounding near-chaos that obliterates all other thoughts from its listeners minds.
Periodically he would raise an empty cup, sending fans racing to the bar for libations to fulfill the Dionysian ritual. Part self-destructive black metal, part a death metal-fueled appreciation for the destructive power of noise, and somewhat the showmanship of a Liberace or Horowitz in knowing how to introduce drama to music, the Goatcraft performance kept a rather cynical and totally exhausted audience entranced until on the eve of two the bar shutdown and so did the club. Anti-Christ Mass XV ended in a wash of reverbed piano notes thundering through the mid-sized hall, creating a turbulent barrage of noise from which the naturalistic melodies of Goatcraft emerged.
As part of being the only metal festival to take place in a club with a Koi pond and chill-out loft, Anti-Christ Mass needed to culminate in some form of apocalyptic weirdness like Goatcraft, and the deconstructive waves of keyboard angst fulfilled this mandate and sent people charged and baffled into the night. In a metal scene that is afflicted by the entropy of not having had any game-changing ideas for 18 years, Goatcraft represents a much-needed prod to remind us that imitating the past alone is not a path to victory. With this energetic and spirited performance, Goatcraft continues to develop a new audience for a style of music that, having emerged from and commenting on metal, will surely help metal to develop further much as bands like Dead Can Dance spurred on the last few evolutionary steps.