Goatcraft – Goatcraft
by Death Metal Black Metal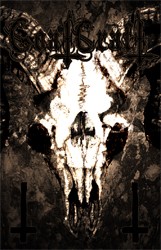 Genres form when they break away from their origins by specialization, and then are either re-absorbed through norming or develop themselves to the point where they feel safe commenting on their inspirations. Goatcraft appears within a newly-emerged genre that is in part informed by underground metal, and in part by a mix of neofolk, soundtracks and Gothic dark ambient music.
Continuing the line of influences like Endura, Black Aria, Dark Sanctuary, Winglord, Sophia and Lord Wind, Goatcraft takes up the form of dark ambient that borrows from neofolk and metal the spirit of gravitas, or a contemplative, and thus morbid, outlook on life that embraces the larger process and denies the individual. This worship of raw power and human negation is the most terrifying thing your average ego-bound individual can confront, but it presents itself through a soundtrack that would be at home in a Steven King film or plane crash documentary.
All songs are semi-extemporaneous, working from a lead riff of a few notes to wrap it into different configurations and by thus varying its endings, leading to new phrases which eventually return to the same themes but in mutated form. Its inspiration thus is closest to the soundtracks that borrowed the modern music of Wagner and Bruckner and fused it with Hollywood drama, creating a heightened sense of suspension of disbelief and emotion that can be truly transporting. All of this emerges from handily sparse keyboard riffs repeated with background chording in layers, much like Glenn Danzig's Dark Aria and the Burzum albums it spawned.
What is most interesting about Goatcraft is the lack of showing off; the music flows together, like only something that is simultaneously off-the-cuff and the result of long general contemplation can be. The result is like curtains closing on a stage and then turning transparent: gauzy shadows moving through resonant sound. If metal is to mutate, and dark ambient is to endure, it is optimal that what survives should be the ancient spirit and sense of isolation that silhouettes an order to the universe that dwarfs humankind.