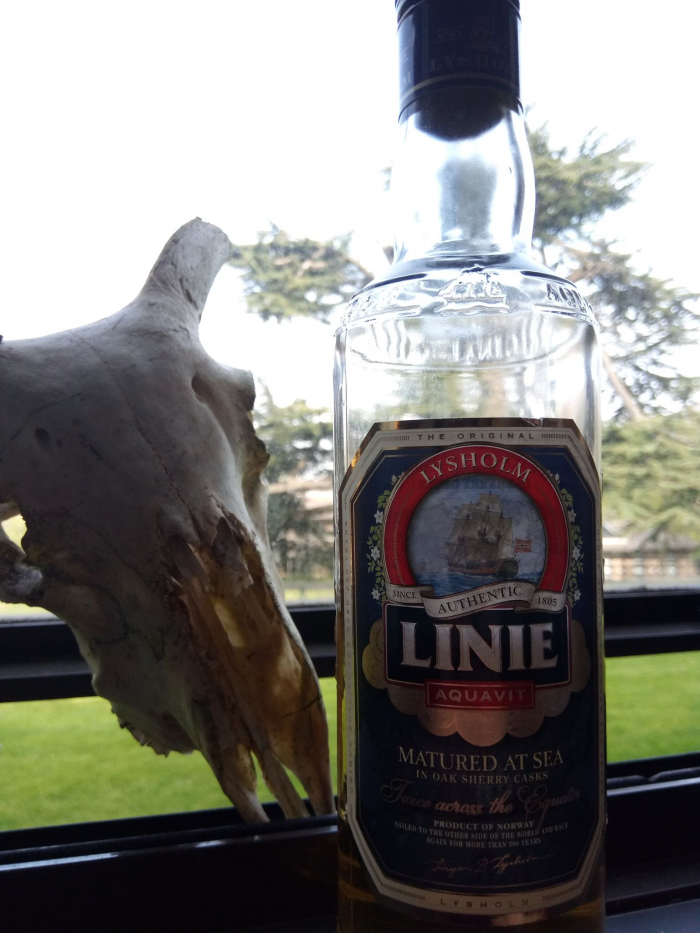 Hailing from Norway, Linie Aquavit is a 41.5 % vol. aquavit distilled from grain and potatoes and flavored with a secret recipe of herbs, which possibly includes caraway, dill, anise, fennel and coriander. It owes its name on crossing the equator line (Linie) twice in order to mature.
Linie Aquavit was invented in 1805, when the Meincke family sent a ship from Norway to East Asia loaded with goods, including five casks of potato aquavit. The aquavit was not sold but upon its return the family found out that it had transformed due to the changes in temperature and humidity in the ocean.
The constant rolling of the waves and the exposure to the weather elements gives this Aquavit its unique flavor. So it is quite simple to mature. You just take the sherry oak casks and cross the equator twice. And if you don't believe that this happens, you can check the live-feed from its maturation journey. You can also subscribe to their newsletter for a free bottle:
https://linie.com
The flavor is rich yet light, spicy and filled with starch but smooth. It is easy to drink and is perfect for accompanying food or as an aperitif. It is quite reminiscent of licorice. Color is light clear caramel, yet it is darker than other varieties of aquavit due to a year of aging. According to traditional Norwegian wisdom, it is best to store it at room temperature, preferably around 10 degrees to enjoy the taste. This is a beverage to be enjoyed responsibly and leaves behind a feeling of warmth as well as a good finish of herbal flavors.
Ideal after a platter of greasy food such as pork belly, to feel lighter, be strong and survive the Norwegian winter.
Skål fittehull! 5/5