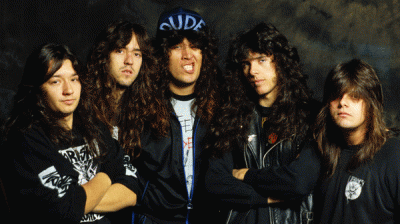 Testament, famously known for being a bay area band not in the big four rather than through their own exploits. Though their first two records are entirely respectable affairs due to the melodic sensibilities of lead guitarist Alex Skolnick. Problems not related to their music and a lack of business savvy always kept them below their peers in terms of success and it is only in recent years have the band started to find a reasonable amount of success after a long career of constant disappointments and bizarre records.
Never has a band put as much effort into integrating external influences while barely deviating from their base. Testament unlike most of their peers always maintained a naive sense of candour in interviews and often revealing too much of what truly happened behind the scenes. Label pressure forced them to expand the 20 or so minutes of New Order into a full length record which hampered some of the brilliant ideas by surrounding them with long introductions and disposable riffs.
From then on the band never fully recovered and resorted to churning out records at a fast pace that were retreads of what their peers had done combined with the Heavy metal and Hard rock of their youth. When mastermind Alex Skolnick left due to being caught up between Chuck Billy's vocals and Eric Peterson's rhythm guitars and having so much more to offer with his remarkable talent, the band followed the groove metal trend while maintaining their chugging Heavy metal base with catastrophic results on Low.
The follow up Demonic is a laughable attempt at selling out by getting heavier and opting for a digital production that would add extra punch to each chugged note but make the lack of quality even more evident. While erroneously known as Testament's Death metal album, Demonic relied once again on chugging riffs and Billy's vocals but this time replaced with a harsher growl and some more chromatic riffs that had pretty much lost all form of Heavy metal melody. Their chugging form of Speed metal translated well to the tasteless brand of Nu Death/groove metal that was becoming popular at the time. The riffs went from bland Heavy metal riffs to power chord sequences in the style of Fear Factory.
The Gathering continued this trend but often made the jump backwards to wards more familiar territory that was less alienating for fans that wanted more of the same. The band then abandoned that strategy and released a string of rehashes that took advantage of the "thrash revival" movement and enticing Alex Skolnick with enough money to return. Skolnick would bedazzle listeners and submit to his role exclusively as a soloist rather than a composer. The Formation of Damnation saw the beginning of a pattern of a more modern lexicon consisting of blast beats, jazz like syncopation and good cop/bad cop verse/chorus arrangements. This combined with their aforementioned tactics has been the Modus Operandi up to now.
"Night of the Witch" from their recently announced Titans of Creation attempts to integrate Black metal from Eric Peterson's hilarious Dragonlord project. A few tremolo riffs connect the groove riffs with the bland Speed metal riffs. Eric Peterson sounding like a higher pitched Chuck Billy with little distorsion in his throat as to not alienate fans and the song's pivotal passage being the introduction of the groove riff and Chuck holding the "All" syllable in unison. This creates anticipation for a simple Pantera groove to get the crowd moving and nothing else. The song revolves around the following cycle:
Basic Speed metal riff –> Black metal tremolo picked riff –> Higher screams over a Dimmu Borgir riff –> breakdown/chorus, repeat.
The band to their credit manage to unite these somewhat disparate segments into a cohesive Testament song instead of sounding like any other Modern metal band. The issue is that the standard Testament song is a very boring affair that wore out its welcome thirty years ago. Peterson without Skolnick has found it impossible to compose anything somewhat innovative and has to rely on the powerful vocals to carry every song. Skolnick abandoned the sinking ship for a while for much more interesting pursuits that sadly didn't provide the same amount of financial freedom and thus forcing a return. Had Skolnick been given much more freedom and allowed to expand the seeds sown on The New Order, Testament would have had a chance of competing with their superior peers but their legacy will forever the beer metal band that wasn't quite able to escape the hole.
Tags: bay area, demonic, formation of damnation, low, new order, practice what you preach, testament, the gathering, titans of creation