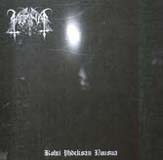 ---
Horna
Kohti Yhdeksan Nousua
[Solistitium]
---
I got this disc through a trade, and not having heard their previous CD or demos, I didn't really know what to expect from Horna. Needless to say, I was quite pleased when I threw this disc in the stereo and was greeted by pretty damn good black metal.

From a musical standpoint, these guys are competent musicians. There's loads of good riffs on this CD, the vocals are up to par, and the drumming is quite solid as well. To top it off, all of the tracks are performed in an aggressive manner. Since this is a MCD, let's break this thing down track by track:

1. Orkkivuorilta- This was a good song to start the CD with. The music immediately caught my attention, often reminding me of (good) Satyricon in places.

2. Imperial Devastation- For some reason, I really like the first riff in this song, so of course I enjoyed this track. It gets a bit bland in places, but picks back up as the song goes on.

3. Sword of Darkness- This song opens up with a series of great riffs that are somewhat reminiscent of Norwegian black metal acts such as Dødheimsgard, Isvind, and others. It's nothing original, but is very effective and adds yet another good song to this disc.

4. White Aura Buried in Ashes- Simply devastating. This song rages heavily in the beginning, yielding to a more melodic and climactic finish near the end of the track. Great stuff.

5. Sormus ja Silma- I don't know why, but Darkthrone comes to mind while listening to this track. It's mostly slow-paced and evil, and near the end the song breaks into typical fast black metal fury. Overall, it's an excellent song.

6. Outro- To be honest, this is just filler.

I'm quite impressed with this MCD. It's aggressive, dark, and has the appropriate spirit of black metal, which is rare these days. Hopefully Horna will continue to produce good black metal in the future. Check these Finnish bastards out.


© 1998 baalberith