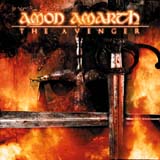 ---
Amon Amarth
The Avenger
[Metal Blade]
---
Described as 'blackened death viking metal', I must agree, though I'd have to say they lean a little closer to being an almost stereotypical Swedish death metal band. Nothing wrong with that though, as one listen to this amazingly well done & brutal disc had me begging for more!

The opening track, 'Bleed For Ancient Gods' is a welcome kick in the head for anyone disturbed by the rather 'mellow' sounds released from some of our 'favorite' bands over the last year! 'The Last With Pagan Blood' is another kick-ass Viking anthem, and this band proliferates them in an unyielding onslaught worthy of praise from Thor himself! Many of the songs are similar to the previous release, 'Once Sent From Golden Hall', a 'mini-saga', if you will, an epic Viking tale for modern times. While, IMHO nothing the band does will ever overshadow the anthem 'Friends of the Sun Cross', this new CD is much better musically, the guitars less choppy & the drumming a little tighter, which was my only complaint with the earlier release. A lot of mid-tempo songs here, the title track may even 'drag' a little, but nonetheless, I'm giving this CD & the band a mighty HAIL! The sound is obviously Swedish, perhaps a tad too melodic in points for some, but with the powerful double bass blasting throughout & typical growling death-style vocals, mellow this material is not. Makes you want to inflict some pain! The title fits, folks. 'Metalwrath' will be an instant favorite with fans of Usurper (now Usurper II ?), trust me. The final track, 'Legend of a Banished Man' is perhaps the only track that loses my interest about halfway through. I must say though, I'm presently playing the first two tracks over & over & over.....

Comparisons? Call it Dissection meets Deicide. Music to sharpen one's sword too,indeed!

Buy this CD. See you in Valhalla...


© 2000 lorjef