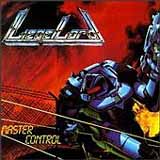 ---
Liege Lord
Master Control
[Metal Blade]
---
It was real kickass to find this sent to LARM for review by guitarist Paul Nelson (former Steve Vai student) of the defunct Liege Lord. They were in all the cool mags and zines in the 80s (Metal Forces, Kerrang, Metal Hammer, etc) The only track I recall was off their 1985 debut "Freedom's Rise", and at the time, thrash like Razor, Exodus, Megadeth, Slayer, Warfare, Hallows Eve, Sacrifice is what turned my crank. I never heard their second album "Burn To My Touch" (1987). Hearing Master Control, I wish I had.

Liege Lord are quick, professional classy metal, with an Iron Maiden/ Bruce Dickinson feel. Perfect production by Terry Date, as he gives their jugga-jugga riffing, amazing melodic solos and runs, snappy drumwork, and edgey Bruce-like wailing space to work. You know how some metal albums are either too sparse/weak or too bottom-heavy /bassy (when it doesn't suit the style)? Well, Master Control sounds as good as Metallica's "Master of Puppets" or Iron Maiden's "Powerslave".

These guys (who helped inspire many modern-day power metal acts), cover Rainbow's "Kill The King" better than Heathen, or anyone else I can think of. The sound is a little tougher, and the vocals are interesting.

Man this was released in 1988? At times it sounds just like Bruce off his 1997 CD "Accident of Birth"! Especially with the cool guitar sound. Liege Lord, a classic underground heavy metal band. I plan to buy all 3 CDs (Thank for loaning this to me Chor). You should do the same, and use your Nevermore, Blind Guardian, Gamma Ray, (insert boring band name here_________) CDs as coasters.


© 2000 mlotek