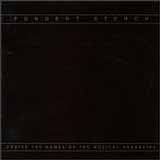 ---
Pungent Stench
Praise the Names of the Musical Assassins
[Nuclear Blast]
---
The final outing from this legendary death metal band, and perhaps a good place to start for newcomers. Unfortunately, die hard Pungent Stench fans or even those that discovered the group late are often disappointed with this release. Praise the Names of the Musical Assassins is a 19-track, 70+ minute compilation of rare demo songs and various other unreleased material - a great idea, but the genuine innovation and the psychotic driving energy is gone. Basically, it comes down to the fact that there is nothing here avid supporters of the band haven't already heard, and the newer songs are pale comparisons of Pungent Stench's earlier work.

Besides these general insults that are usually thrown at most collections, the release is wracked with a couple technical flaws as well. First, and foremost, WHERE THE FUCK IS THE TRACK LISTING? I was informed that it is on the import, so why not here? This is a severe oversight and it makes digging up prior versions of the songs a very disconcerting process. The sound quality is also inferior to the original releases, largely in part to too much treble, although this is really only noticeable after immediately hearing the original albums.

Despite my negative criticism, I can only recommend Praise the Names of the Musical Assassins. The tracks from the split with Disharmonic Orchestra, two extra songs from the import edition of For God Your Soul, For Me Your Flesh, "The Ballad of the Mangled Homeboys (Soul Rape comp.)," and the Pleasure of Life comp. are only a few of the rarities to be found here which are nice to have all in one place. The epic 9-minute oddity "Madcatmachopsychoromantik" is included as well. I only wish a few of their most notable classics ("S.M.A.S.H." and "Choked Just for a Joke", for example) were present, even if this isn't a greatest hits anthology. The insanity that is the essence of Pungent Stench is still being captured, but only in limited and disjointed segments.

For the benefit of the reader, I have included a track list. 1. Pulsating Protoplasma, 2. Dead Body Lov, 3. Miscarriage, 4. In the Vault, 5. Rip You Without Care, 6. Festered Offals, 7. Pungent Stench, 8. Extreme Deformity, 9. Mucous Secretion, 10. Molecular Disembowelment, 11. The Ballad of Mangled Homeboys, 12. Daddy Cruel, 13. Tony, 14. Madcatmachopsychoromantik, 15. Extreme Deformity, 16. Festered Offals (original recording), 17. Pulsating Protoplasma (original recording), 18. Pungent Stench (original recording), and 19. Embalmed in Sulfuric Acid.


© 2000 hando