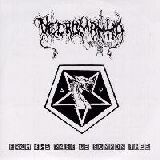 ---
Necromantia
From The Past We Summon Thee
[DarkSide/Wild Rags]
---
Track listing :
1. Faceless Gods
2. LUKANQRWPIA (Lycaon's Metamorphosis)
3. La Mort
Total playing time : 9'37

What we have here is the oldest available recording from Necromantia. Those three tracks are live recordings from December 1989 (Necromantia's birth-year), but were only released in 1994 through DarkSide for the 7"EP and re-released on a limited (if I'm not mistaken) MCD through Wild Rags the year after. Another attempt for Wild Rags to cash on a band's name (well-know in the underground after the release of Crossing The Fiery Path through Osmose) without having to pay the studio bill... Anyway I'm thankful to them for releasing this great piece of music.

The sound is typical from the period and the location, as Greek and raw as possible : quite good for a live recording and somewhat similar to Rotting Christ's live tracks on Passage To Arcturo, except that they don't use guitars, but a bass instead, sometimes even not distorted. Due to this particular sound, all the songs give the listener a really dark and primitive feeling. This stuff is not as technical as more recent one from Necromantia, but is setting their very own style, evil but experimental. The vocals (sung or spoken) are mainly deep, with some higher-pitched screams, but not the typical black metal shriek, and some wolves howling.

Lyrically, the first song's lyrics are inspired by HP Lovecraft and the Sumerian mythology (using Cthulhu and Ishtar). The last one is a poem on Death (meaning of the french title) by Emile Verhaeren, a guy I never heard of before.

The 2nd song LUKANQRWPIA is also present on the Black Arts Lead To Everlasting Sins CD (Split with Varathron) under the name Lycanthropia, but this version is really darker, due to the less polished sound. No lyrics...

Finally, a mandatory buy (if you can find it) for Necromantia fans and all the old Greek sound lovers. It is preferred for others to start with the Split with Varathron or Crossing The Fiery Path. Only drawback (but it's a big one), it's really too short... I'm eagerly asking for more !


© 2000 icon