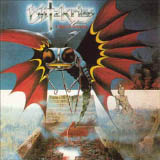 ---
Blitzkrieg
A Time of Changes
[Neat]
---
This is the prototypical NWOBHM band, in that they made great music but didn't quite catch on and wound up stalling out prematurely.

In 1980 the band released its influential self-titled single, which proved to be one of the best from the era and an influence on Metallica among others. The band were set to record a debut album the following year but that evaporated. Vocalist Brian Ross worked with Avenger and Satan for a few years before deciding to assemble a revamped Blitzkrieg and finally lay down 'A Time of Changes' in 1985.

The music is truly classic. Each song rumbles along confidently with heavy, galloping, proto-speed metal picking and the types of memorable riffs and vocal lines that few bands since have been able to come up with. Blitzkrieg have their own remarkable style and easily stand above generic heavy metal.

Most of the songs are medium-length yet epic. "Armageddon" is a good example. It moves through great riffs and bridges before slamming into a surprise harmony guitar section four minutes in, leading to a downcast, atmospheric passage before renewing the earlier direction of the song, only this time with hints of that great harmony riff to summarize where the song's been and give it a sense of scope.

Of those songs atypical of the album's style, "Blitzkrieg" is a great and memorable signature rocker along the lines of "Iron Maiden" and "Angel Witch", "Vikings" is a well done ballad, and the more clean and grooving "Take a Look Around" is the only slightly subpar song.

Lyrical subjects include suicide, armageddon, Vikings, the erosion of society, and...Blitzkriegs! This is me-TAL.

One thing that bothers me some is the production, which while not terrible, seems like it could've been a lot better. Satan's debut from two years before sounds much more crisp and loud. Part of that is the difference in musicianship, but Sean Taylor played on both records and his drums here sound looser and more clattery than on 'Court in the Act'.

But, that's a tiny mark on a wonderful album. This music was highly innovative when it was created, but realistically probably didn't influence large segments of the scene due to the lack of exposure for the original recordings. Regardless, bands like this helped metal resist the punk and glam trends and move in the heavier, more intelligent direction. Raise a mug to the British kings.


© 2001 j.s.