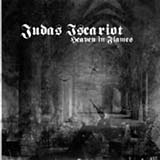 ---
Judas Iscariot
Heaven In Flames
[Red Stream]
---
The songs themselves are pretty much the same as on the first album, except for the clean and dynamic sound on this album. Better production? Perhaps. But it is also less Nihilistic, just as the song names would suggest. The hate is not as much concentrated and focused; like there is less strength behind it. i also preferred the rustic sound on the first.

Song names, from the short Nihilistic titles of the first album through the extravagant epic names on the second, are now in between; they are not as Nihilistic nor extravagant.

This isn't as fresh, almost as though Akhenaten has used up his philosophy and is now merely caught in this cycle that many artists get side-tracked to. As much as it is understandable, it makes perfect sense that you cannot stay on a spiritual journey and still keep on making a lot of releases (unless you happen to be a very extraordinary individual) like you're maintaining a musical career, it is also sickening.

Why are the first albums usually the best? Because behind it are a significant number of years spent living, from which fruits they use up to create the first releases. For the later ones there is no more from which to reap, but for whatever reason there is pressure to keep on making albums. The wealth spring of ideas that was the cause of making art in the first place, has run dry. But unable to stop they keep making these increasingly boring releases out of habit. So, as time goes by, the art degenerates more and more.

Not all that has anything to do with this album, though. Even if this isn't the best JI album, i like it quite a lot; even if it's already on the downhill side, it is by no means invalid. But from hereon his releases have been rather boring.

"i feel the darkness / blessed be the kingdom of night"


© 2002 rotblood