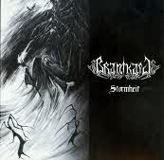 ---
Branikald
Stormheit
[Stellar Winter]
---
Branikald plays NSBM and comes from the country that earlier has given us, for example, Dostojevski, vodka, and Tarkovski to name but some of the things Russia has graciously blessed us with. This is not only Branikald's first demo, but also the first ever Russian BM demo!

The songs and melodies are similar to polish bands like Fullmoon and Gontyna Kry, but to me it is evident that this has more depth (for the record: i am also a huge fan of those polish bands). To describe this on an aesthetic level, i'd say that the melodies are even more depressing and sort of monotonous, while the vocals sound more desperate (at times the whole thing is also close to older Mütiilation). The sound is really surprisingly good and contributes to the atmosphere; there is a certain hardness to it.

Russians have an evident and particular sense of melancholy that appeals to me, and it comes out in this, too. Melancholy is a necessary part of elegance, and all in all this is quite sophisticated. Too bad i have no idea what the poetry is like (all in Russian), but with song names like "Celestial Clear Moonlit" and "a Crushing Hammer", they can't go wrong.

NSBM, and even BM in general, just doesn't get any better than this.


© 2003 rotblood