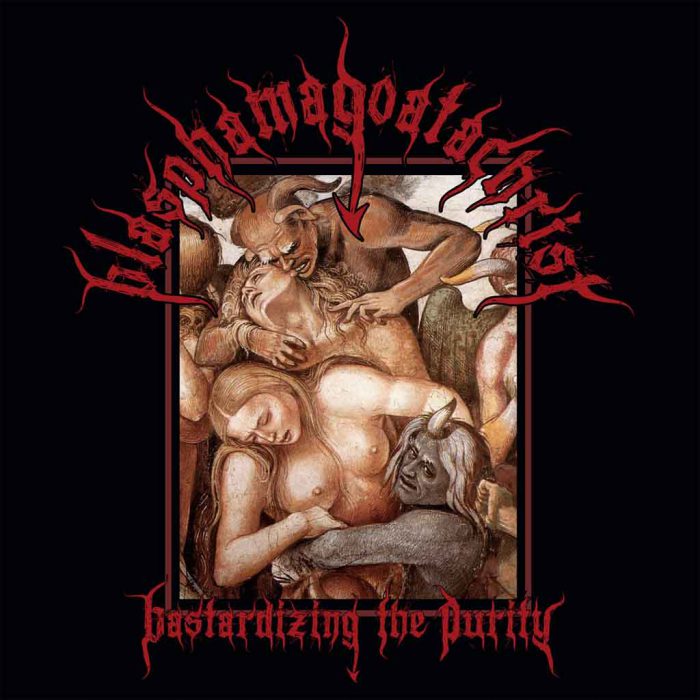 Blasphamagoatchrist return from exile after the hilarious debacle concerning their previous effort Tyrannic Empire. This time round the band drift away from stereotypical War metal to a combination of the genre's early influences.
The constant barrage of riffless noise and trash can assault that this band and their peers are known for is replaced with a small handful of melodic riffs played at lightning speed in the same vein as Sammath's Godless Arrogance. Main influence Morbid Angel make their presence heavily felt while on the album's best song "Abysmal Commando" the band manages to summon hints of a narrative in the style of Immortal's Pure Holocaust. Most of the songs adhere strictly to a sense of rhythm taken from hardcore as …Black Winds from Blasphemy howls at the top of his lungs in a ranting style and occasionally slowing down to a protest like cadence.
Songs like "Black Nuclear Shadows" show a few interesting riffs here and there but the band are unable to deliver constantly. So many of the passages feel like the transitory riffs of Speed metal that lead the songs from one point of interest to another but the band play these riffs for far too long before eventually leading to something better. The band rely far too much on rhythm and have the tendency to superficially inject a motif into a melody whose only purpose is to add a percussive edge, that coupled with the simple arrangements that begin with what is essentially an advanced War metal breakdown, shows that the band haven't completely shed their terrible roots.
While the band are on an exponential rise in quality from previous efforts, they are not yet making quality metal and must continue within this direction while slowly shedding the skin of their influences. The band show good proficiency in the Black metal style and should probably consider exploring such an avenue while re-contextualizing the Death metal and Hardcore elements in their music. Bastardizing the Purity is a testament to what musicians can accomplish when they seek to constantly best themselves and hopefully this is only a stepping stone for greater things.
Tags: Black Metal, blasphamagoatachrist, death metal, War Metal