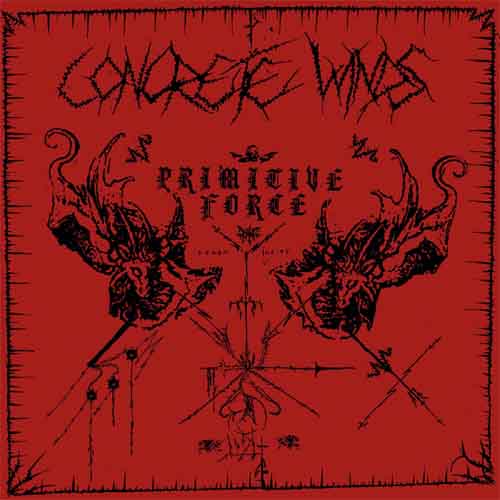 Guest article by Belisario
Here's another album from 2019 that was probably overlooked by many, who may have found it excessively simple or tiresome at first listen. Primitive Force is the debut album by the Finnish band Concrete Winds, a brand-new act arisen from the ashes of Vorum, who disbanded two years ago.
Vorum played a competent but rather generic variant of death/black metal that was not really surprising, its most distinctive feature being their geographic position on such an unusual place as the Åland Islands, a self-governing archipelago located between Sweden and Finland, which explains the bonds the band members had with acts from both national scenes. Concrete Winds, on the other hand, is based in continental Finland, and what makes it special is the fact of having as main influence such an old and nowadays somewhat forgotten band as Necrovore, an important player in the US proto-death scene from the mid/late-eighties also featuring names such as Death or Possessed. This accounts for the primitive and insistent style, which these Finns know how to adopt and develop in order to instill it with a new vigor and a renewed identity.
When Vorum split-up in 2018, two of its members decided to carry on, taking on a new approach that is so unusual as it is commendable: instead of simply doing more of the same under a new moniker, they went for radicalization and moved on to the next level of forcefulness and aggression. The band found its way by picking up a path that remains scarcely trodden to date, namely the one defined by Necrovore in its demo Divus de Mortuus, the main release in that band's extremely short discography, which nonetheless was highly influential in those years in which the genres of extreme metal were still being defined.
Despite leaving a mark on much of the death metal that came later, very few bands have directly followed that same formula which turned eighties thrash metal into something darker, faster and wilder, a sort of underground metal in its purest form, both in terms of sound as of attitude and format. Concrete Winds build upon that style adding a "modern" touch in the good sense of the word, that is, making it faster and more compact and opting for a heavier production, exploring at the same time all the possibilities opened by Necrovore and trying to develop them instead of being a mere copy. This is something that had previously been partially attempted by Degial, a Swedish band with strong ties to Vorum, but the approach here is more original and pure.
The method used couldn't be simpler: straightforward angular riffs following one another at full speed, generating an atmosphere of emergency and tension, combined with swift and razor-sharp solos as well as ripping roars that swirl around. The production is a little too saturated, specially in terms of percussion, although rather than an outright defect this is more of a contribution to the sense of confusion and constant battering. The most remarkable feature is probably the admirable effort of concision and minimalism focused on creating songs that are very short, hardly exceeding two minutes in length, yet present an amazing variety.
Fortunately, there is no plain and unjustified fierceness, in the style of most brutal death. By contrast, everything is well balanced and controlled, which becomes obvious in the nimble transitions and the almost continuous variation. This last aspect is even taken to negative extremes at times, for instance in the fifth track ("Tyrant Pulse"), in which the rhythm seems to fluctuate between speed metal and disco music, but in general it materializes in a positive manner. In its minimalist wager, the band likewise avoids the worst flaw that blights war metal, the constant and monotonous repetition, displaying instead a similar degree of power and ferocity but adding in a broad and imaginative assortment of elements.
In contrast to other acts with a more centered or conceptual vision, Concrete Winds doesn't seem to be willing to express any particular message beyond sheer aggression, their well of inspiration being rather nurtured by an irrational drive or anger. This results in music that is basic and carnivorous, but also very effective and quite appealing, among other reasons, because there are currently not many bands that sound like this. However, their true achievement lies in having developed a formula that is compact and light at the same time, undoubtedly a product of the experience gathered by veteran musicians who know how to cut to the chase.
Anyone pointing to the fact that this material is not completely original, nor anything unheard before, will not be mistaken, but that is actually something that could be said from almost any metal band from the 21st century, including the most prominent. Among the latter, the most interesting usually feature the shared trait of building upon older influences in order to create something that aims to develop a personality of its own, which in this case is achieved to a large extent. It is difficult to speculate on the future evolution beyond this debut, but what is certain is that this is highly solid and enjoyable for an initial endeavor.
This review was originally written and published in Spanish at El Negro Metal: http://www.elnegrometal.es/disco_del_mes_2020_03_marzo_concrete_winds_primitive_force.html
Tags: concrete winds, death metal