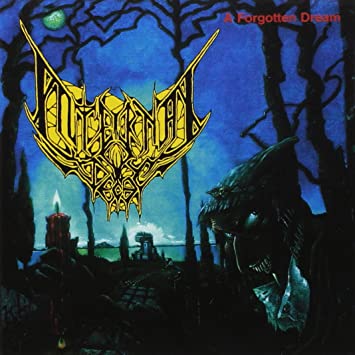 Internal Decay are a Swedish band that can be categorized as part of the microgenre famously mixed by Dan Swanö but actually recorded at the legendary Sunlight Studios. While sounding like a lot of the later imitators, Internal Decay's full length precedes that of Dissection's, Dawn and Sacramentum's full lengths. The band exist in a bizarre paradox where taking from the Speed elements of the past pushes them closer to the rehash bands of the future rather than the originators.
The consonant harmonized melodies alternate with either basic Speed metal riffs or the syncopation based style popularized by Pantera. There is a distinct dichotomy as the consonant melodies are kept exclusively in the higher range while the Speed metal elements rarely leave the fourth lowest note on the guitar. Songs alternate between those ideas constantly and none of them carry any gravitas or flair with them. There are one or two good ideas on the entire album but they barely go anywhere. Internal Decay occasionally drift off into ethereal keyboard dominant passages for no rhyme or reason.
Arrangements cycle through similar ideas with barely any repetition before jumping randomly into softer passages randomly as the band goes through the motions with a complete lack of vision. The last two songs are basic Rock songs with long guitar solos and female vocals that meander indefinitely. A boring album that failed to capitalize on what their peers were going to do and jumped immediately towards the decline of the style. Internal Decay in their own twisted way were originators by cheaply aping the better releases before they even existed.
Tags: death metal, internal decay, Sweden