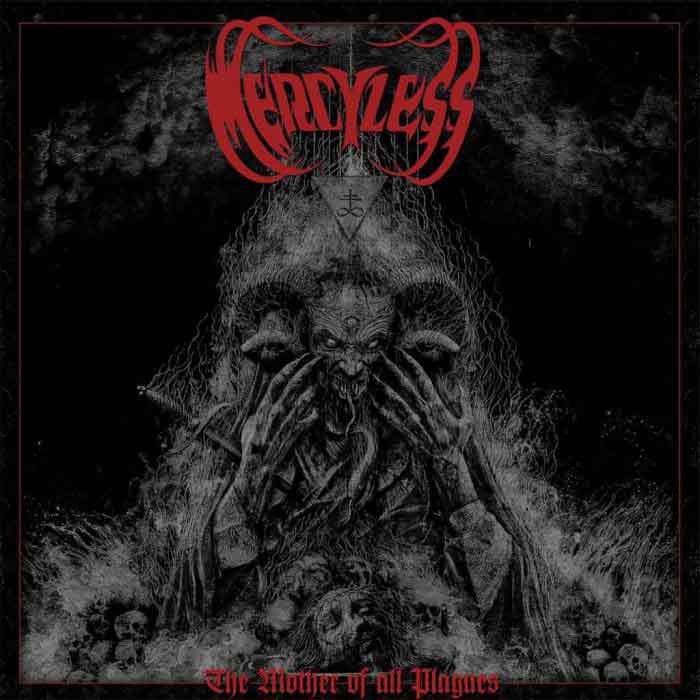 The big three of French Death metal were Massacra, Agressor and Loudblast. Behind them and unfairly discarded were Mercyless. The band's early output featured Death metal of a spontaneous nature that took the high octane elements of Pestilence and Morbid Angel and pushed them against dissonant chords that culminated into soaring melodies. Their late 90s material saw the band experiment with various sounds in a confused Post rock derived mess. The band has somehow managed to return to form and continues to release a slow stream of enjoyable yet confused albums.
On The Mother of All Plagues the band opt for a very hyperactive style that sees the lead guitar constantly play short melodies on top of the constantly changing riffs. The band avoid the riff salad by logically connecting the riffs but there is no discernible overall direction these songs. The large quantity of riffs are of variable quality with even the groove riff from Morbid Angel's "Where the Slime Live" is shamelessly inserted into one of the songs. Mercyless are at the best during the calmer passages where both guitars indulge in some well thought out counterpoint before returning to the habitual intensity.
Mercyless are full of great ideas and know how to connect but the lack of narrative and quality control make this a another very forgettable listen as there wasn't quite enough of a focused mind to channel the band. Out of all the 90s bands still releasing, Mercyless still have the most fire in their bellies as the performances are delivered with passion but they lack that extra spark necessary to compose high quality Death metal.
Tags: death metal, mercyless