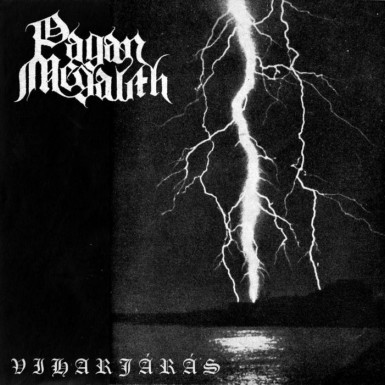 Pagan Megalith are a Hunagarian Black metal who like their name suggests are heavily inspired by Gorgoroth's Pentagram but also take from the other big names in the Norwegian scene in this well thought attempt at creating Black metal that seeks nothingness as its creed.
While maintaining the aesthetics normally seen within this genre, the instruments are very audible due to the relatively low amount of distorsion on the stringed instruments here. The drums have a completely natural and vibrant sound devoid from excessive effects. The passionate shrieks in the upper register are the appropriate volume and though inspired by Hat, take a much more subdued approach. The bass is audible throughout the entire album as it provides a point of reference especially during the layered arepggiated segments. A very enjoyable production that sidesteps the problems with modern recording by opting for a less is more approach.
In terms of melody and riff construction this follows the blueprint set out by Pentagram. The root note of most of the melodies are hammered into the listener's mind before slowly revealing the rest of the melody which is an effective way of building anticipation. In true Black metal fashion, Pagan Megalith take all their time in slowly exploring their ideas as arpeggios are repeated with multiple chords being explored before then streamlining the whole in tremolo picked passages that condense all the variations concisely. Like Gorgoroth, the band are adept at suddenly injecting a riff of interest that bring a sense of struggle and disrupts any monotony before it is given the chance to settle into the music. The band do this using a variation of one of the previous motifs but played with a much faster strummed style as they quickly come and go as to not perturb the overall flow of the song.
Each song contains an easily digestible amount of ideas that are all developed fully before leading on to the next idea and then returning in a new context before ending the song on the final iteration of any one of the chosen ideas. While the songs all progress well and have a strong sense of forward momentum, there is a lack of clear structure beyond the development of the multiple ideas. There is little sense of narrative beyond the construction of ideas as there are no identifiable conclusions or climaxes as everything is just stuck in the development phase until there is nothing left to say at which point the song ends. Had these songs had a defined ending point, this would have been a top release from Hunagary but it is still a surprisingly enjoyable and suitable for repeated listens in a style home to copycats above all else.
Tags: Black Metal, pagan megalith, Viharjárás