Some artists like to tell you what to think, and others make you meet them halfway. These provocateurs are both more artistic and more realistic than the others, who are usually using those bold political opinions to mask a lack of direction otherwise. Of the metal-influenced genres to exist, thrash (crossover between hardcore punk and metal) was the most playfull provocative, and of all the thrash bands, the Fearless Iranians From Hell were the arch-jesters of making people think. During their reign in the 1980s, America freshly smarting from the OPEC debacle of the 1970s was convinced its next big enemy was Islamic fundamentalism while at the same time becoming more politically fundamentalist itself; it took some balls to tweak that self-righteous outlook by the nose, and even more to do so by mocking the American vision of democracy, justice and history — by appearing to endorse Islamic fundamentalism from within America's borders. We were fortunate enough to catch Omid (drums, guitar, art direction, producer, and co-writer of both music and lyrics) while he was cleaning his gold-plated AK-47 in San Antonio, Texas.
Rumor has it that members of the Fearless Iranians From Hell were in an early thrash band called The Marching Plague. Was your interest always in thrash and extreme hardcore, or did you get introduced to music through other genres?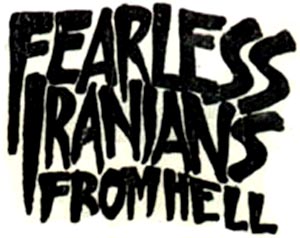 Check out the Texas hardcore compilation that Gibby Haynes (Butthole Surfers) released in the 80's called Cottage Cheese from the Lips of Death, and the harder-to-find punk compilation on Matako Mazuri Records that Jeff Smith (The Hickoids) released called Metal Moo Cow. You'll find all of Fearless Iranians From Hell's members previous bands there: The first Fearless Iranians From Hell line-up consisted of members of The Marching Plague and the future lead guitarist for the band Toejam (on bass). The Fearless Iranians From Hell line-up that recorded for Boner Records was comprised of ex-members of The Marching Plague, The Butthole Surfers, Prenatal Lust, and Toejam.
The members of Fearless Iranians From Hell grew up listening to all kinds of music: pop, punk, synth, industrial, avant-garde, reggae, rap, classical, and especially disco. Many a disco party was held at Fearless Iranians From Hell headquarters. In fact, Fearless Iranians From Hell recorded, but never officially released a disco record called Dance for Allah. It's pretty hard to find, though there are a few warbly cassette copies of it floating around out there. Although Fearless Iranians From Hell's guitars are loud and often out of tune, and the vocals are shouted, you can still hear that pop sensibility in the songs.
In politics, we usually hear about The Other of some form or another being a threat to our way of life. Rock music has traditionally grasped for "authenticity" by identifying itself with an other, whether African-Americans, drug users, gender-ambiguous individuals or criminality/gangsters. The Fearless Iranians From Hell seem to have inverted this formula, by embracing a larger-than-life vision of The Other in order to show us more about ourselves. How did you hit on this doubly ironic technique?
We were influenced by The Martial Arts. Seriously. It was a Judo strategy: Turning your enemies' power against themselves.
How do you feel when you turn on CNN or your favorite news service, and see headlines that could well have come straight from Fearless Iranians From Hell lyrics?
Not suprised, unfortunately. While the band was still together, we had the ultimate punk PR man: The Ayatollah Khomeini. Every time you opened the paper, or turned on the news, there he was, stirring up the shit. World News doubled as advertisments for our band.
You were appearing to endorse the Ayatollah Khomeini, radical Islam and jihad against Americans during the Reagan 1980s in the heart of Texas. How did people react? Were there differences based on their alignment in the political spectrum? Do people still react the same way?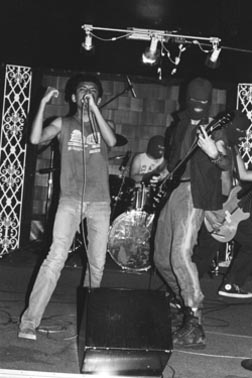 How do you think they reacted? Hahahaha! They HATED us. Especially in the South. The more intelligent people figured out it was political satire, and that what we were doing was ridiculously over-the-top. But we were banking on the more thick-headed ones getting it wrong, being offended, thus drawing more attention to the band. We were attacked by police, protesters, skinheads, right-wing radio hosts, left-wing college boy bands who were too caught up in their seriousness to get what we were doing, gangs, religious organizations, promoters…hell, Fearless Iranians From Hell album covers were even featured in PTA slide-shows portraying the evils of rock 'n' roll. Mission accomplished.
Political views varied between our band members, but Fearless Iranians From Hell didn't have a specific political agenda. We did however have a common creative agenda. We purposefully garbled political rhetoric, so it was confusing to all ends of the spectrum. The band refused to do interviews at the time, which helped further the misinformation and confusion + there was no internet, so it was a lot harder for people to get the facts straight about who we were and where we were coming from.
We eventually went on tour, and did a few radio interviews in '88 and '89, and thought we had let the cat out of the bag. However, it appears many have remained uninformed. For instance, just a couple of years ago, some idiot posted a bounty on the heads of the band members on his web page. One of our lawyers had the site removed.
How did the fearless Iranians in your mythos (the world of characters created by your lyrics and cover art) end up being hash-smoking maniacs? Is this part of a satire of American artists who endorse drugs in their music?
The song "Iranian Hash" is a reference to Hassan-i Sabbah, who founded a group known as the Hashshashin. Hassan-i Sabbah was a Persian Nizari Isma'ili missionary who converted a northern Iran community in the late 11th century. Part of his indoctrination technique was to keep his young assassins stoned out of their minds on hashish. Of course, it's also a jab at Reagan's "War on Drugs"…a turn-of-the phrase, as the Hashshashin literally went to war on drugs.
You had four releases: a self-titled EP, the Die For Allah LP, Holy War LP and Foolish Americans LP. What were the differences between them, how did they "progress" if at all, and which is your favorite?
The 7″ EP was more mid-tempo punk. Lyrically, it was an almost rap-like introduction to the band, and featured the horrifyingly prophetic "Blow up the Embassy." The first album, Die For Allah, was like a soundtrack to a movie. Much harder hitting, and faster-paced. The second album, Holy War, was the most raw and explosive. Having played live together for a couple of years at that point, the band were at the top of our game and were pushing everything to its extreme both musically and lyrically.
The third album was more studio-fied, verged on heavy metal at times, and along with the usual outrageous lyrics, contains some "serious" non-tongue-and cheek songs like "A Martyr in Every Home." The band went into the recording studio knowing it was going to be our last album, planning to break up before we started repeating ourselves. Amir's Farsi-spoken vocals on the last song, "Decade" were decidedly our final words to the world. No favorites. I look at all the albums as one single body of work, to be listened to in order.
Evolution of life, and the emergence of man, is a natural process in which chance, failure, waste, disorder and death will ultimately prevail. The entire destiny of the upsurge of life and all of its efforts have been enshrouded, from the beginning, by a cloak of "heat-death," which, one day, will cut off the source of life — the sun. The very air we breathe is drawn from a thin film of atmosphere which hovers precariously over the seas and mountains and praises that have been pushed up for us to stand on.

– Raymond Nogar, The Lord of the Absurd (1966)
In an interview, you talked about an important concept — not "taking music at face value." Face value, we assume, is what the music projects; are you saying that little in this world matches up to what it projects, or that its actual causes are different than what it tells you are its causes?
Americans, as a whole, have an underdeveloped sense of irony.
How did you get involved in playing and writing music?
We all came from different levels of musical appreciation and education. Our lead guitarist always had to tune our rhythm guitarist's axe, because he never learned how. But that didn't matter, because the music we were into at the time favored creative ideas over virtuousity. The Sex Pistols playing in our hometown, San Antonio, and the DIY punk aesthetic are what brought it all together.
How did the members of the Fearless Iranians From Hell meet?
Fearless Iranians From Hell's first singer, Amir, moved to Texas with his family after the fall of the Shah of Iran, to flee the reign of the Ayatollah Khomeini. Amir made friends with the other outcasts in his American high-school, punk rockers who were in a band called The Plague. The Plague rotated lead vocalists a few times ( Amir may have even been the singer for a show or two ) before settling on a line-up and changing their name to The Marching Plague. The lead singer for The Marching Plague appeared as the voice of Anus Presley on the first Butthole Surfers EP ( the tracks "The Shah Sleeps in Lee Harvey's Grave" and "The Revenge of Anus Presley" ) and, after joking with Amir that he should have his own punk band, wrote the first Fearless Iranians From Hell songs.
The first Fearless Iranians From Hell line-up, comprised mainly of Marching Plague members, would wear ski masks to both enhance the terror-rock concept, and so they could open for The Marching Plague without the audience knowing they were watching the same band twice. This line-up recorded "Burn the Books" for the "Metal Moo Cow" compilation, with Amir on lead vocals. Around this time, The Marching Plague, having released an EP chock full of notorius, made-to-offend lyrics, took an about-face, and influenced by the more positive DC scene, headed in an emo direction. Shortly thereafter, the Marching Plague's lead singer left the band, devoting his full attention to Fearless Iranians From Hell, calling on ex-members of Prenatal Lust and Toejam to fill out the roles of his ex-bandmates.
Maximum Rock 'n' Roll magazine's Tim Yohannan, who hated The Marching Plague's un-PC lyrics, actually loved the live Fearless Iranians From Hell demo sent to him for review and recommended, "Get thee to a studio, or off with thy hands". Fearless Iranians From Hell obliged, securing a record deal with the California label, Boner Records, home of Fang, The Melvins, Tales of Terror, etc. Before Fearless Iranians From Hell entered the studio, Amir suggested he be replaced by a more capable lead vocalist. Amir stayed on board as a songwriter, manager, information source, and spokesman. Amir also contributed vocals (the ones that were sung in Farsi) to the 1st and 3rd album. Before recording our debut album, the bassist who played on the Fearless Iranians From Hell 7″ was replaced by the Butthole Surfer's first bass player.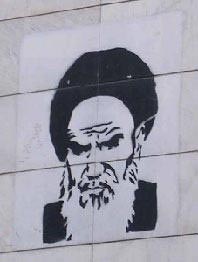 How do you think our society uses icons like the Ayatollah Khomeini to make us live in fear, how does it benefit from that, and how does using those icons in over-the-top satire (like Jonathan Swift's A Modest Proposal) change how things are done?
It's the age-old cult tactic of making people feel that they are in imminent danger. It's an instrument of control, and an insult to our intelligence. The Ayatollah Khomeini was bad news. No doubt about it. But the danger is in mimicking his behavior in our own free country, villianizing an entire race, and simplifying complex issues into a battle between "good" and "evil." I'm not quite sure if "A Modest Proposal" or Die For Allah actually changed anything, or if we were just preaching to, and entertaining, the choir. You'll have to find some Fearless converts out there to answer that one.
Do you feel genre is important, and that specific genres have specific conventions that make them distinct from others? What genre would you identify as that which encloses the Fearless Iranians From Hell? Did you call yourselves skatethrash, thrash, crossover punk or punk hardcore, or something else?
Conforming to a particular genre can be a good starting point…taking advantage of a popular movement to get people's initial attention, but from that point you have to carve out your own identity, and leave the genre behind. When Fearless Iranians From Hell emerged, the flavor-of-the-day was hardcore punk. It's arguable that we were an art-rock band, but we definitely wouldn't have classified ourselves as that at the time.
Though I didn't consider us skatethrash, half of the band were actually skateboarders, and our record label worked out a deal with Thrasher Magazine where you'd get a free Fearless Iranians From Hell album when you bought a subscription. We thought that was pretty funny: Fearless Iranians coming to America, getting infected by capitalism and selling out. It added to the confusion.
Did thrash music, which is what I'm calling the metal/punk hybrids like DRI and CRYPTIC SLAUGHTER, have its own style and val, ues that were separate from its "ingredients," both metal and punk?
Living in San Antonio, which is known as "The Heavy Metal Capital of the World", there was no escaping the influence of Heavy Metal. Being fairly isolated, the Texas punks took whatever info we could get on punk rock and often played it using the Metal musical vocabulary we were raised on, quite often parodying metal at the same time ( as on the Marching Plague EP, "Rock and Roll Asshole"). So it was kind of a love-hate thing.
Early Fearless Iranians From Hell, much like early DRI (circa The Dirty Rotten EP) didn't have as much an obvious metal influence, but the Judas Priest-style riffing is still there. At the outset of Texas punk, the Punks, the Jocks and the Metalheads were all opposed to each other. I'm not sure if the fusion of the two genres/audiences was a good or bad thing. Maybe a bit of both, as Crossover brought people together, but resulted in a generic, cookie-cutter playing style for many bands.
What distinguishes art from entertainment, and if they overlap, is there a difference in goals between the two?
Funny you should mention that. At the time of the band, I was getting my degree in fine art, and approached Fearless Iranians From Hell as a work of art, so here's the party line: Art can be entertainment, and entertainment can be art, but ultimately, art serves a greater purpose…well, at least that's what the artist will tell you!
Do you believe music should be mimetic, or reflect what's found in life, or ludic, and show a playfulness with life that encourages us to experience it in depth? Do the two ever cross over?
All of the above. Music should have no boundries in purpose, style, or subject matter. No rules.
In one interview, you say your goal is to insult every last person and every nation on earth; what do you hope to achieve with this act?
We did it for our own amusement.
The modern propaganda of commodities and the good life has sanctioned impulse gratification and made it unncessary for the id to apologize for its wishes or disguise their grandiose proportions. But this same propaganda has made failure and loss unsupportable. When it finally occurs to the new Narcissus that he can "live not only without fame but without self, live and die without ever having had one's fellows conscious of the microscopic space one occupies upon this planet," he experiences this discovery not merely as a disappointment but as a shattering blow to his sense of selfhood. "The thought almost overcame me," Exley writes, "and I could not dwell upon it without becoming unutterably depressed.

– Christopher Lasch, The Culture of Narcissism (1979)
Should people be less ready to get offended? Are you trying to innoculate them against being offended?
Good point. Maybe so. Perhaps people should become more aware of their "buttons," and how easily they can be pushed, so they won't be manipulated by the button pushers.
Do you think Muslims and Westerners share any values, and are they misunderstanding each other? Is fundamentalism more of a religion than the specific religion it inhabits, or is it just another way of saying "conservative interpretation"?
Though there are obvious differences, I think we share more values than we're often led to believe, however, it is convenient for many, particularly those seeking some kind of power, to perpetuate our misunderstanding of each other.
Did you ever study music theory or take lessons? Did this help you or slow you down in achieving your musical goals?
Our lead guitarist was taking Music Theory in college at the time. I had some formal training on guitar, but was a self-taught drummer. Our singer had piano training. The rest of the band were 100% self-taught. Since Fearless Iranians From Hell had both trained and self-taught musicians, there was always a tug-of-war between being a bit brainy, and keeping it simple. I think that yielded interesting results. Our basic concept was that any kid who picked up a guitar for the first time should be able to bang out one of our songs. The idea being that if you could play one of our songs on your guitar, you instantly related to our band, and felt like an insider.
Some have said that rock music is about individualism, or escaping the rules of society and nature to do whatever the individual wants to do. However, some have also said that heavy metal breaks with that tradition with its "epic" and impersonal view of life. Where do you fit on the scale?
Our goal was to tip the scale over on both sides.
Will Fearless Iranians From Hell ever re-unite to play shows, tour or write more material?
Do we really need to re-unite? I've received emails from several modern punk groups with 100% Iranian-American membership who claim that we inspired them to start their own hardcore bands. Some of them even cover our songs. But, hey…you never know! We've been offered some pretty good money to re-unite, but at the moment, we really don't need the money. We've become business owners (you'd NEVER guess which businesses), teachers (That's right, PTA, the Fearless Iranians From Hell have now infiltrated your educational system and are directly influencing YOUR children), and doctors (hey, our lyrics still hold true: Your life IS in our hands!).
Personally, I'm not a big fan of reunions. Especially punk band reunions. Who wants to see a punk "oldies-but-goodies show"? To me, it's a contradiction of the punk aesthetic. Reunions are for bands like The Eagles. Fearless Iranians From Hell are a band from a certain time of history, about a certain time of history, but as you hinted at earlier, history keeps repeating itself, so our albums are still relevant today. Maybe even moreso than when they came out. Also, even though they deal with serious subject matter, the records have a sense of humor, and that has kept fans coming back to them over the years, as well as creating new fans.
Are you going to release the Fearless Iranians From Hell EP as well? Will the compilation of the 3 LPs stay in print?
Although Boner Records has not been putting out any new albums by new artists, it has continued to re-issue several of its top-sellers, so our first three albums can still be purchased on CD. For how long? — I guess as long as they keep selling. All three albums and the Fearless Iranians From Hell EP can be purchased in MP3 format from iTunes, etc. Also an album of Fearless Iranians From Hell demos and outtakes called Peace Through Power has just been released, and is now available from CD Baby and iTunes. Although there's no talk of writing or recording any new material at the moment, there have been discussions about starting up an official Fearless Iranians From Hell website and selling t-shirts and other merch online.
Any plans to write books or articles about your experiences as the Fearless Iranians From Hell?
We're being approached more and more often these days about doing interviews and telling our story, so who knows, if there's enough interest maybe someday there'll be an "I Was a Fearless Iranian" tell-all book…available at Wal-Mart! Stranger things have happened.
Open your chest welcoming death in the path of God and utter your prayer seconds before you go to your target. Let your last words be, "There is no God but God and Mohammad is His messenger." Then, inshallah, you will be in heavens.

– Osama bin Laden
We are grateful to the Fearless Iranians From Hell for this interview. From the internet archives, we've pulled fragments of other interviews to keep alive the spirit of this iconic band. The text of those interviews follows.
SOUNDS magazine April 23, 1988
"Sam King talks terrorism with hardcore fanatics, FEARLESS IRANIANS FROM HELL"
The pop prophets of Fleet Street, ever anxious for a true story, appear to have found a new bete noire.
Fearless Iranians From Hell, an aggressive American hardcore band from San Antonio, are the latest victims of the Street's pop pundits, having tastefully titled their debut LP "Die For Allah" and released it just in time for the recent hijack.
The band aren't doing themselves any favours. Song titles include the title track, 'Ultraviolence', and 'Blow Up The Embassy'. Lyrically, too, it's hot, with lines like, "You will see that terrorism is the key" and "I'm going to hijack a plane / Won't do it for glory or fame / when they catch me they'll say I'm insane."
Are FIFH provocateurs or just plain insensitive? Amir Mamori, an Iranian exile and the band's singer, explains
"We want to show the Americans just how foolish they are. They want to see Iranians in a specific way and we're taking their bigotry and stupidity and spitting it back in their faces.
"We may inadvertently be doing a lot of harm to the image of ordinary Iranians, by sticking so closely to the American stereotypical vision of them, but I'm not that worried. I have higher goals to consider."
Do you feel driven to this?
"Definitely, I'm driven in the sense that there are points which I have to make. The funny thing is that people seem to think that we're not really serious. In fact, we could hardly be more serious. At the moment there's no bigotry in America that comes close to their feelings about Iran. Americans can't understand or cope with the Iranian fanaticism and so they're afraid of it."
What about lines like "Terrorism is the key"?
"I don't think terrorism is the answer, but I would say that I think it goes on on both sides. Innocent people are killed all the time.
"But if all people believe that all Iranians are beasts, then we will give them their ridiculous stereotypes and sit back and watch them make fools of themselves."
NEW MUSICAL EXPRESS magazine April 30, 1988
"Gulf Balls"
NME kinda wondered if there's anything you can do to help us with regard to Mr Terry Waite's continued captivity in the Lebanon?
"I suppose", muses the slightly foreign accent across the transatlantic phone-static, "We could do a benefit gig for him…in Beirut."
Whaaaat??
Something's gone sadly awry here. I rang Amir (main mullah of San Antonio's FEARLESS IRANIANS FROM HELL) fully expecting to be scorched by a Koran – crazed, hostage eating psycho-child of the Ayatollah – and now the bugger's gurgling about bloody charity shows!…
The source of this confusion is the Fearless Iranians' LP which Big Takeover Records have just released on an unsuspecting Europe. Its cover is dominated by the glowering features of the Khomeini-monster and the unambiguous command / title 'Die For Allah'.
The record itself — a procession of hardcore grunges with names like 'Deathwish', 'Iranians On Bikes', 'Ultraviolence' and 'Blow Up The Embassy' — crystallizes the worst nightmares of Ronnie's America; wave upon relentless wave of death-defying Iranians traversing the USA (on bikes and in "Turbo Trans-Ams"), exploding in a ceaseless orgy of fanatical hatred and terrorism. It's both mad and hilarious.
Could these guys, I trembled after a single hearing, be serious? Amir, Iran-born but US-educated, hoses down my wilder imaginings:
"Our stuff is not to be taken at face value. It's designed to let an audience react in the predictable ways, to make fools of themselves."
So you're not the mad-eyed blood-caked Yank-slayers suggested by the record? Not even a teeny bit?
"No, not at all. We love what we do, but we don't take it too seriously."
Other people, however, most certainly do. A brief over-the-phone recitation of some of some of the choicer Fearless Iranian lyrics ( "Nuke the people / Kill'em dead / Come on, Ronnie / Give me head !" ) elicited a frothing reaction from Tory MP Harry Greenway : "They're sick!…It's an obscenity!…We don't want them spreading their filth in Britain…"
Same story with something called the National Movement Of The Iranian Resistance: "To find a so-called pop group promoting terrorism is just appalling and revolting. If they were ever allowed into this country, we'd seriously consider picketing concert venues."
Amir sniggers sheepishly down the phone: "So it sticks up people's ass – that's good. We have trouble over here, too – Americans are just so stupid. The Marine-types think we're insulting their country and their president: the liberals think we're insulting Iranians!"
So what's the point of it all?
"Our ultimate aim is to insult every last person, and nation, in the world."