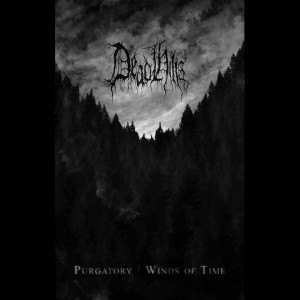 This recording starts off with great promise: unlike almost all of the bands to experiment in this style, Dead Hills knows how to make the riffs of a good Burzum-style sweeping dark and morbid black metal romp work. For example, a standard song will work itself up to intensity through an excellent use of the "Burzumic sweep" and dark meandering riffs, creating an excellent dark and ancient atmosphere. The vibe is perfect.
After that, it's harder to know where to go. Dead Hills fill the space with mixed elements from Nordic and Finnish black metal, which provides a highly musical and entertaining resolution to the album but radically changes each track from its Burzumic beginnings to something more like second-wave black metal. It will often revert to its atmospheric voice, creating a divide where some of this music sounds like conversation, and other parts sound like walking through twilit hills.
Although sometimes songs lose their center and wander, and thus become purely musical questions and remove themselves from the representative art of black metal, on the whole this release keeps up the energy and unlike almost every black metal band in the last fifteen years, produces an experience in which the listener can lose himself or herself. With that in mind, this is a promising start and a rare complete experience from Australia, which normally produces chaotic bands.
Weighing in at an hour and a half, this release may overwhelm some listeners but it also offers a good chance to really lose yourself in the sound and distance all other input, like a meditative course. The enemy of highly interrelated music like black metal is the standard lick, in which patterns that conveniently unite familiar riffs become relied on too much; where most bands have instead gone full into that mode, Dead Hills has tried to find its own voice before adapting riffs to that, and the result is noticeably clearer and more emotionally compelling.
Tags: Black Metal, dead hills