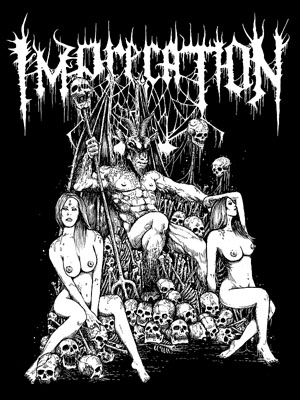 Legendary Texas occult death metal band Imprecation released a song from their upcoming album, Satanae Tenebris Infinita. Although the band has been around for over 20 years, this will be their first true full-length, following up on 1995's compilation of demo material Theurgia Goetia Summa.
This track shows Imprecation tending toward a more stripped down and mid-paced style, with more emphasis on song development than vigorously chorded speed riffs. The result is that songs are simpler but focus more on development, and a meshing of vocal rhythms and instruments. All of these tendencies give the band a more ritual and subaltern feel.
Background keyboards help guide this song but are used tastefully in a way that modern black and death metal bands would do well to note. Vocals emerge from Bahimiron/Morbus 666 throatsman Grimlord with searing distortion and an otherworldly detachment from human rhythms. The result is archly removed from the world of normal and "safe" human interactions.
Death metal fans across the world are looking forward to this album, which will be released on CD and vinyl through Dark Descent Records in the Spring 2013. Cover art by Chris Moyen will grace the front of Satanae Tenebris Infinita, which if it resembles this track, will be one of the highlights of 2013 if not a longer time period.