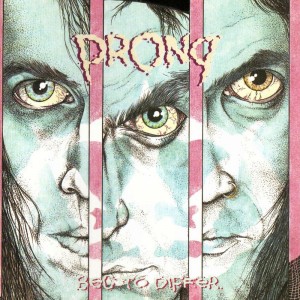 Prong is hitting stages across Europe this summer as part of a wide-reaching tour. If you've been looking for a chance to witness this legendary band, now's a good time, especially if you're in Europe or work for an airline.
The story of Prong begins with their mid-1980s origins as a messy hardcore/metal crossover thrash band with their Force Fed and Primitive Origins releases that set new standards for raw intensity. Some musical experience later, they released their mid-paced speed metal classic, Beg to Differ.
As they describe it, they were art school grads trying to make metal. The sound they embarked upon eventually integrated some aspects of art-rock into metal, and has never gone for a full-on traditional metal vibe. In recent years, the band has gone further into its own style, starting with Cleansing, that more resembles the power-pop and late hardcore mix of bands like Helmet fused with some of the underground metal acts.
Their newer material continues in this vein but with modern metal influences. If you're out there on the European continent, catch them live this summer with these handy tour dates:
June 23, 2013
Clisson, FRANCE
Hellfest
June 25, 2013
Luzern, SWITZERLAND
Schüür
June 26, 2013
Freiburg, GERMANY
Cafe Atlantik
June 27, 2013
Mannheim, GERMANY
Alte Seilerei
June 28, .2013
Dessel, BELGIUM
Graspop Metal Meeting
June 29, 2013
Dordrecht, HOLLAND
Bibelot
June 30, 2013
Münster, GERMANY
Sputnikhalle
July 12, 2013
Zlin, CZECH REPUBLIC
Masters Of Rock
July 14, 2013
Novi Sad, SERBIA
Exit Fest