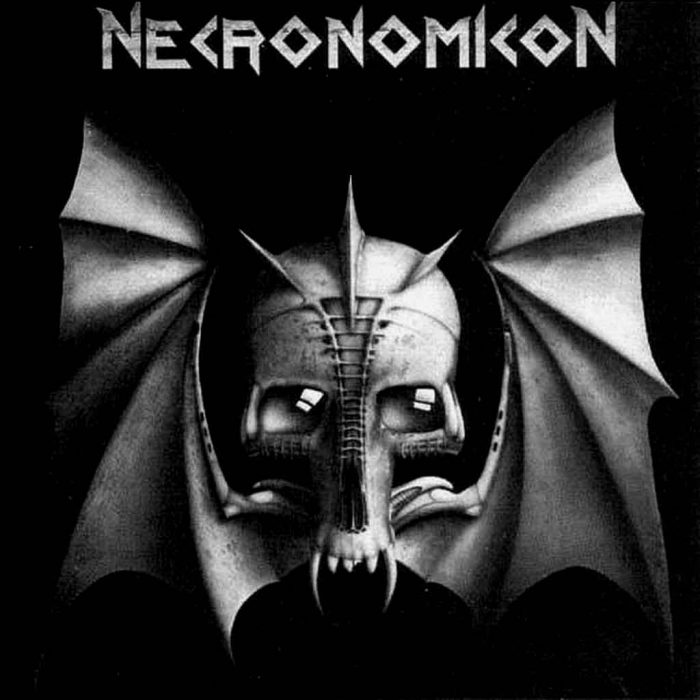 Certain releases provide useful waypoints, or nodes on the mesh through which history navigated a path, and Necronomicon with its self-titled shows us where 1986 had left the underground edge of metal: adopting technique from the new proto-underground, but still keeping a foot in bouncy speed metal land and unwilling to go fully to the tremolo style of Slayer or the epic song structures of Hellhammer.
Ironically, the vocalist sounds like Tom G. Warrior, but the music varies from the speed-picked fluid riffs in the Slayer style as inspired by Discharge and before that, by Motörhead, to bouncy, jaunty riffs of the type of speed metal that came about in response to Metallica, not quite able to handle the fluid, prog-style tempo changes of that band or its melodic riffs, so relying on stop/start expectation instead. This makes this release a bit schizophrenic, as suited the middle 1980s.
Almost every band remains caught in this state of suspended evolution. Slayer showed us a future where, in the metal style, riffs lead the drums but are also independent from drums; Transilvanian Hunger took that further. Most bands want to keep a foot in the world of rock, since rocking back and forth like an autist is how most normies enjoy music, but the future world created by underground metal offers more artistic possibility.
Tags: Necronomicon, Speed Metal